If you are new to MYKwebWORLD & want to know what I do this is a great article Click here
Aussie Rules Footy MYKwebTV Make sure to check out MYKwebTV for some great AFL, USA, CDN, BL&GFA & SANFL Aussie Rules Footy Click here

Tues Aug, 30th 05 "AFL Rd 22! The Crows finish top as the finals start this week! Ben Graham makes the NFL New York Jets!" Myk Aussie

AFL Rd 22 results.
| | | | | |
| --- | --- | --- | --- | --- |
| Western Bulldogs | 21.15 (141) | def. | Collingwood Magpies | 14.16 (100) |
| Sydney Swans | 20.9 (129) | def. | Hawthorn Hawks | 11.9 (75) |
| Adelaide Crows | 12.10 (82) | def. | West Coast Eagles | 10.14 (74) |
| Port Adelaide Pap Smears | 18.12 (120) | def. | Fremantle Dockers | 11.9 (75) |
| St Kilda Saints | 28.18 (186) | def. | Brisbane Lions | 7.5 (47) |
| Geelong Cats | 10.9 (69) | def. | Richmond Tigers | 10.8 (68) |
| Melbourne Demons | 13.17 (95) | def. | Essendon Bombers | 12.13 (85) |
| Nth Melbourne Kangaroos | 17.11 (113) | def. | Carlton Blues | 12.11 (83) |
After Round 22: The Final 8 is
Crows, Eagles, Swans, St Kilda, Kangaroos, Cats, Demons and the Pap Smears scrap in. Unbelievable effort by the Crows to displace the Eagles at the top of the ladder after another big win.
Another Aussie in the NFL. Former Geelong Cat Ben Graham has displaced Micah Knorr and won the job as the New York Jets punter it was reported on Sunday. Good luck to Ben as he now joins Darren Bennett at the Vikings and Mat McBriar at the Cowboys as the 3rd Aussie punter in the NFL.
It's all quiet on the CDN Aussie Footy front this week but that will change soon as we prepare for the BC Footy Grand Final in two weeks time. Refer below for last weeks amazing Stampede Cup in Calgary" Myk Aussie
Updated Sat Aug, 27th 05 "CDN Aussie Footy The Stampede Cup, British Columbia 11.11.77 defeat Alberta 6.11.47, photos and match reports! BL&GFA Lions Sth Aussie footy update!" Myk Aussie

Western CDN Aussie Rules Footy. BC defeat AB defeat AB in a great game of footy!

From BC Footy.com BC – 11.11.77 to Alberta 6.11.47
Goals BC – Cashie Jnr 2, Troy 2, Grills 2, Randy 1, Damo 1, Shane 1, Luscious 1, Steveo 1.

Best for BC (from) – Cashie Snr, Craig, Teddy, Troy Macca, Steveo, Myk Aussie,
Cashie Jnr, Grills, Luscious, Lappo.
Photo's compliments of Chriso at Calgarykangaroos.com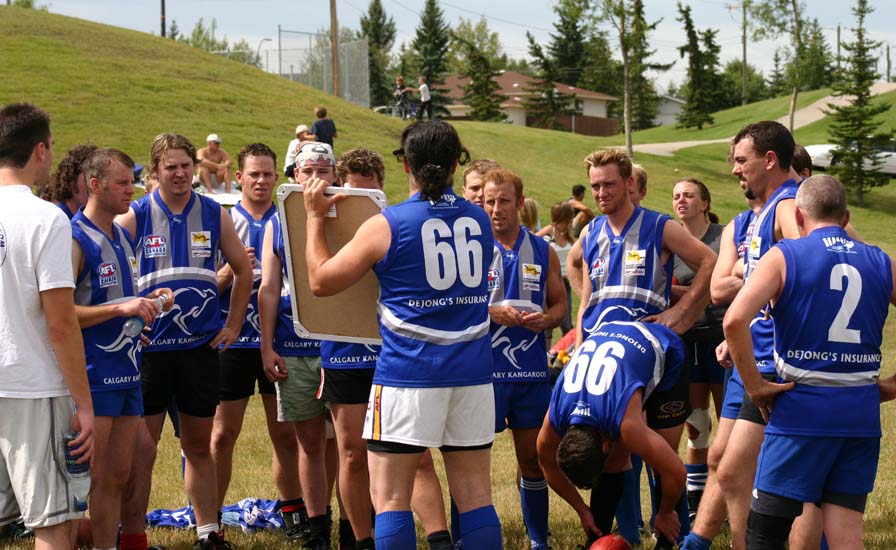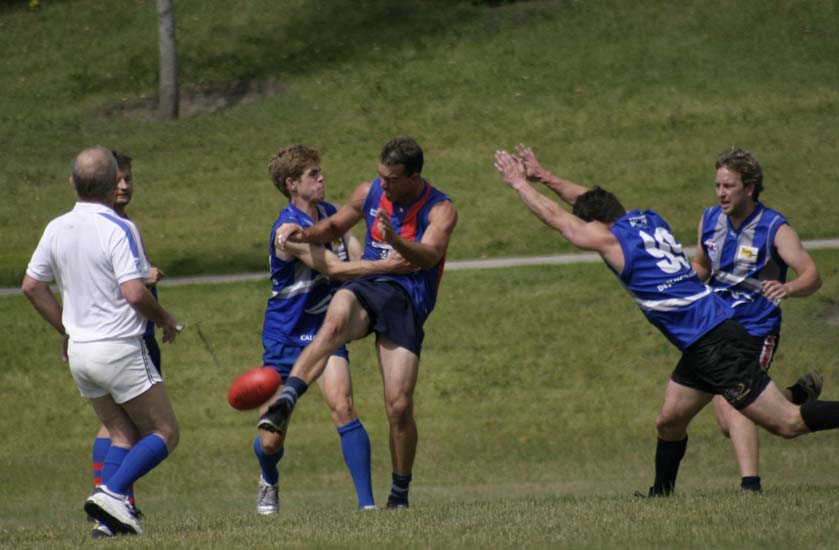 Left: AB Coach Troy Rose's pregame speech and lineup. Right: BC & Eagles Champ Luscious gets a kick away as Gareth tries to spoil him. Refer to link below for Gareth's match report.
My report "Saturday's big clash between BC, British Columbia made up of the Vancouver Cougars, Burnaby Eagles and the Victoria Lions against AB, Alberta made up of the Calgary Kangaroos and the Red Deer Magpies must surely go down as one of the most memorable games of International Aussie rules Footy ever! I flew back to my former home city of Calgary on Thursday night while many of the BC guys traveled the magnificent but often dangerous road through the rocky mountains from Vancouver to Calgary on Friday in 7 seater vans enjoying the scenery and mateship on the way. This 10-12 hour road trip probably goes down in history as the Biggest distance ever to play a game of Aussie Rules Footy. .
Everyone rolled up to Marlborough Park in Calgary's North East at midday ready for the 1.30pm start. Both teams gathered chatted and then we all realized that this game was going to live up to the hype as we came with 25 players while AB had close on 30 guys ready for the battle. After BC captains on the day Dougy Vargo of the Cougars and Luscious of the Eagles took us on a warm up BC coach Stuart Grills then read out the side. We started all our Canadians on the field for the opening bounce.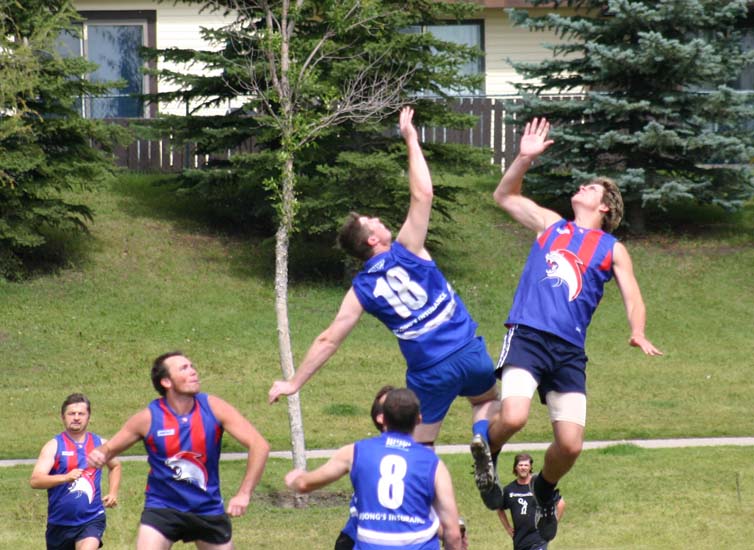 Left: BC's Big Jonny in ruck against AB's Chris. BC's Josh Lappin reading the play while BC's Campo runs in to assist. Right: BC's best CDN player Teddy getting a great possession as BC's Sam is there to help.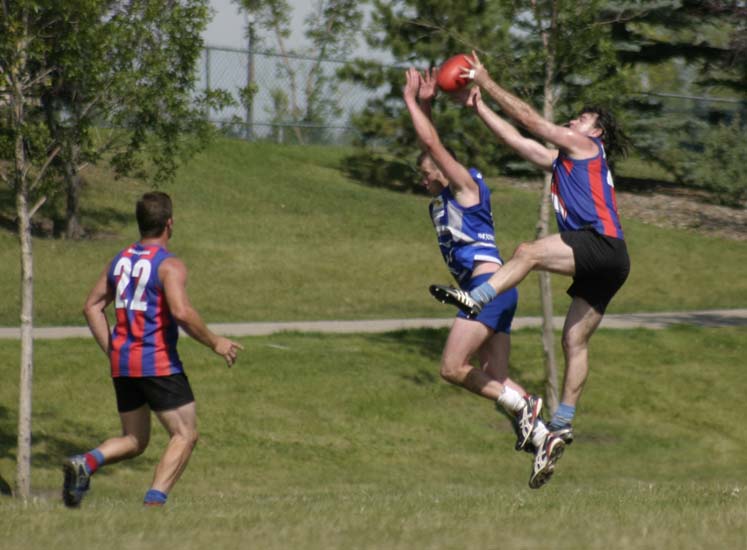 Left: Sth Gawler Lions mates I'm still wearing me Lions socks (refer to Sth Gawler Lions report below) as I attempt a grab over Adrian a CDN representative in the recent Intl Aussie Footy Cup in Melbourne. BC's best player on the day Cashie as always close to the action. Cashie had a great game picking up many possessions and hitting the AB players hard all day. Good luck to Cashie as heads to the States.
The AB guys got off to a great start leading by several goals at quarter time. Star Cougars forward Dougy Vargo did not last long as he received a big hit to his right eye forcing him from the game. This hit to his eye which Dougy believes was accidental made for great highlights on the Global TV Sports News. We fought back well in the 2nd quarter and by 3 quarter time lead by 1 point. In the last quarter coach Grills demanded that I continue to play on AB coach Troy Rose when he was in the forward lines, a task that I enjoyed immensely. Rosey lined up at full forward so for the 1st time in my li
fe I found myself at full back and it was an absolute pleasure as I got to watch the BC onballers and forwards led by Cashie,
Luscious, Simon, Josh, Troy, Teddy, Nick, Stewy, Randy, Damien, Simon Cashie etc etc play magnificently to gain a 4 goal lead early in the last quarter. Craig Atwill the Victoria Lions coach at full back played a great game as did Bananabender Stevo in the backlines. We held on for a great victory.
After the game we were presented with the Stampede Cup and then a 25 minute game was held mainly for some of the newer guys for AB that did not get much of a run in the 1st game. I was very happy with the win as the 25 BC guys all got to play a lot of the game with constant changes taking place thus a very fair victory.

A disappointed but very proud AB team.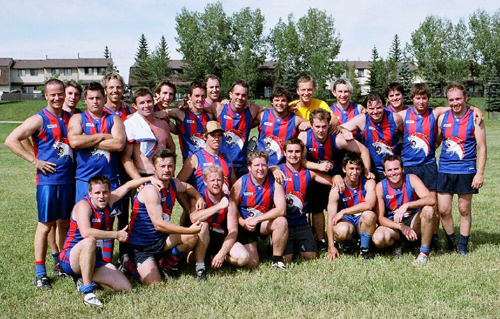 A very happy BC victorious team on this great day.

Photo compliments of BCFooty.com

The evening started at the Flying Emu, the Calgary Kangaroo's major sponsor where best players awards were given and the Stampede Cup was filled with Jagermisser.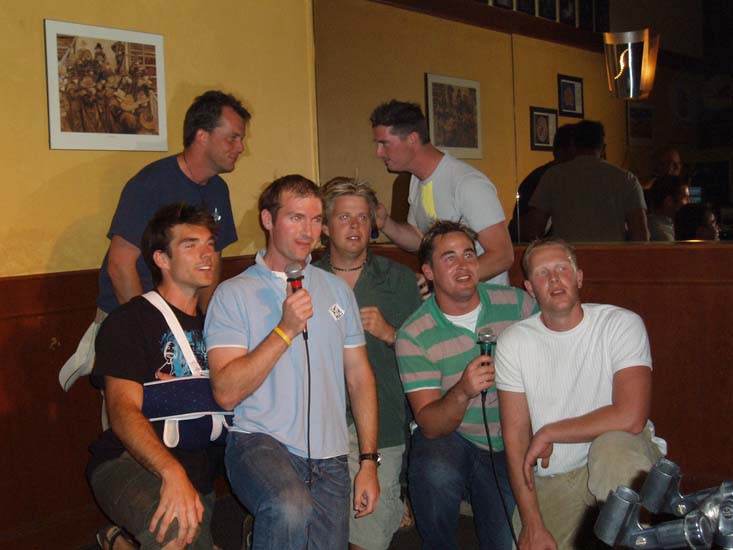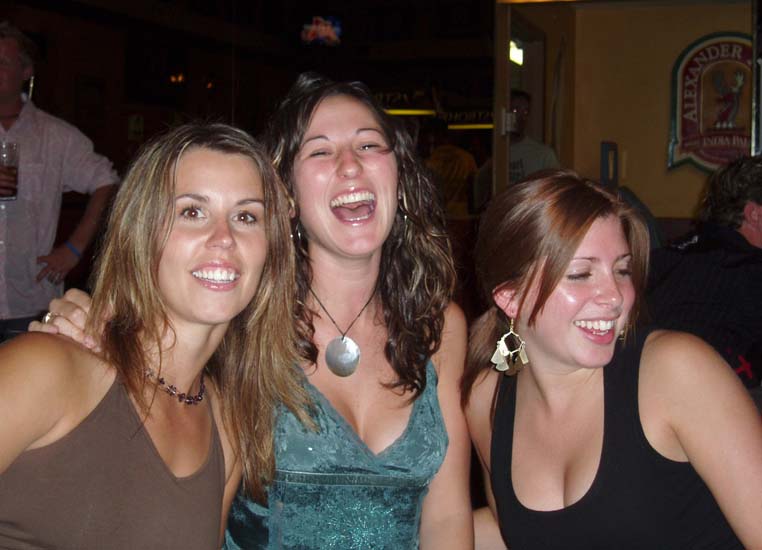 Left: Lead by Chriso the AB guys try to forget the loss with some singing at the Flying Emu. Right: Wow! Some of the beautiful AB Cwoc's in attendance at the Flying Emu.
We then ventured to the famous Cowboys nightclub for a massive night of mateship, Cwoc chasing and lots of drinking out of the Stampede Cup. As usual at Cowboys we were served by the "Big silicon titty" beautiful Cwoc waitresses.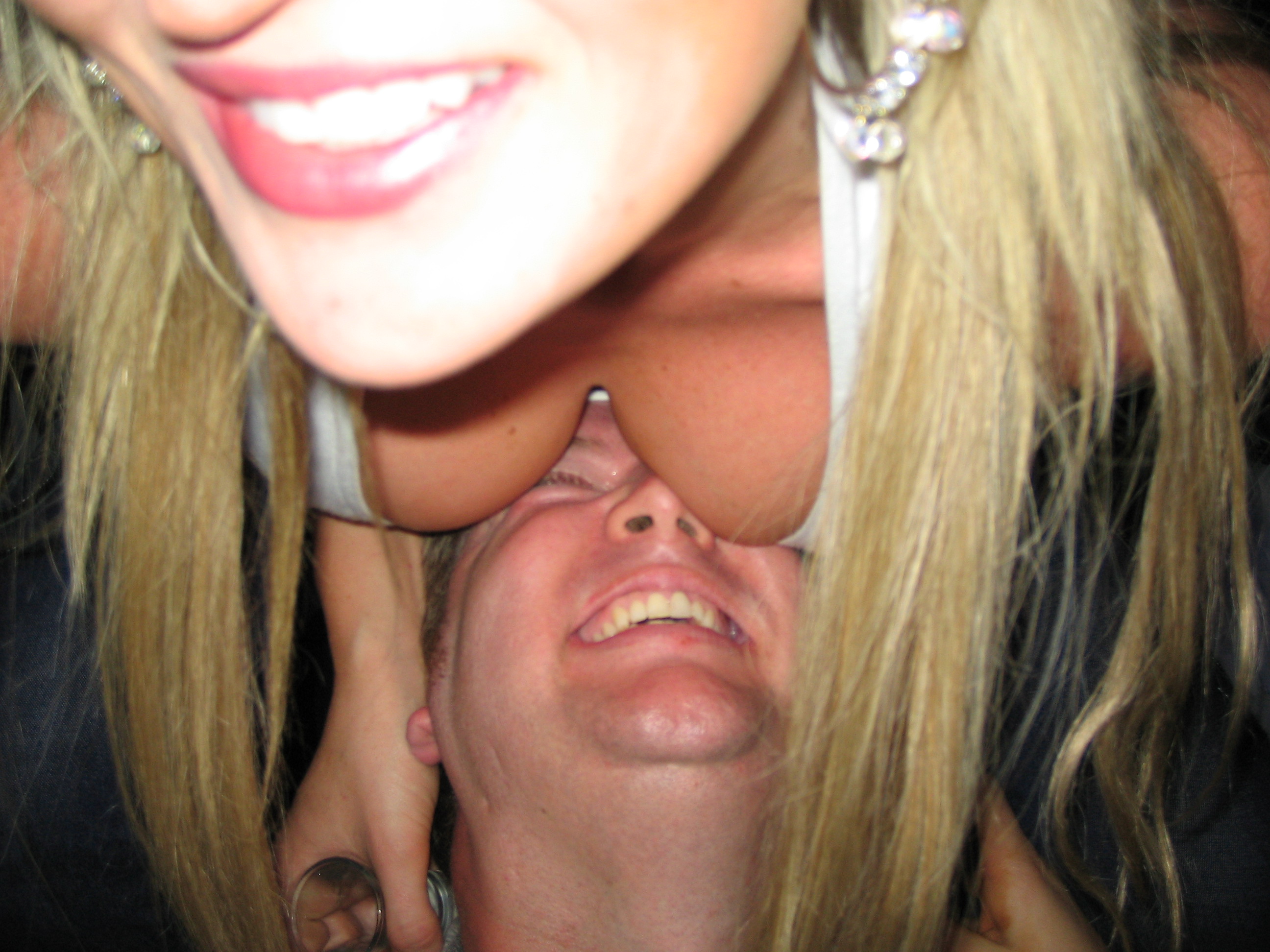 Wow! BC and Eagles Shane Goughie getting a nice Birthday wish from a Cwoc babe at Cowboys.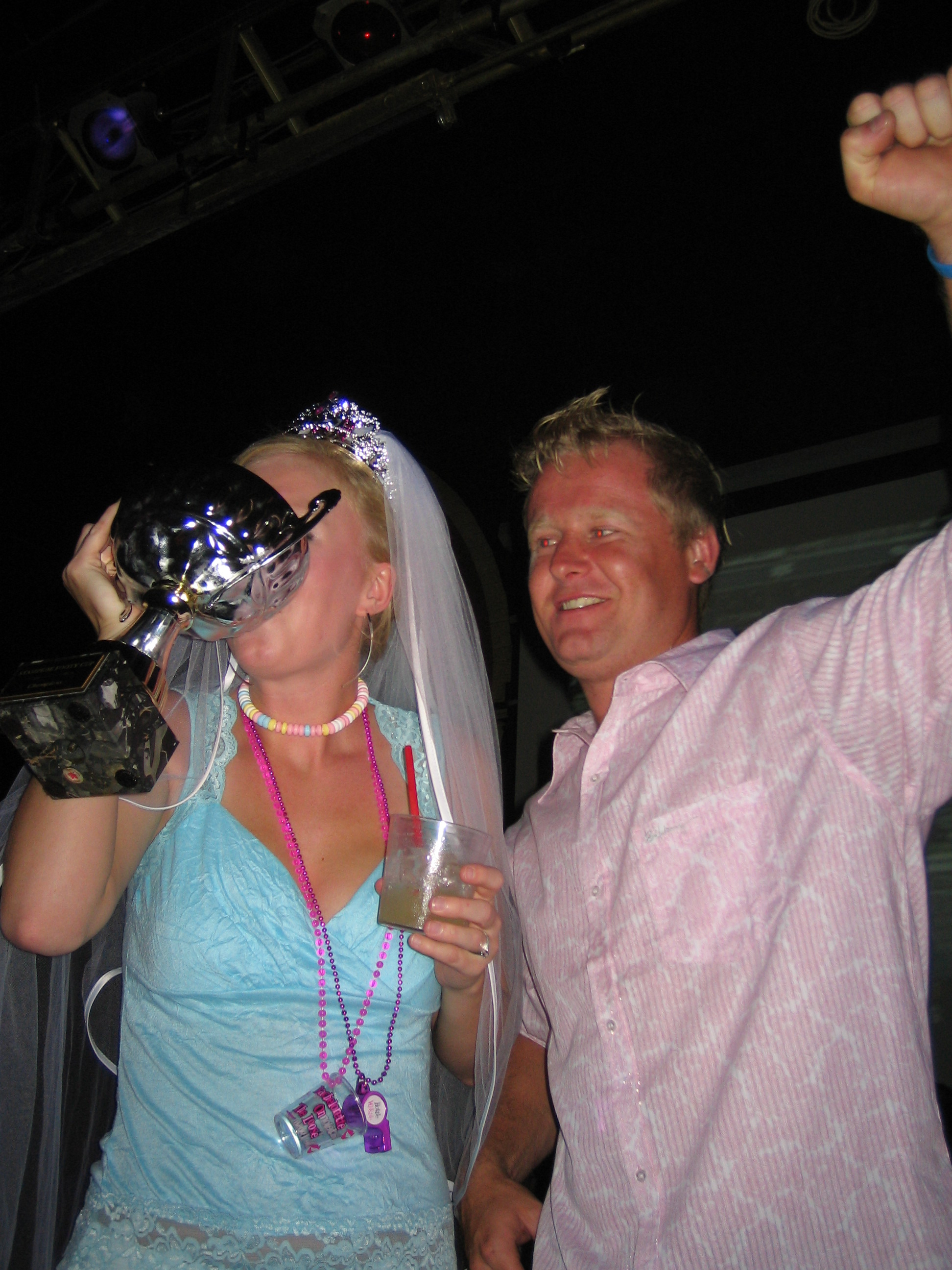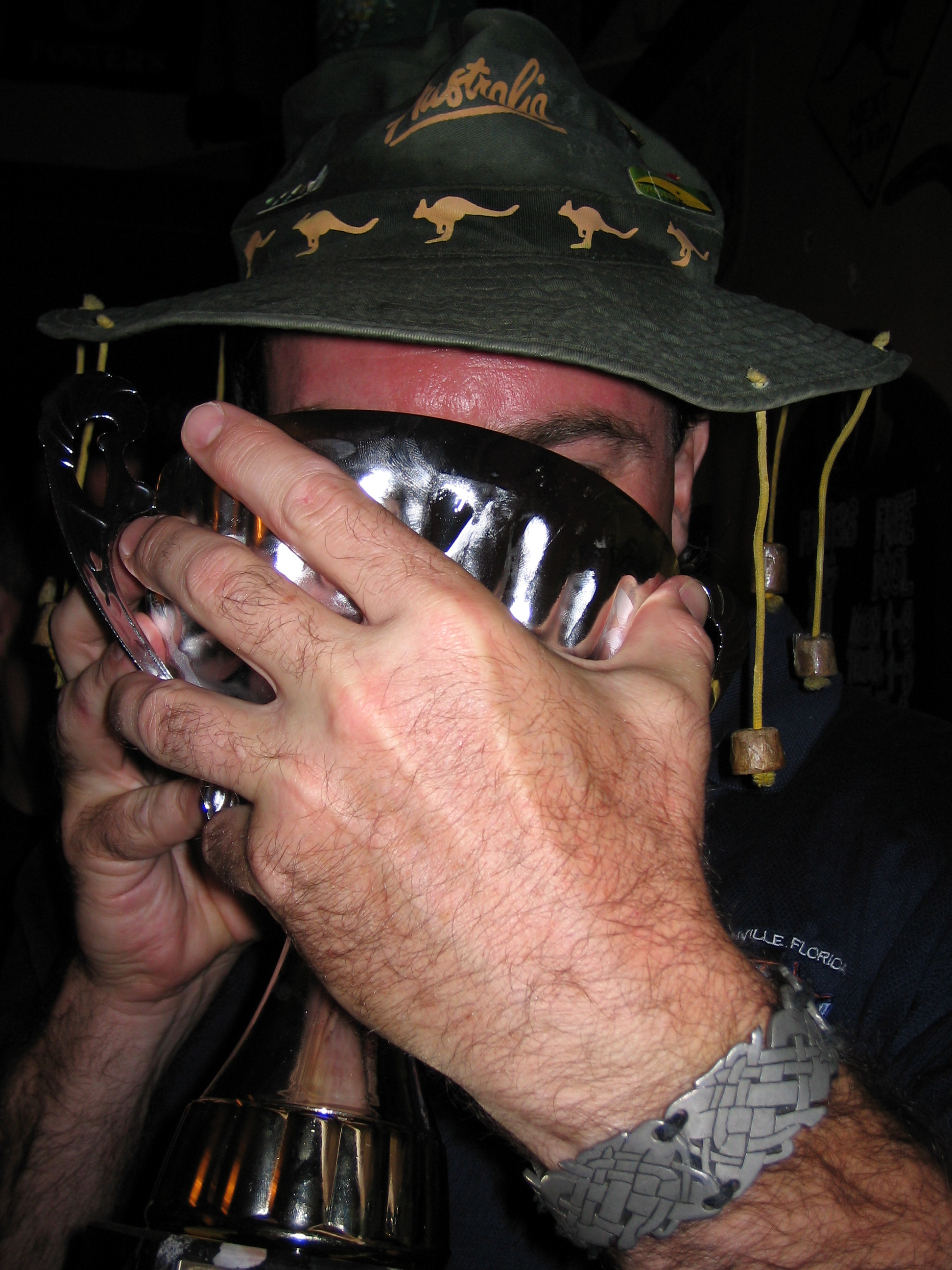 Left: BC and Eagles Bananabender Stevo making sure another Cwoc gets to drink out of the Cup at Cowboys. Right: It had been along time since I'd had so much fun winning a Cup in Aussie Rules Footy. The Cup was filled many times on this great night. Photos compliments of Goughie.

There were many more highlights from this great game and fantastic weekend. As usual there is a more detailed match report on bcfooty.com Click here For some more great photos now on calgarykangaroos.com and Gareth's detailed match report Click here

It was again great to see Global TV there with the highlights being shown on the 6pm news. This year it was fantastic to see write ups in the Calgary Herald in Friday and Sunday's sports section. Why was MYKwebTV not there. Well the main reason was because I was playing that's why! But for some MYKwebTV of the magnificent road that the guys got to travel check out Car Racing MYKwebTV as I drive from Calgary back to BC Click here We look forward to again playing the AB guys in what has become a great Western Canadian Aussie Rules Footy rivalry." Myk Aussie

If you are new to MYKwebWORLD, Myk's Aussie Lingo: Cwoc's Cool Women Of Canada. Click here

BL&GFA Sth Aussie footy Sth Gawler Lions update! Part of this weeks "In the Lions Den" - Congratulations to the South Gawler Under 15s who were the only Lions football team successful last weekend when we played our traditional rivals Willaston. All other teams tried hard but were not good enough on the day. Congratulations to the Donnybrooks for retaining the 'Heinrich-McGahan' Cup which is named after two stalwarts of our respective clubs and football generally.

South Gawler is hosting the second semi-final on September 3 and appeals for volunteers to spread the load. If you can help in any capacity and for any time please contact Jim Callander, Lenny McVicar or Peter Mackay as soon as possible.

Congratulations to the hardworking Liam Connolle and Karl Zilm who also represented South Gawler and Central Districts in the 2005 Mid-North Under 14 Country Championships recently.

Best wishes to Brad Taylor from Gawler Centrals who is a frequent visitor to our club and whom we hope makes a speedy recovery from injuries sustained in a serious car crash last week.

This weekend is the end of the season for our senior football teams when we play Barossa at the Den. All Lion supporters are strongly encouraged to come to watch their team who have done their best all season and can approach this game with nothing to loose. Why not spend the evening with the players as they enjoy top Adelaide party 'Frequency' until late in to the evening at a 'All-Aussie' night with prizes for the best dressed. Everyone who loves the 'Exchange Hotel' Lions are urged to show their pride and support their team in the easiest possible way – just turn up! As always 'Go the Lions'!" President Percey

MYKwebTV CDN, USA, BL&GFA, SANFL, AFL Footy, try it full screen Click here

"Myk Aussie is the best NFL Cheerleaders interviewer Click here" Joe

Updated Fri, Aug, 19th 05 "CDN Aussie Footy The Stampede Cup, British Columbia vs Alberta in Aussie Rules Footy this coming Saturday! I can't wait! MYKwebTV from a previous Roos vs Cougars Clash!" Myk Aussie

CDN Aussie Rules Footy Big Jonny and CDN Star Eagles Full Forward Randy arrived in Calgary Wednesday night and were looking to go for a run with the AB guys at Wednesdays night training. I heard that Jonny was preparing for the game today by laying off the booze and spending the day at the Calgary Zoo with his new lady. Lets hope his mind is on footy and not Cwoc's on Saturday afternoon as we will need the big fella playing well in ruck against what will be a strong AB line up. Chriso the AB Kangaroo's star half forward told me today they have 26 guys fired up ready for the big clash.

It appears as it could be a clash of the BC guys vs the AB guys as players from the Burnaby Eagles, Vancouver Cougars and the Victoria Lions will be heading to Calgary to take on the Calgary Kangaroos and the Red Deer Magpies.

This will be a absolute rippa of a day of Aussie footy on the magnificently shaped Marlborough Park the home of the Big Clash from 2 years ago. I don't want to give too much away but some of the players from the Eagles and Cougars that will be playing this Saturday are Stuart Grills, Peter Campion, Doug Vargo, Matt Neufeld, Ted Murray, Colin Hilton, Chris Freeman, Randy Dicken, John Dixon, Mike Setticasi, Chris Raudoy, Josh Lappin, Paul Lewis, Nick, Damian Chatfield, Shane Gough, Ash Bushell, Simon Bushell, Nelson Ferrett, Steve Harper, Allan Brett, Sammy Dynamite and myself.

All/most of us will be mates after the game but not for the 2 hrs on Saturday as I will be playing for the BC team against my former team the Roos. For the details on how to get to the ground check out me mates at Calgary Kangaroos Click here

BC vs AB MYKwebTV Several of the Cougars players from this day are now part of the newly formed Burnaby Eagles. For highlights of the great game from 2 years ago between the Vancouver Cougars and the Calgary Kangaroos at the same place we are playing this Saturday Click here

June 05, BC Footy Cup MYKwebTV 45 minutes, try it full screen Click here

"Myk Aussie is the best NFL Cheerleaders interviewer Click here" Joe

Tues, Aug, 16th 05 "AFL Rd 20 results! The Kiwi's win the 2nd ever Intl Aussie Rules Cup! Sth Aussie BL&GFA Lions have a win over the Magpies!" Myk Aussie

AFL Rd 20 results
| | | | | |
| --- | --- | --- | --- | --- |
| West Coast Eagles | 19.14 (128) | def. | Fremantle | 12.8 (80) |
| St Kilda | 16.12 (108) | def. | Kangaroos | 13.7 (85) |
| Melbourne | 14.16 (100) | def. | Geelong | 15.9 (99) |
| Carlton | 19.15 (129) | def. | Collingwood | 14.10 (94) |
| Adelaide | 13.10 (88) | def. | Port Adelaide | 12.9 (81) |
| Sydney Swans | 19.10 (124) | def. | Brisbane Lions | 6.4 (40) |
| Hawthorn | 17.15 (117) | def. | Essendon | 16.8 (104) |
| Western Bulldogs | 18.11 (119) | def. | Richmond | 16.11 (107) |
Intl Cup from Melbourne, The Kiwi's from New Zealand defeat Papua New Guinea to win the 2005 Australian Football International Cup 7.8.50 to 5.2.32. The teams finished in the following order: 1st New Zealand, 2nd Papua New Guinea, 3rd USA, 4th Ireland, 5th Samoa, 6th Great Britain, 7th Canada, 8th South Africa, 9th Japan, 10th Spain

For a detailed wrap up of the final I suggest the Worldfootynews.com site Click here For all the scores and best players from this great event Click here
MYKwebTV will be at the 3rd Intl Cup in 3 years! " Myk Aussie

Sth Aussie BL&GFA Lions have a win over the Magpies! Part of "In the Lions Den" from President Percey "Congratulations to the 'Exchange Hotel' South Gawler A grade who earnt their second win of the season with a hard fought victory over Tanunda at the Den last Saturday. Well done also to the loyal band of Lions supporters who have supported their team all season and were almost as pleased at the players when the siren blew to end the drought. The roof almost lifted off the building as players and supporters sang "Cheer boys" with pride, relief and emotion after the game. Again it was great to see the youngsters making a real contribution not to mention our pocket rocket, Nick Hook.

All teams from both clubs in all grades can be proud of their efforts in what was a memorable day of country football. Our Under 15s won by about nine goals over the second ranked team which reversed their nine goal loss from the first round. These boys have a real chance at the flag and all Lions are urged to get up early and support our next generation. The Under 17s ran out with 15 players including 3 Under 15s and at quarter time things looked ominous. Having topped their team up with another six Under 15s from the earlier game and as is typical of Cosies team the Lions dug deep and battled the game out right to the end. In fact they actually outscored the Magpies in the last quarter again representing their club with pride and winning the respect of all present. Similarly the Reserves were far from disgraced in another tough opponent who were tuning up for the finals." President Percey
June 05, BC Footy Cup MYKwebTV 45 minutes, try it full screen Click here
"Myk Aussie is the best NFL Cheerleaders interviewer Click here" Joe
Thurs, Aug, 11th 05 "The Burnaby Eagles and Vancouver Cougars are heading to Calgary to take on the Calgary Kangaroos and Red Deer Magpies, I can't wait! MYKwebTV from a previous Roos vs Cougars Clash! The 2nd ever Intl Aussie Rules Cup is on!" Myk Aussie
Next weekend I get to head back to my old home city of Canada, Calgary for what will be a very high standard of CDN Aussie Rules Footy. The Kangaroo Kangaroos/Red Deer combined side won the recent BC Footy Cup. Us BC guys will be very keen to win the Alberta Cup.
June 05, BC Footy Cup MYKwebTV 45 minutes, try it full screen along with the highlights of the great game from 2 years ago between the Roos and the Cougars Click here

Details from Cougars coach Stuart Grills with my comments included "After a great weekend of footy down in Seattle, ("Refer to my report below" Myk) with two really decent squads of 16 per side, it is now time to focus our attention on the fast approaching Calgary games!

Here are the details! When - leaving Vancouver on Friday 19th August. The road trip will take between 10-12 hrs. This will include plenty of stops along the way! The game/s is on Saturday 20th. I am hopeful that we will be able to have a squad of 24 minimum so we can field a full team - we will likely be playing as a combined BCFooty team (like on the road trip to Victoria at the start of the year!). However, if we get enough interest we could field Burnaby and Vancouver teams! ("Come on guys lets get 2 teams so we can show our BC footy strength! If not and we play as a combined team and we get more Eagles there than Cougars does that mean we wear the magnificent Blue & Gold Eagles jerseys?" Myk)
We will have a big night out visiting Cowboys for sure! ("Wow! The barmaids with their "Great Big silicon tities will be there" of course but minus Charlene who is over here with us now." Myk) and all travellers will be encouraged to have a great time.

The following is a list of players booked on the trip. I will update the list throughout the week. There is no cap on attendance and I encourage everyone to consider this fantastic trip! Confirmed: 1. Stuart Grills, 2. Peter Campion, 3. Chris Freeman, 4. Matt Neufeld, 5. Randy Dicken (driving own vehicle), 6. Myk Aussie (driving own vehicle), 7. Colin Hilton, 8. Doug Vargo .........................." Stewy Grills

Wow! The early tally is 4 Eagles, 4 Cougars. I look forward to watching this list and the great team/s that we will take to Cowtown to take on my former team the Calgary Kangaroos and the new Red Deer Magpies. Be there or be square!
The Intl Aussie Rules Footy Cup is now on. For all the latest news Click here " Myk
June 05, BC Footy Cup MYKwebTV 45 minutes, try it full screen Click here
"Myk Aussie is the best NFL Cheerleaders interviewer Click here" Joe
Tues, Aug, 9th 05 "AFL week 19 results! Vancouver Cougars win the CDN/US Footy in Seattle just! A footy trip to Seattle!" Myk

AFL Week 19 results
| | | | | |
| --- | --- | --- | --- | --- |
| St Kilda Saints | 13.18 (96) | def. | Geelong Cats | 8.7 (55) |
| Adelaide Crows | 13.22 (100) | def. | Melbourne Demons | 7.4 (46) |
| Western Bulldogs | 21.14 (140) | def. | West Coast Eagles | 14.13 (97) |
| Fremantle Dockers | 13.15 (93) | def. | Richmond Tigers | 9.12 (66) |
| Sydney Swans | 18.10 (118) | def. | Essendon Bombers | 15.8 (98) |
| Brisbane Lions | 18.13 (121) | def. | Hawthorn Hawks | 11.14 (80) |
| Port Adelaide PAP Smears | 18.15 (123) | def. | Carlton Blues | 16.13 (109) |
| Nth Melbourne Kangaroos | 15.14 (104) | def. | Collingwood Magpies | 14.14 (98) |
CDN and USA Aussie Footy. The Burnaby Eagles and the Vancouver Cougars headed to Seattle early Saturday morning to take on each other and the Seattle Grizzles. It was a great day of Aussie footy in Seattle and a great weekend, the Eagles Mooses Downunder guys that I was part off finally making it back to Vancouver at 10pm Sunday night. Thanks to Mooses Downunder we headed down in a magnificent vehicle just getting there in time after a lengthy border stopover. It was a hot day playing on the very hard and uneven Washington High School fields but it was still a lot of fun.
Us Eagles defeat the Grizzles in game 1, the Cougars defeated the Grizzles in game 2 and then again this year the Huge rivalry continued as the Eagles and Cougars fought it out in the final game to decide the tournament champs. The Eagles lead early but the Cougars came back in the last quarter to defeat the Eagles by 6 points thus closing the gap, Eagles 4 to Cougars 3 in this magnificent 05 series.
As some of the "married or under the thumb or softie players or maybe me mates that are simply more sensible and mature than I" headed back to Canada late at night some of us Eagles stayed at the Kangaroo and Kiwi until closing and thus had a great night. On Sunday we enjoyed the Air show on Washington Lake with the rich American's and then headed back with the aim of a few ales on the way home to top off a great trip. Well these few ales were certainly memorable as the 2 Shane's, Steve and I stopped off at the magnificent Tulalip Casino to enjoy very nicely priced beers and great scenery. This was definitely a fun time as we enjoyed hours of great chat and beer at the bar with some very nice ladies in the magnificent establishment.

I'm sure there will be many more stories from the weekend as approx 10 of the Eagles and Cougars stayed downtown for the night and no doubt they hit the downtown clubs and pubs. One story I did hear today was Cougars coach Stew Grills was horrid on the way home after having a big day coaching and playing. A new Cougar today told me Stew one of the drivers decided to go on a late night venture taking a different route home that took 5 hrs! The player that told me this was a little amazed at Stewy's road trip non-skills.

A special mention must go to my mate Big Jonny who after having a bad ankle and being soft by falling "In luv" very easily in Canada played both games for the Eagles. Not only did Big Jonny play two games but he played on no sleep at all as the Big fella decided to stay out all night Friday night and then come to Seattle to play. A Big but Crazy effort I must say.
I have also just leant that our leader, Eagles coach and onballer Chris Freeman has taken the two recent losses to the Cougars badly and is in some trouble.

For the report on Chris Freeman, all the scores and goal kickers check out the brilliant BCFooty.com website Click here " Myk Aussie
June 05, BC Footy Cup MYKwebTV 45 minutes, try it full screen Click here
"Myk Aussie is the best NFL Cheerleaders interviewer Click here" Joe
Sat, Aug, 6th 05 "CDN/US Aussie Footy, Eagles and Cougars are heading right now to Seattle to take on the Grizzles and the Lions! Talking CDN Aussie Footy last Friday night on SportsRage! A CFL/AFL kicking contest with CFLer Duncan O'Mahony MYKwebTV!
Today Saturday August 6th there is a Aussie Rules Football Round Robin in Seattle. Lots of the Vancouver and Burnaby guys are going.
GAME SCHEDULE
#1 Seattle Grizzles vs Burnaby Eagles 1:30 pm
#2 Vancouver Cougars vs Victoria Lions 2:30 pm
#3 Victoria Lions vs Burnaby Eagles 3:30 pm
#4 Seattle Grizzles vs Vancouver Cougars 4:30 pm
#5 Seattle Grizzles vs Victoria Lions 5:30 pm
This should be another great day of footy and a fun road trip into the USA. Lets hope the border Cops are friendly as they usually are to us Aussie as we head into the USA. It is always fun heading into the USA from Western Canada, this weekend will be extra fun as we get to play our great game and go Cwoa hunting as well.
From my weekly spot on SportsRage Friday night Fri 10.45pm Pacific CDN/US time, Sat 5.45pm EST Aussie time.
At the end of my CFL and NHL Hockey HARDBall chat I said ".........and Gabby the Vancouver Cougars finally got a win over the Burnaby Eagles last Saturday but they still trial the 05 season 4-2!"
I often include CDN Aussie Footy talk in amongst my weekly spot on SportsRage with Gabriel Morency. Cougars coach Stew Grills was a guest on this great show earlier in t he 05 season. To listen nightly 8-11pm Eagles, Cougars time Click here
CFL/AFL kicking contest Seeing we are in the CFL 05 season this weeks Aussie Footy MYKwebTV feature is a CFL/AFL kicking contest that I had with CFL BC Lions Champ punter and goal kicker Duncan O'Mahony awhile ago. Duncan my mate from Calgary often tells me he had alot of fun this day. I'm in my BL&GFA South Gawler Lions Aussie footy gear. Duncan is again having a very good year in the CFL. Check it out Click here " Myk Aussie
Myk's Aussie Lingo: Cwoa's Cool Women Of America Click here
June 05, BC Footy Cup MYKwebTV 45 minutes, try it full screen Click here
"Myk Aussie is the best NFL Cheerleaders interviewer Click here" Joe

"Do you want me to show you a demo/presentation/Live TV show with me as Myk Aussie? I have it all set up with a magnificent view of the Vancouver Harbor in the background! Clipstream Live Video to the web! Do you need to broadcast a sporting event, work conference etc, I have it Click here Call me to discuss 1 604 609-7736 ext 240" Myk


"Clipstream Live Video to the web! Some BC, Canadian Footy games Live to the web coming in 2005! Do you need to broadcast a sporting event, work conference etc, I have it Click here Call me to discuss 1 604 609-7736 ext 240" Myk
Pro Football Weekly: AFL and Pro Football Video Picks with amazing coverage from Myk Aussie The Pro Football Comedy Media Guy
*****Invest In Inet MYKwebTV! Myk's Mates Club Click here *****
Check out me AFL July
21-28 05 webWORLD
Click here
Check out me AFL Ju
ly 1-20 05 webWORLD Click here
Check out me AFL June 05 webWORLD Click here
Check out me AFL May 05 webWORLD Click here
Check out me AFL April 05 webWORLD Click here
Check out me AFL Oct 04-Mar 05 webWORLD Click here
Check out me AFL Sept 04 webWORLD Click here
Check out me AFL July-August 04 webWORLD Click here
Check out me AFL
June 04 webWORLD Click here
Check out me AFL
April-May 04 webWORLD Click here
Check out me AFL
March 04 webWORLD Click here
Check out me AFL 2003
Dec -Jan 04 webWORLD Click here
Check out me AFL 2003 Sept webWORLD Click here
Check out me AFL 2003 Aug webWORLD Click here
Check out me AFL 2003 July webWORLD Click here
Check out me AFL 2003 May-June webWORLD Click here
Check out me AFL 2003 April webWORLD Click here
Check out me AFL 2003 Jan-March webWORLD Click here