If you are new to MYKwebWORLD & want to know what I do this is a great article Click here

Back to me current AFL 2003 webWORLD Click here

Check out Aussie Rules Footy MYKwebTV Click here

Check out me AFL 2003 tips Click here I was kicking butt!

*****Invest In Inet MYKwebTV! Myk's Mates Club Click here *****

April 30, "Some Crows for you Myk Aussie!" Hambone, Total-CFL web Sports Caster

"Myk Aussie First of all your pal Wayne Carey, below #2 who is known all over Oz for pulling a Jeff Brown! Any Canuck fans who know about Brown and Kirk McLean's ex will know what I'm talking about. This shot and the next 2 are part of several I took at the Adelaide Crows home opener versus the Fremantle Dockers on March 30." Hambone, Total-CFL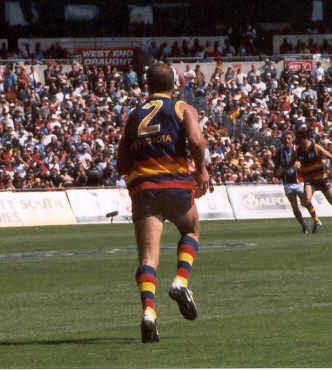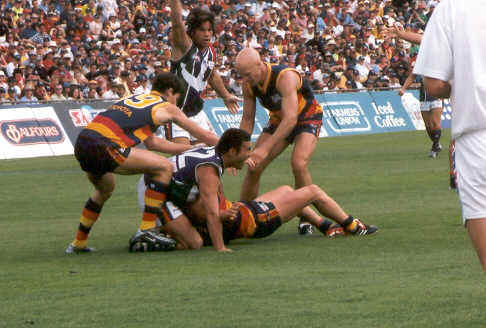 Typical scramble to keep the ball moving in Aussie Footy.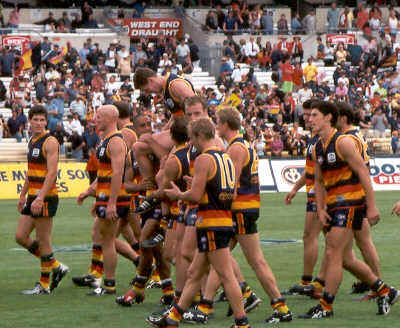 Ben Hart being carried off on the shoulders of his teammates after finishing his 250th career AFL game.
Hambone that is unbelievable ! Wow you went to Football Park & saw me Adelaide Crows just for Total-CFL ! Yeh way to go Hambone. Unreal photography as well. I actually played League footy on the great ground for the Woodville Warriors now the Eagles in the SANFL.
Wayne "Stick it where you shouldn't" Carey will be welcome at the Crows no doubt about that. Lets just hope he chases the many single beautiful Aussie Birds in my home city & keeps away from the married ones that are also "HORses"

Funny thing is Jeff Brown who you wrote about is one of my best mates from the Sth Gawler Lions. He is #2 in this great 1 minute highlights from the 92 Flag in SA. There was about 15 guys including me in this game that had played top level Aussie Footy SANFL a year or 2 earlier. 10,000 people were in the Barossa Valley for this great Grand Final Click here

Thanks Hambone for web Sports Casting for MYKwebWORLD & Total-CFL during your trip to Adelaide & Crow Land!. Got some more good big news re Total-CFL major sponsorship coming." Myk Aussie

April 29, "I crashed & burned this week in the AFL.com.au tipping contest! The Power beat me Crows in the battle of Sth Australia! Batman's Magpies get hammered by Arch Anzac Day rivals the Bombers! Oh no me Kangaroos get beaten by the Blues! Come on the Dockers whats up loosing to the Eagles! etc etc check out the scores below! Big event this weekend in Darren Bennett's San Diego it's US Aussie Rules Footy as the San Diego Lions host an Aussie Footy Carnival!

Essendon 23. 9 147 def. Collingwood 12. 9 81
Sydney 17. 7 109 def. Melbourne 13. 7 85
Richmond 18. 7 115 def. Hawthorn 14.11 95
Port Adelaide 12. 6 78 def. Adelaide 9.12 66
Carlton 18.14 122 def. Kangaroos 16.17 113
Brisbane 15.16 106 def. W. Bulldogs 12. 7 79
West Coast 16.12 108 def. Fremantle 10.13 73
St Kilda 18.11 119 def. Geelong 11. 8 74

More coming later in the week including more "Myk's Mates Club MYKwebTV" from the US/CDN Aussie Rules Footy from Phoenix, Feb 2003 Click here" Myk Aussie

April 21, Crows defeat the Eagles as Wayne Carey boots 3 majors! The Aussie Flag has never looked better at The Aussie Rules Restaurant & Bar in Calgary! More Phoenix US/CDN Aussie Rules Footy on this weeks Myk's Mates Club MYKwebTV 5 Part 25 min show!
Great to see Wayne Carey kick 3 majors as me Crows defeat the powerful West Coast Eagles. I will continue to rip into Wayne "stick it where you shouldn't" Carey on MYKwebWORLD but I'm very happy he's in a Crows jersey this year after having "a rest" in 2002! The Kangaroos loose against the improved Dockers. With my recent Calgary Kangaroos involvement I will also be promoting the Nth Melbourne Kangaroos in 2003! I tipped 6 again this weekend!

Wow The Aussie Rules Restaurant & Bar in Calgary is amazing! QR77's Dave Arnold & the guys at the Calgary Kangaroos have been telling me to check it out for awhile. The bar was jammed packed Thursdee night as the Canadian Guy's & Cwoc's enjoyed great music & comedy by the magnificent pianists. It was so much fun Thursdee night I went back again Saturdee night.

The Aussie Flag has never ever looked better as the beautiful Cwoc waitresses very friendlily serve the clientele wearing Aussie Flag tops! With a magnificent massive picture of Ayers Rock on the wall, the AFL on Fox Sports World & the Cwoc Aussie Flag waitresses I definitely felt at home.
More US/CDN Aussie Footy from Phoenix on this weeks "Myk's Mates Club MYKwebTV". Also includes Pt 4 of Myk at NFL Pro Bowl interviewing the NFL cheerleaders & hanging out with the star players. Invest In Inet MYKwebTV! Myk's Mates Club Click here. " Myk Aussie

April 13, A draw in the awesome AFL between the Kangaroo's & reigning Premiers The Lions! Crows have a good win over the Swans in Sydney! The Blues shock the Bombers as I for the 2nd week in a row tip 6!
RESULTS: Carlton 15.15 105 def. Essendon 13.16 94
West Coast 21.18 144 def. St Kilda 11. 8 74
Collingwood 18. 8 116 def. Geelong 10. 9 69
Kangaroos 16.13 109 drw. Brisbane 16.13 109
Port Adelaide 19.14 128 def. Hawthorn 11. 5 71
Adelaide 15.13 103 def. Sydney 11.10 76
Melbourne 20. 7 127 def. W. Bulldogs 14.11 95
Richmond 14.10 94 def. Fremantle 6.10 46

Lots of AFL every week on MYKwebWORLD. This weeks Myk's Mates MYKwebTV show includes,

US & CDN Aussie Rules Footy
5 mins "Pt 1 of 2 Myk at the US CDN Aussie rules footy CDN Kangaroo's vs Milwaukee Bombers" High Speed, & modem.

AFL, Aussie Football Mates Club MYKwebTV
3 mins - Myk in Melbourne 1 on 1 with Andy Batman talking AFL Footy Pt 3 High Speed, & modem.

NFL Mates Club MYKwebTV
5 min - Pt 3. " Myk at The NFL Pro Bowl 2003" Myk 1 on 1 interviewing the #1 cheerleader Cwoa's Falcons Angela, Chargers Sarah, Myk & Moose on the sidelines with NFC stars Giants Michael Strahan, Super Bowl champs Brad Johnson, Simeon Rice & Derrick Brooks, 49ers Jeff Garcia, AFC stars Colts Marvin Harrison, Raiders Rick Gannon, Dolphins Ricky Williams, Patriots Adam Vinatieri, Broncos Trevor Pryce, Chiefs Tony Gonzalez, Broncos mascot, ABC's Melissa Stark, High Speed, & modem.

Myk at the CFL Grey Cup 2002 MYKwebTV
5 mins - Part 3 "Myk, Moose & Cwoc Fanny Anny at the CFL Grey Cup 2002." Featuring CDN Player of the game Pat Woodcock, Cool Cop Luke, Myk interviewing Anwar Stewart, Myk in the locker rooms celebrating with the Montreal Alouettes, inc Marc Megna, Als NFLer Lawrence Phillips etc etc , Stampeder Aldi Henry, Mark Steven QR77, Myk hanging out with Jackie Kellogg, Ed Hervey, Ricky Walters & other Eskimo Players & former Bomber star Chris Walby. High Speed, Modem
Total-CFL MYKwebTV
Pt 2 Myk at the CFL Grey Cup Awards interviewing the cheerleaders. Includes Myk with Ms Photogenic Erin & the Regina Cwoc's, Myk interviewing Tammy Ms Winterpeg, Wow! Note Billy Cliton was President at time of filming. High Speed

*****Help MYKwebWORLD grow by being a MYKwebWORLD Sports Fan, Option 3 Click here

*****Mates you can make 15% of every $52 by "Spreading the Word" & informing people to join me Mates Club. Details on this weeks "Myk's Mates Club webWORLD column" This helps me a lot as well. Email or call me for more info if your not in me club. myk@mykaussie.com or Ph: 403 870-5578 *****
*****Invest In Inet MYKwebTV! Myk's Mates Club Click here *****

April 9, The Grand Final, US CDN Footy from Phoenix, 1st half unreal action is now on "Myk's Mates Club MYKwebTV".

Coming April 11 "Myk at the US CDN Aussie rules footy CDN Kangaroo's vs Milwaukee Bombers" Includes Myk 1 on 1 with Paul O'Keeffe the full back of the Bombers & the former President & Founder of the USAFL

*****Invest In Inet MYKwebTV! Myk's Mates Club Click here ****
April 7,"Oh no another star out for the year, Powers Josh Francou! "Myk I'll make sure I watch your MYKwebTV" Ross Smith, GM Game Development, AFL! US Aussie Rules Footy"
Very sad that the Pt Adelaide Power's star on baller Josh Francou is out for the year with a serious knee injury, the second star player in two weeks to be lost from the awesome 2003 AFL season. Josh has been a star ever since joining the Pap's from the Nth Adelaide Roosters in the SANFL. Carey & co forwards have shockers as me Crows loose to the Saints! Dockers have great win over Swans!

"Myk Aussie I will be sure to watch your MYKwebTV of the US Footy & your report from Melbourne" Ross Smith, GM Game Development. Mates it's been out for two weeks now my massive 5 Part 25 min "Myk's Mates Club MYKwebTV" footy shows. Ross was getting the Telstra people in the magnificent AFL House to get his PC working so that he could enjoy some great US/CDN Footy MYKwebTV from Phoenix in Feb 2003. For Myk's Mates Club Click here
Email to US Footy Players, Fans & media from Mark Wheeler, President USAFL

With the expansions we have seen over the last few years and the amount of games been played in the USA, I feel Myk Aussie may help us in our growth. Myk has offered to film our games and tournaments for no expense to the USAFL. The way we help Myk out is by buying a membership to his site, http://www.mykaussie.com
It was a great way for other teams to view the standard of play during the tournament weekend if they weren't able to be there, and show everyone what fun they missed out on. BUT the big selling point is that the guy has a media accreditation pass and will help secure radio and TV interviews whilst in the area.
With us years away from ever getting games on TV this is a way to watch USAFL being broadcasted and a way for everyone to have their 15 minutes of fame. It's a great way to show your mates here in the states and other parts of the world what you have been doing, and if you refer someone to his site and they buy a membership you get a 15% spotters fee!
So click on, have a look, and if you think it will work for you and your club give him a call. I think you will get some benefit from it and maybe some help in promotion of your club.
Once Myk Aussie covers his cost, the USAFL will get a kickback. We will use this to get him to Tournaments around the country, which helps everyone and the growth of Footy in the US!
Kind Regards,
Mark " Wheels" Wheeler
President, USAFL
"Thanks Mark. I had a great time in Phoenix. I really do look forward to helping every USAFL team in 2003. As mentioned I can get to your city early that week & arrange television & radio interviews all week to promote the weekend footy matches. Kansas City May here we come. Check out "Myk in the Media" for an example of the media work I have been doing the past 3 years. Click here I look forward to hearing from the USAFL Clubs." Myk Aussie

April 4,"US Aussie Rules Footy". Following on from my great web Sports casting of the US/CDN Aussie Footy in Phoenix I believe my next trip will be covering the Kansas City US Aussie Footy in May. "Myk Aussie we are trying to get you here for this great weekend of footy. Lets hope people on our extensive US player & fan email database sign up for your great "Mates Club MYKwebTV" Mark Wheeler, President, USAFL

Mark I'll be there if I can. I slept in me car in the Husky Truck stop in minus 10 degrees (ouch) two nights in Winnipeg last Oct to save $$ & keep MYKwebTV going. I'll do it again & again if I have to! Thanks for the newsletter article & your email to the 1,000's of great US Aussie Rules Footy players & fans. Pt 2 of the magnificent Final between Orange County Titans & The Chandler Outlaws from Phoenix is part of this weeks "Myk's Mates Club MYKwebTV" 5 Pt 25 min show Click here Hope to see you US Footy guys in me club" Myk Aussie
Pro Football Weekly: AFL and Pro Football Video Picks with amazing coverage from Myk Aussie The Pro Football Comedy Media Guy
*****Invest In Inet MYKwebTV! Myk's Mates Club Click here *****
***** It's here. To "Myk's Mates Club MYKwebTV" Unreal MYKwebTV show of Myk & Moose on the sidelines at The NFL Pro Bowl 2003, Myk, Moose & Mat in Maui for the NCAA Hula Bowl 2003, Myk the web SportsCaster in Phoenix for US/CDN Aussie Rules Footy Competition, Myk at CFL Grey Cup 2002 Pts 3-6, Myk & Moose in San Diego for Super Bowl XXXVII week includes Myk 1 on 1 with Darren Bennett interview, Myk Cwoc & Cwoa hunting & lots lots more MYKwebTV. *****
Check out me AFL 2003 Jan-March webWORLD Click here
Back to me current AFL 2003 webWORLD Click here

Disclaimer: "Photo's shown on MYKwebWORLD have been either taken by Myk or his web SportsCaster mates or they have been approved by the individual or company that owns the photos. If you believe I am in error here please contact me to discuss approval & linking to your site in exchange for the use of the possible photo in concern." Andrew Harrison, MYKwebWORLD Manager Ph: 403 870-5578 CDN #