Check out Aussie Rules Footy MYKwebTV Click here
Back to current AFL 2003 webWORLD Click here

*****Invest In Inet MYKwebTV! Myk's Mates Club Click here *****
Mar 31,"Oh no the Doggies lose star Chris Grant with a serious knee injury as the awesome AFL is under way! Wow I tipped 7-8 in Rd 1 from 1/2 way across the world with the help of AFL.com.au & me Aussie informants! Calgary Kangaroos skipper Troy Rose very impressed with MYKwebTV!

It's under way the awesome AFL Rd 1 has been completed with me Adelaide Crows away to a great start. Very sad to see that The Bulldogs star forward Chris Grant is out with a serious knee injury. Chris has been one of the very best AFL Players over the past 10+ years.

"Hey Myk Aussie it's Troy Rose. I'll join your "Myk's Mates Club MYKwebTV" to support you and I'll
tell the boys to as well. Let me know what's up and great job on the MYKwebTV video." Troy, Skipper Calgary Kangaroos.


Troy Rose is the 1st paying customer on "Myk's Mates Club MYKwebTV". I just received the confirmation from the very secure Pay Pal credit card system on MYKwebWORLD. Thanks Rosie, the 1st of many I believe. See ya down at a Calgary Kangaroos training session real soon. Lots more Aussie Footy reports & news coming. "Myk's Mates MYKwebTV" show from last week. To check it out go to the bottom of the page. Click here" Myk Aussie

Mar 23,"Me AFL tips are up for the upcoming awesome AFL 2003 season. Click here Massive "Myk's Footy Show MYKwebTV" coming this week to "Myk's Mates MYKwebTV Click here " Myk
Mar 14,"Me Adelaide Crows defeat The Magpies & win the 2003 Wizard Home Loans Cup Grand Final, 104 to 73! Champ Crow Andrew McLeod added the Michael Tuck Medal to his two Norm Smith Medals with a Best On Ground performance against the Magpies. Magpie coach the former Eagles Premiership coach Mick Malthouse reckons his side was given a footy lesson by the Crows. The Magpies runners-up in the premiership season to Brisbane last year lost their second successive grand final in loosing to the Crows by 31 points in the pre-season Grand Final. Here's the scores, goal kickers & best players. Newcomers to AFL the 9 pointer was used as a trial in this pre season cup.
ADELAIDE: 0.4.1, 1.8.3, 1.9.4, 2.13.8 (104)
COLLINGWOOD: 0.3.2, 0.4.4, 0.6.7, 1.9.10 (73)

NINE POINT GOALS: Adelaide: McLeod, Biglands 1.
Collingwood: Burns 1.
SIX POINT GOALS: Adelaide: Perrie 3, Stevens, Biglands, Carey 2, Edwards, Ladhams, McLeod, Johncock 1.
Collingwood: Didak, Tarrant 2, Molloy, Betheras, Williams, Lonie, Woewodin 1.
BEST: Adelaide: Bode, McLeod, Clarke, Goodwin, Burton, Edwards, Stevens.
Collingwood: Shaw, Lockyer, Williams, Buckley.
INJURIES: Collingwood: Fraser (ankle), Prestigiacomo (ankle).
Adelaide: none
REPORTS: Tarrant (Collingwood) for charging Reilly (Adelaide) in the third quarter.
MICHAEL TUCK MEDAL: Andrew McLeod (Adelaide)
UMPIRES: Allen, Morris, McLaren, McBurney
CROWD: 43,571 at Telstra Dome.
Coming Mar 27 to "Myk's Mates Club MYKwebTV" me 1 on 1 with Andy Batman the "Mad Magpie Fan" from Lion Premiership land in Melbourne." Myk Aussie.com
*****Invest In Inet MYKwebTV! Myk's Mates Club Click here *****
Mar 14,"Myk 1 on 1 with Darren Bennett MYKwebTV! From the recent Super Bowl week, Jan 2003. "Myk was real happy to again meet up with Darren the 2 time NFL Pro Bowl Punter. Darren has played his whole NFL career with the San Diego Chargers after being a star forward for the Melbourne Demons in the awesome AFL, Australian Football League. Myk & Darren talk NFL, NFL Juniors & US Aussie rules footy in this great 1 on 1 interview Click here" Moose
From Youngy Miller. My fav pic's from the recent "AFL Lookalikes"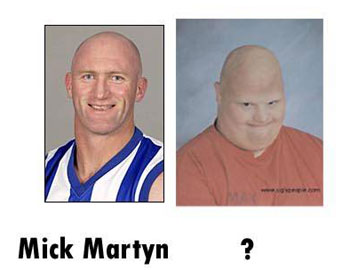 "Thanks Youngey. Great pic's! Mikey Martyn has been a great player for the Kangaroos. Definitely a star & one of me fav players & personalities from one of me fav AFL teams the Nth Melbourne Kangaroos in the Awesome AFL. In a few years time maybe Mikey can come help me Calgary Kangaroos win a few games." Myk Aussie.com
Mar 12,"Hey Youngy looks like Wayne is doing good in Adelaide with the Birds, sounds like he's got shaggers back ? Boom Adelaide recruit Wayne Carey could make his first official appearance for the Crows in Saturday's Wizard Cup grand final against Collingwood!

Star forward Wayne "stick it where you shouldn't" Carey was named in the Crows' 28 man squad on Thursday after not appearing yet in the pre-season competition due to a back-related hamstring. It appears Wayne hid himself well last weekend & escaped the Nth Melbourne Roo Hunters still pissed off at their former star player & mate. Wayne will be very welcome in the forward line for the Crows. Go Crows! " Myk Aussie.com
Mar 9,"Mr Ross Smith, General Manager of Game Development World Wide from the AFL in Melbourne Impressed! "
Wed Mar 5 Myk Aussie.com Good to hear from you - and good to know that you are in touch with Plugger and Mark. Keep up the promotion of the game,

Regards,

Ross Smith
"Mates I had the pleasure of having two meetings with Ross while i was in Melbourne in Nov, 2002. Aussie Footy Fans world Wide, I'm telling you we are in good hands with Wayne Jackson & Ross leading the way. Wayne is the President & a former Sth Aussie SANFL Eagles star coach. I remember traveling to watch the Eagles with me dad & watching the Eagles get hammered many a time until Wayne started coaching them. Wayne had a big bonus though. Star 17 year old Bruce Lindsay. Eagles made the final 4 the 1st time for along time under coach Wayne Jackson. If you are a business man or Cwoc interested in selling into the US, CDN, Australian market email me. The business proposal Andrew did that I presented to Mr Ross Smith may interest you." Myk Aussie.com myk @mykaussie.com
From me to Ross,
Ross Smith
GM of Game Development
AFL

Ross I had a great weekend recently at the US/CDN Australian Rules Football in Phoenix Arizona. I have approximately 60 minutes of MYKwebTV already edited & loaded from this great weekend. Initial link is below.

Unbelievable potential. I am very close to TV quality full screen with a nice Billy Gates Loaded PC & on High Speed Internet.

Mark Wheeler & Paul O'Keeffe were very open to what I do & I believe they see the amazing potential of US Footy & MYKwebTV.

Regards
Myk Aussie.com
MYKwebWORLD
http://www.mykaussie.com & MYKwebTV
Ph: 403 870-5578 CDN #
Mar 5," I bet the Nth Melbourne Kangaroos will be not only playin footy this week, they'll be doin some Huntin! The Kangaroos take on me Adelaide Crows in the semi-final of the preseason Cup in Adelaide. Where will Wayne be ? He's not fit & is not playing or is he hiding from the players & his former teammates. Wayne "Stick it where you shouldn't" Carey is a star & I wish him all the best in 203 with me Adelaide Crows. But Wow what a year it was in 2002 for Wayne. Check out Feb 18 report below for what Wayne has been up to lately in Adelaide." Myk Aussie.com
Feb 18, 2003 "The US & CDN Aussie Rules Footy Competition in Scottsdale Arizona was fantastic as I web SportsCast the event!
Coming to MYKwebTV Feb 21, 5 mins Pt 1 of "Myk at the US CDN Aussie Rules Footy" Myk Aussie.com the Controversial Commentator & MYKwebTV. Featuring the Orange County Titans vs The Chandler Outlaws players & fans, John the Arizona Footy President, Denver Bronco's Cwoa & her Cwoa friends, Mark Wheeler US Footy President tossing the coin, star US Footy Captain Jeff Purcell.
"Congratulations to the Orange County Titans, who captured the 2003 US Metro Footy Championship! Lots of MYKwebTV coming March 1 from this great weekend in Phoenix Arizona. For all the US Aussie Footy Arizona Competition results, best players etc Click here " Myk Aussie.com
AFL Update from Youngy Miller, Sth Gawler Lion player & coach.
"Myk did you hear that Wayne Carey and Mark Bickley were enjoying a lunch at a fancy West Lakes restaurant. The waitress approaches their table to take their order. She is young and very attractive. She asks Mark what he wants, and he replies, "I'll have the heart-healthy salad."

Very good, sir " she replies. Turning to Carey she asks, "And what do you want, Wayne?"

Carey answers, "How about a quickie?"

Taken aback, the waitress slaps him and says, "I'm shocked and disappointed in you. I thought you were on the straight and narrow and committed to high principles and morality, not like last year. I'm sorry you have joined the Crows." With that, the waitress departed in a huff.

Bickley leans over to Carey, and says, "Wayne, I believe that's pronounced 'quiche' ".
"Thanks Youngy. Us Crows fans will love him though once he starts kicking Vic butt on Footy Park this year. Go Crows!" Myk Aussie.com
Pro Football Weekly: AFL and Pro Football Video Picks with amazing coverage from Myk Aussie The Pro Football Comedy Media Guy
Jan 24, 2003 "Myk 1 on 1 interview with AFL Melbourne Demon forward now NFL & Pro Bowl Punter Darren Bennett.
Myk Aussie.com & I met up with Darren in San Diego at the NFL Global Junior Competition & at the Press Conference for this event. Myk did a great job interviewing his new Aussie Mate. It was a great follow up to Myk's previous interview with Darren in the locker rooms after a game against the Seahawks 3 years ago. Darren Bennett made the NFL team of the 90's. He is a fantastic NFL plasyer & team leader for the San Diego Chargers. Great "Myk's Mates Club MYKwebTV" coming in March." Moose Salzer
Pro Football Weekly: AFL and Pro Football Video Picks with amazing coverage from Myk Aussie The Pro Football Comedy Media Guy
*****Invest In Inet MYKwebTV! Myk's Mates Club Click here *****
***** It's here. To "Myk's Mates Club MYKwebTV" Unreal MYKwebTV show of Myk & Moose on the sidelines at The NFL Pro Bowl 2003, Myk, Moose & Mat in Maui for the NCAA Hula Bowl 2003, Myk the web SportsCaster in Phoenix for US/CDN Aussie Rules Footy Competition, Myk at CFL Grey Cup 2002 Pts 3-6, Myk & Moose in San Diego for Super Bowl XXXVII week includes Myk 1 on 1 with Darren Bennett interview, Myk Cwoc & Cwoa hunting & lots lots more MYKwebTV. *****
Back to current AFL 2003 webWORLD Click here

Disclaimer: "Photo's shown on MYKwebWORLD have been either taken by Myk or his web SportsCaster mates or they have been approved by the individual or company that owns the photos. If you believe I am in error here please contact me to discuss approval & linking to your site in exchange for the use of the possible photo in concern." Andrew Harrison, MYKwebWORLD Manager Ph: 403 870-5578 CDN #