Check out CJFL MYKwebTV Click here
If you are new to MYKwebWORLD & want to know what I do this is a great article Click here

Wed, Dec 24 2003" Merry Merry Christmas to all CJFL Footy fans! Congratulations to the Saskatoon Hilltops again the CJFL Canadian Bowl Champs!" Myk Aussie
I really do love the CJFL! I've heard of some big plans going on 2004 in regards top promoting CJFL To The World. Along with MYKwebWORLD I should be involved in this with another great International Media company.

I have a big 2004 planned. I'm heading to CFL Argo and Alouette Land and then off to Super Bowl XXXVIII. 38 is my Woodville Warriors SANFL jersey number so I better get there. I'll be promoting CJFL one of the very best games in the World along the way. Hope you can join me in 2004 and especially on Invest In Inet MYKwebTV! Myk's Mates Club Click here Lots more coming to MYKwebWORLD" Myk
Mon, Sept 22, 2003 "Tommy Furino SportsRage Montreal radio, his sister taking care of the future CJFL stars!" Myk Aussie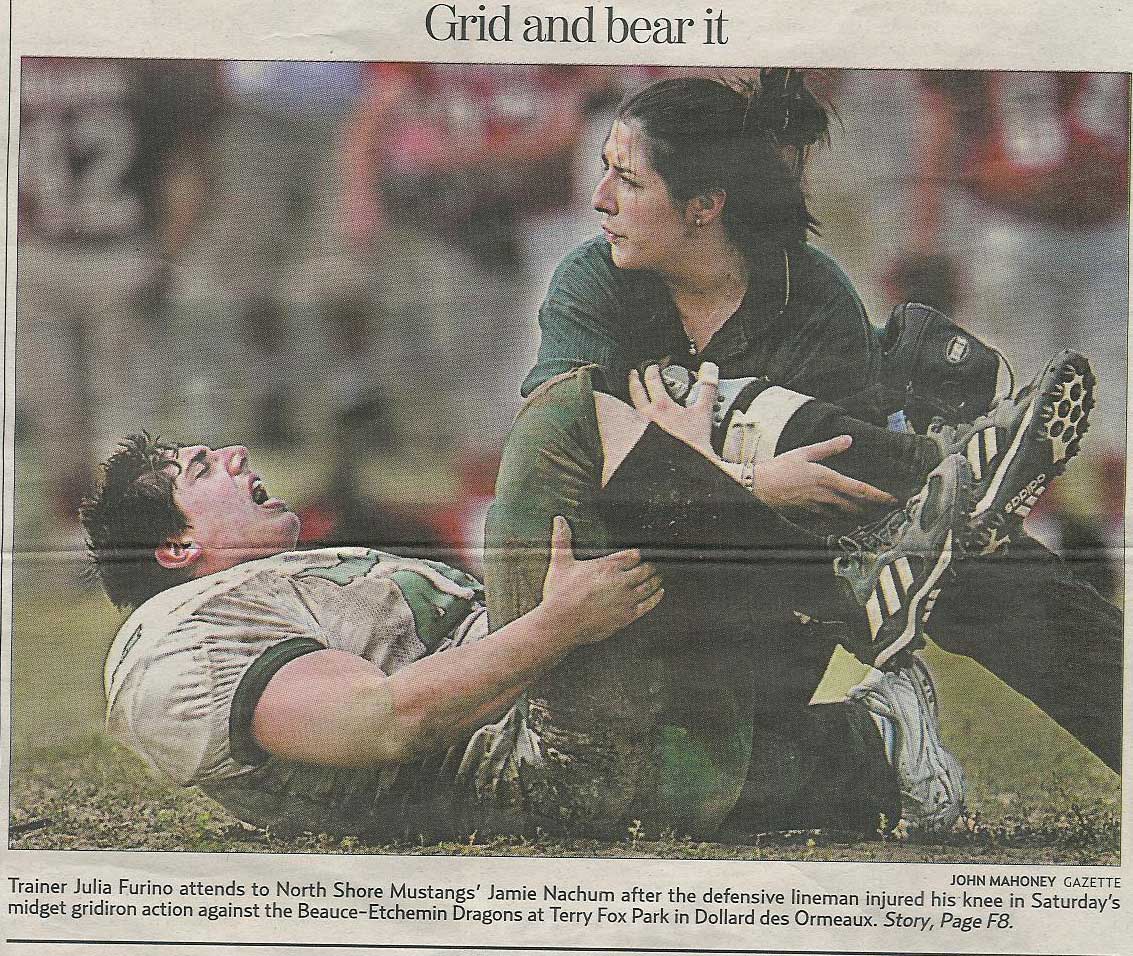 A great photo of Tommy's sister helping a future CJFL star with an painful knee injury. The player is from the North Shore Mustangs in the Quebec Midget League. Thanks Tommy you SportsRage Champ!" Myk Aussie
Tues, Sept 16, 2003 "The Okanagan Sun won easily over the Kamloops Cowboys on Sunday 67 - 3! Incredibly frightening pictures!" Myk Aussie

From Bob my good friend at the Okanagan Sun my #1 CJFL team!
"Hey Myk aussie, don't these Cwocs on Dieters site make you a little lonely for Kelowna and Rose's Bar? The Okanagan Sun won handily over the Kamloops Cowboys on Sunday 67 - 3. The next three games will tell just how good this year's club really is." Cheers, Bob.

"Bob Yes Yes Yes. I love the Cwoc's in Kelowna the best in the World. See you soon at a Sun game! More CJFL News coming next week to MYKwebWORLD!
However many houses in Kelowna and the surrounding area were destroyed two weeks ago with massive bushfires. Up to 30,000 people were evacuated from their homes. Here's some incredible & incredibly frightening pictures from Kelowna thanks to Sammy Sasktoon's mate" Myk Aussie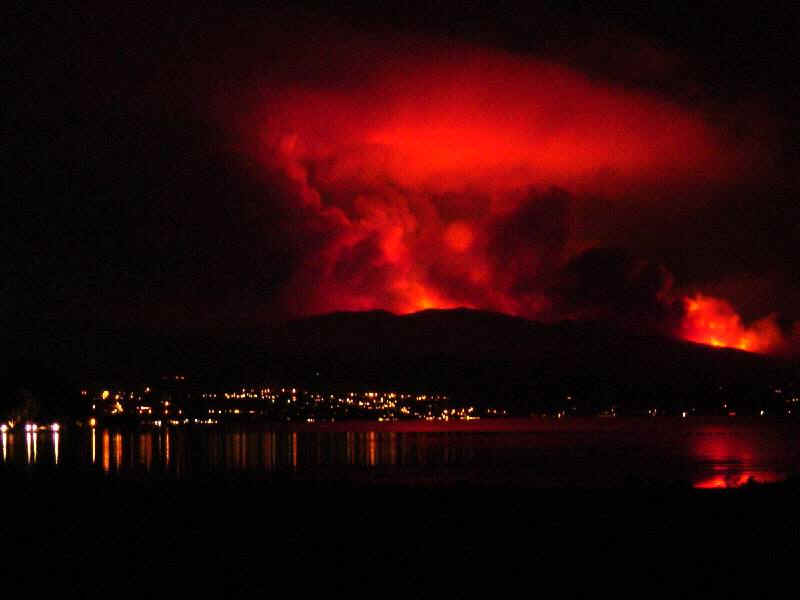 Left: The normally magnificent Okanagan Lake with the massive fire in the background. Right: The city and fire.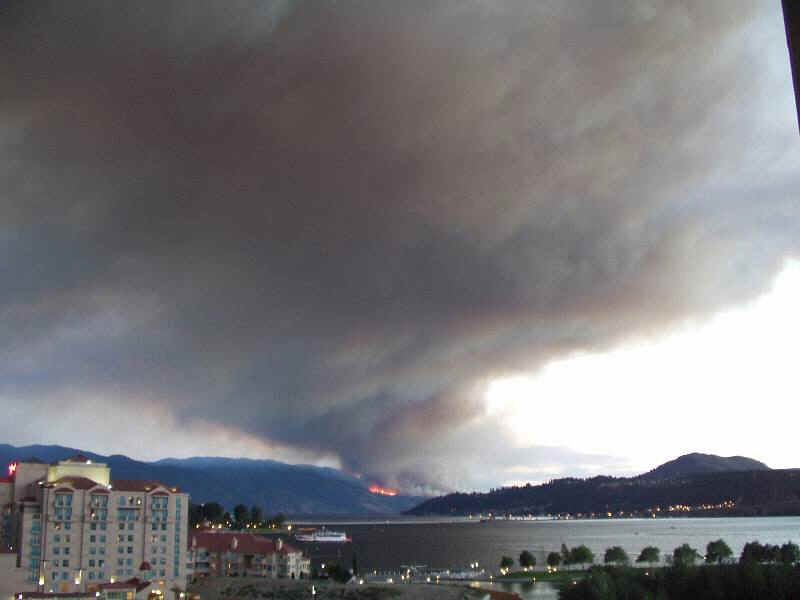 Roses Bar & the Grand Hotel in bottom left corner as Bob was talking about. Wow! Massive fire!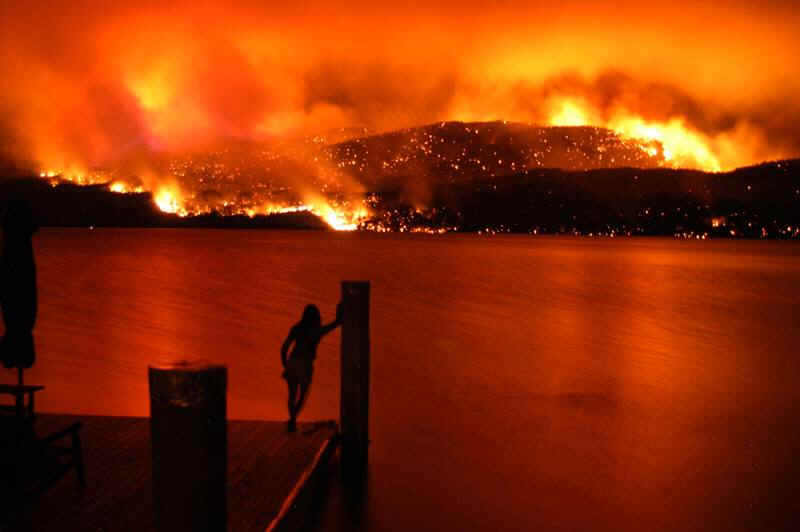 I have spent many a great day & night swimming and chatting on this great lake frontage. But I have never ever seen something like this!

All the best to the many great people of Kelowna, The Okanagan Sun players, fans, officials and families as the community recovers from this recent horror" Myk Aussie

Sun Aug 10, 2003 "The Calgary Colts get off to a great start with a big 22-3 win over the Edmonton Wildcats at McMahon Stadium, home of the Calgary Stampeders!" Myk Aussie

After deciding to drive instead of my normal 20 min walk to McMahon Stadium & investing only $7 bucks to enter I took a seat amongst the 1,000 or so faithful fans. On a warn night in which thunderstorms threatened the Colts got off to a good 11-0 half time lead. After listening for a while to great commentary on the PA I soon realized it was Peter Watts, Mark Stevenís QR77 Sports Show in Calgary guest host.

In the 1st half the Colts had 9 1st downs, completed 7-15 for 90 yards passing while rushing for 72 yards with a net offense of 135 yards. They had 1 interception, 2 penalties for 25 yards & on 8 punts achieved a 31 yard punt average. Nice start by the Colts under new head coach Dave Diluzio the former very popular Calgary High School coach who coached the Bishop McNally Timberwolves the past 6 seasons leading the team to the City Championship in 2001. Dave the Linebacker played for St Francis Brown & the University of Calgary Dinosaurs before he started his coaching career.



In the 1st half the Edmonton Wildcats achieved 7 1st downs, completed 5-14 for 56 yards passing, 93 yards rushing for a 142 yard net Offense. They had 1 interception but 6 costly penalties for 46 yards while on 7 punts they achieved a 40 yard average.

3rd quarter: After a great play by the Wildcats the Colts were forced to start on their own 1 yard line. Unsuccessful after 2 attempts the Colts punted from their own 5 yard line & then Wow this is what I came to see, the best 18 to 22 year old big, fit strong lads all at it 100% in a big rough & tough play as down goes #23 Cory Prokopy for the Wildcats & #8 Mark Chyc-Cies for the Colts! Both players were then forced off with leg injuries.

The lights come on, the sky is clear, itís a magnificent night and two Stamps fans nearby talk of their disgust & disappointment that Dave Dickenson will not be wearing the Stampeders Red & White at this exact time next week. With 8.21 to go the Wildcats still canít get on the board with a missed field goal from 29 yards out but then itís a great return to the 38 yard line by Travis Balicki. Travis is rightly so thinking heís current Stamps star Wane McGarity as he sprints, ducks & weaves across the same turf as his Stamps idols.

With 7.11 on the clock Colts QB Cody Heintz who was having a very good game was sacked with a loss of 5 yards. 1.22 left Jaques Lambala #34 the Big Colts Running Back has a Big Run while Cody Heintz must have been shaken on the sack because with 0.49 left on the clock Backup QB John Kanaroski is in. Unfortunately for the smaller QB he throws an interception to Adam Birbeck #19 a Defensive Back for the Wildcats. At the end of a very exciting 3rd term the score is still at 11-0.

With some magnificent Cwoc, Cool Women Of Canada scenery in the crowd itís obvious the Big, Strong and Fit CJFL players enjoy their girls, sisters, parents and friends coming to watch them strut their stuff at McMahon Stadium.

There is a slight cheer amongst the crowd as QR77ís Peter Watts announces the Edmonton Eskimos have a big lead over the Toronto Argonauts. Iím sure this motivates Wildcats QB Brendan Maher as he throws a great pass into double coverage.

Colts Coach Dave Diluzio definitely wanting a win 1st up is getting nervous as unfortunately his Backup QB John Kanaroski throws his 2nd interception. Wildcats QB Brendan Maher completes a pass to WR Kyle Drake #88 but then Oh No he drops the ball. Luckily the Wildcats recover on the 3 yard line. After two failed attempts right at the same spot that Jim Barker could have won against the Alís in game one of the 2003 CFL season the Wildcats coach Gary Durchik decides on a Field goal, 11-3 Wildcats are finally on the board.

Dave Diluzio rightly so puts his #1 QB Cody Heintz back in. Iím still not sure if he was injured or whether Dave wanted to give John Kanaroski some playing time but either way it was the right decision to get his #1 guy back in and along with Running Back Kyle Rawson the Colts are looking good.

With 8.42 on the clock the Wildcats coach decides to go for it on 3rd and 1 but they come up short after great defensive play by the Big Bad Colts Defensive Line!

7.40 to go and itís a Big play as QB Cody Heintz finds WR #21 Matt Lambros for a 48 yard Touchdown by the Colts and after a 1 point goal itís 18-3 Colts!

Colts Travis Balicki again looks great on another return and then itís the Massive Jacques Lambala #34 Running Back for the Colts. Jacques has a 17 yard run and then two more runs in a row, breaking many a tackle and Iím thinking I wish Stamps coach Jim Barker was here watching this!

With 2.19 to go there is a rough play call against the Wildcats then a dropped shovel pass by the Colts & itís on, all the guys on the field pile in and even big Mike Sellers from the Winnipeg Bluer Bombers would have been scared if heíd dropped that pass & had these fella's on top of him.

As Stamps legend kicker Mark McLaughlin is possibly in his last season Iím sure Perri Scarcelli was thinking he was Mark as he lined up for a long 48 yard Field goal attempt. Perri makes it 48 yards that's a Big goal the crowd loves it and itís 22-3 the Colts. With 0.27 left Colts Defensive Back #27 Dan McTighe gets himself an interception and itís all over, a great win by the Colts.

Led in Offense by QB Cody Heintz who's I'm sure was thinking maybe Jim Barker's here watching and wants me sooner than I even though possible. Also with great Running Backs, Receivers & Kickers the Colts were way to good. Holding the Wildcats to only 3 points also showed how dominant the Colts were in Defense.

A great night, a great win. My only disappointment was I couldnít see any Stamps players or officials watching! Kinda weird because as I continue to study & learn this great game Iím sure the older professional CFL guys could learn especially from the 100% enthusiasm the CJFL players showed as they enjoy strutting their stuff on the famous field.

To all the distraught Stamps Fans after their 48-4 hiding the night before I suggest you come out and watch the Colts in their next game, yell scream and admire the best 18-22 year olds in the country as they continue their dreams to play in the CIS the CFL and then the NFL." Myk Aussie

Sat Aug 9, 2003 "CJFL starts tonight here in Stampeder Town!" Myk

Tonight one of my very favorite sports starts, the CJFL as the Calgary Colts take on the Edmonton Wildcats at McMahon Stadium, 7.00pm. I'll be there watching & then writing a game report on here.

CJFL is great, young, very fit, strong guys all going at it 100% as they enjoy the game & also get ready for their CIS, CFL & even NFL careers. Good luck to all teams in this great footy league in Canada

From Total-CFL Post Sat Aug 9 Nuffy come & get your footy fix tonight! At least it will help you get over last night. You can yell, scream, get rid of your anger! Calgary Colts vs Edmonton Wildcats 7pm McMahon. I'll be there watching.

I hope many Calgarians join me! Watching tonight will also help them get over last nights 48-4 hiding that the Stamps got from me BC Lions" Myk Aussie

June 16, 2003 "Aug 9 The Okanagan Sun to take on the Chilliwack Valley Huskers! Aug 2 the BCFC starts with the Abbotsford Air Force taking on the Kamloops Cowboys! Can't wait for this great expanding Footy league to start!" Myk Aussie

Me CJFL webWORLD & CJFL MYKwebTV could again be a very popular footy section on MYKwebWORLD. I can't wait to take a drive from Calgary across the magnificent mountains to again web Sports Cast the Okanagan Sun, the Kamloops Cowboys & all the great footy teams in the BCFC & the PFC. Make sure to check out CJFL MYKwebTV from previous years Click here

CJFL fans you will enjoy my CFL footy MYKwebTV Click here" Myk Aussie

May 9, 2003 "Me the Football Guy in Business In Calgary Magazine" This is the best article that has ever been written about my success in the NFL, CFL & AFL! Michael O'Toole the Englishman is a brilliant writer.

I even laughed many a time reading this 3 page article that goes to 31,000 businesses in Alberta. Thank you Michael. Click here" Myk Aussie

Pro Football Weekly: CJFL and Pro Football Video Picks with amazing coverage from Myk Aussie.com -The Pro Football Comedy Media Guy

*****Invest In Inet MYKwebTV! Myk's Mates Club Click here *****