*****Invest In Inet MYKwebTV! Myk's Mates Club Click here *****

Back to current CFL webWORLD 2003 Click here

April 30, 2003 "The CFL Draft is over! The Riders pick up star Stamps receiver Travis Moore! Renegades choose OL Trevor Kine #1 while the Lions pick WR Paris Jackson! Moose's CFL Draft report!
Travis Moore is without doubt one of the best CFL players I have seen in the 5 years that I have been covering the CFL, especially in 2002 & the games he played in 2003. An incredible athlete that put his body on the line every time I saw him attempt to catch a rippa of a pass from Marcus Crandell.
Every time I picked up the Calgary Sun over the past 2 footy seasons & the headlines read "Travis is back from injury" I said to myself alright The Stamps can win today!
Unfortunately Travis was Marcus's only consistent "Go to guy in 2002".
Travis Moore was always at Moose's Bar & Restaurant mixing it with the Fans for hours after a home game.
I believe the Riders made a giant step towards making it to the Grey Cup in their great city in 2003!" Myk Aussie

To Myk Aussie from the Renegades Media "Attached is a headshot of Trevor Kine of New Mexico State. Kine was the first player chosen by the Renegades during the CFL Canadian College Draft on April 30. Kine was c hosen 13 th overall in the draft, during the second round.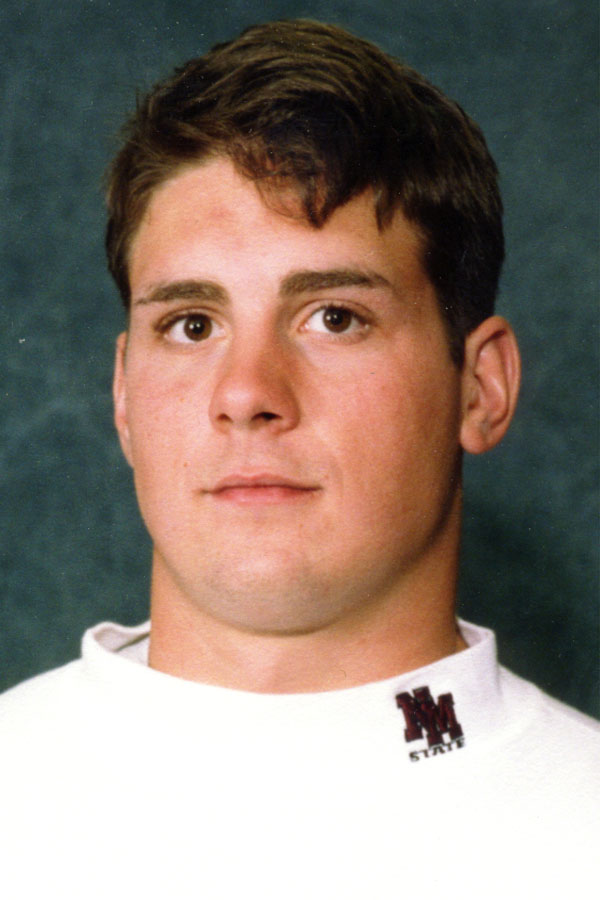 "Good luck Trevor in 2003! Trevor is an OL Offensive Lineman from New Mexico St. Looks like he will be lining up next to me big mate Chris Burns the former Tiger Cat & a BC mate of mine who resigned with the Renegades on Feb 17. I caught Burnsey Cwoc Hunting in Winnipeg last year during the footy season! Seriously."Myk Aussie

By Saskatchewan-Moose Salzer

** Big News CFL fans! The CFL College draft was concluded
& the following players were chosen by the 9 Canadian Pro teams:

(Breaking News; '06 Grey Cup to be held in Winterpeg!)

Saskatchewan Roughriders:
In a stunning draft day trade the Roughriders traded their 1st-round choice to the Calgary Stampeders for 8 yr. all-star WR/SB, Travis Moore Hello Grey Cup '03 - @ home!!!}
Mike McCullough - LB - Saint Francis Xavier
Jim Merrick - OL - McGill
Adrian Olenick - OL - U. of Saskatchewan

Calgary Stampeders:
Steve Morley - OL - St. Mary's
Joe McGrath - OL - Miami of Ohio
Emmanuel Casseus-LB - Michigan
Wes Lysack - DB - Manitoba
Taylor Robinson -OL - Cen. Fla (Good School-has produced many NFL/Ar.FL
players)
Sandro Sciortino-K - Boston College (Legendary Doug Flutie's school)
Mike Labindjo -DE - Michigan St.
Hassan Probherbs-WR/DB-Portland St. (Legendary Run-n-Shoot offencive
school - he has been playing Ar.FL)
Blake Machan - SB -U. of Calgary Dinos
Travis Arnold - OL -Manitoba

British Columbia Lions:
Paris Jackson - WR -Utah
Javier Glatt - LB -U.B.C.
Carl Gourgues - OL -Laval
Nick Hoffmann - RB -McGill (check out his uncles website!)

Hamilton Tiger-cats:
Julien Radlein - RB -U.B.C.
Kevan Scott - LB -California of PA.
David Kasouf - WR -Holy Cross
Erico Hakim - FB -St. Mary's

Edmonton Eskimos:
Randy Spencer - DL -Weber St.
Kojo Aidoo - RB -McMaster
Dounia Whitehead-CB -Charleston South
Joe Bonaventura -LB -St. Mary's
Larry Ram - OL -Florida A&M
Didier Ormetuste-DL -Toledo (I got weighed there many times)

Ottawa Renegades:
Trevor Kine - OL -New Mexico St.
Louis Hobson - DE -Stanford (Big Ed McCaffrey's school!)
Israel Iodonije- DE -Manitoba
Pat Kobongo - DL -Nebraska
Mark Parenteau - C -Boston College
Todd Sheely - LB -Univ. of Ottawa G.G.'s

Toronto Argonauts:
Ray Maruiz - LB -McMaster
Derik Fury - DB -Mt. Allison

Winterpeg Blue Bombers:
Todd Krenbrink - OL -Regina Rams, Jrs.
Roy Sebastian - LB -Mt. Allison
Ian Shelswell - NT -Stanford
Cory Olynick - WR -Regina

Montreal Alouettes:
Andrew Noel - WR -Acadia
Rich Karikari - CB -St. Francis Xavier
Kerry Carter - RB -Stanford
Matt Brandt - OE -Miami of Ohio
Paul Archer - OL -St. Mary's
Matt Bertrand - QB -Laval (1st Canadian QB drafted in the 2000's)
"Thanks Moose. Mates for all the best CFL Draft info check out Total-CFL.com. My mates their are always 1st with the best CFL News! Click here" Myk Aussie
AFL Betting! NFL Betting! CFL Betting!
Check out "Myk's Mates Club" for AFL Betting, NFL Bettting, CFL Betting, Australian Rules Football Betting, AFL tips, AFL picks, NFL picks, CFL picks, AFL picks against the spread, try online poker or online casinos as well after sports, NFL picks against the spread, CFL picks against the spread, Aussie Rules Footy tips, Australian Rules Football picks, Australian Rules Football picks against the spread. Click here

April 21, 2003 "Star Alouettes running back Mike Pringle although injured had a great time at the Grey Cup in Edmonton! Mike however recently "decided to leave" the Alouettes??? Me the web Sports Caster at Grey Cup 2002 Street Parade on this weeks Myk's Mates Club MYKwebTV show Click here

Features many of the star CFL fans including me #1 Stamps & CFL 2002 fan Grant "Oldpaint" Painter. This is new MYKwebTV footage Pt 1 of 4 from the Street Parade. Hope you can join me at Myk's Mates Club MYKwebTV show Click here." Myk Aussie

April 16, 2003 From my Total-CFL post "Stamps Fans Duncan Crazy Kicker is all fired up!" Myk Aussie

Stamps fans quess what I did Mondee ?????
I had kicks & punts CFL & Aussie Footy style with Duncan Crazy Kicker. Serious out here in Abbotsford BC. Me & Duncan had a little kicking competition & Cwoc Brenda filmed it all for Total-CFL MYKwebTV. We kicked CFL & AFL footies & did interview for 2 hrs. Was fun.
Duncan had 2 NFL tryouts recently, was offered a contract but no signing bonus with some other Horses the Colts.
Duncan told me in this Total-CFL MYKwebTV interview that he is doing kickoffs this year for Stamps while Mark still kicks goals in what is Marks probable last year.
Duncan says in 2004 he will be either 1) Punting & kicking goals for Stamps or 2)Buying a nice new sports car, Punting in the NFL & chasing Cwoa's instead of Cwoc's in the US.
Good luck Duncan !
Myk Aussie

April 10, 2003 "Oh No Donny releases Alouettes star Mike Pringle! A CFL update from Moose, President Of Friends The CFL, USA" Myk Aussie

CFL Update By: Rich Moose Salzer
The Detroit Lions have released former Saskatchewan Rough Rider 4th-string QB, Jonathan Beasley...Boy, they must have been desperate to work out the Riders 4th qb!...The B.C. Lions have signed DB Shadwick Criss...the Montreal Alouettes have stupidly released the great Mike Pringle...I am starting to lean toward not liking Don Matthews much any more...Oh well, they still have Bruno Heppell & Eric LaPointe & that jerk L....... oh no gotta go to Mates Club here Click here ...

The Edmonton Eskimos have stupidly released S Chris Hardy & LB Bill Ring...seems like they don't want to go back to the Grey Cup so soon...Oh they also released Myk's mate Jackie Kellog, who's 1st Championship was w/ the NFL E div., Frankfurt Galaxy w/ Vern Hippeler in '95...My beloved Green 'Riders re-signed KR/reserve RB Cory Holmes...

A little tribute to the late George Allen's son...No not that meathead who used to be Gov. in VA., the other one. Raiders Gen. Manager, Bruce, now 46...Bruce used to in the front office of the Montreal Alouetter & the USFL's Chicago Blitz in the 1980's...He did a real good job w/ Da Raidahs last season!" Moose Salzer, President Friends Of The CFL, USA

"Moose sad about Pringle. Did you know Mike had a great time in Edmonton even though he was injured? Seriously Mike was in the street parade having a great time. Pt 1 of The Massive 2002 Grey Cup Street Parade MYKwebTV ends with Mike Pringle. This amazing MYKwebTV is coming in a week or two to Myk's Mates Club. Better tell all your US Mates about this as they will be in upcoming episodes. Click here " Myk Aussie
April 9, 2003 From Total-CFL.com Post The Truth! I love the CFL that I never ever try to bag any team or it's fans & I really do try to cover all the teams especially out here in the Wild Wild West. It's the non CFL fans that annoy me. Gotta go to Mates Club now, join me & me "Madness Mates" if your game! Click here " Myk Aussie
April 5, 2003 "I'm Suspending myself from Total-CFL.com ! A self imposed MADNESS Suspension !" Myk Aussie
From Total-CFL.com post mykaussie Sat Apr 5 '03 1:50am

Brad Mr Total CFL & TotalCFLers. As per previous post I'm suspending myself from Total-CFL! Seeing my "Toronto people being soft CFL fans" post caused an uproar I'm Out & suspending myself from Total-CFL.com. I going go hang out with me "Madness Association" & " MikGaz Teamsters" Montreal SportsRage Internet & radio mates for a bit. I'm Out! Myk Aussie
Pro Football Weekly: CFL and Pro Football Video Picks with amazing coverage from Myk Aussie.com -The Pro Football Comedy Media Guy
*****Invest In Inet MYKwebTV! Myk's Mates Club Click here *****

***** It's here. To "Myk's Mates Club MYKwebTV" Unreal MYKwebTV show of Myk & Moose on the sidelines at The NFL Pro Bowl 2003, Myk, Moose & Mat in Maui for the NCAA Hula Bowl 2003, Myk the web SportsCaster in Phoenix for US/CDN Aussie Rules Footy Competition, Myk at CFL Grey Cup 2002 Pts 3-6, Myk & Moose in San Diego for Super Bowl XXXVII week includes NFL Global Jnr MYKwebTV, Myk Cwoc & Cwoa hunting & lots lots more MYKwebTV . *****
For Myk's CFL webWORLD Feb & Mar 2003 Click here
Back to current CFL webWORLD 2003 Click here