You can also join me & me MADNess Mates every Fridee on Gabriel Morency's "SportsRage" The World Champs Inet & Montreal Radio, Fri 10.45am Pacific CDN/US time, Sat 5.45pm EST Aussie time. Click here" Myk Aussie
*****Invest In Inet MYKwebTV! Myk's Mates Club Click here *****
If you are new to MYKwebWORLD & want to know what I do this is a great article Click here

Tues Mar 30, 04' "AFL Australia Football League is all go right now as Rd 1 is completed! The Adelaide Crows get hammered by the North Melbourne Kangaroos was my non highlight of the weekend matches! Aussie footy photo from Imran" Myk Aussie
Results from the AFL.com.au tipping contest.

Welcome to the tipping results for Round 1 of the AFL 2004 season brought to you by......

YOUR TIPPING:
Hi Myk, you scored 6 points.

RESULTS:

Richmond 14.13 97 def. Collingwood 8. 9 57
Hawthorn 17.17 119 def. Melbourne 10.10 70
Fremantle 15.17 107 def. Carlton 8.12 60
Brisbane 11.14 80 def. Sydney 11.12 78
St Kilda 19. 8 122 def. Geelong 9. 7 61
Port Adelaide 23.20 158 def. Essendon 8.14 62
Kangaroos 23.11 149 def. Adelaide 10.14 74
West Coast 22.12 144 def. W. Bulldogs 20.17 137
Do you follow the AFL & have ambitions to become a web Sports Caster? Email me for details on writing a weekly AFL report for MYKwebWORLD. Be informative & when it suits comedic. myk@mykaussie.com
"Myk Aussie what's going on in your rough & tough game? I didn't know they tried to rip your shorts off!" Arif Imran Kant, Cricket webWORLD reporter.
Arif Imran it gets crazy out on the field of a Aussie Rules game. Thanks for the photo. I bet the Cwoc's, Cwoa's Aussie Babes & Poofters out there will enjoy this picture." Myk Aussie
Fri, Mar 26 04' "AFL Aussie Rules Footy Round 1 this week!" Myk Aussie
It's back the 2004 season starts for the best game in the World to play. With the help of Batman's in Melbourne here are my Rd 1 tips as registered on AFL.com.au
Richmond vs Collingwood, Hawthorn vs Melbourne, Fremantle vs Carlton, Brisbane vs Sydney, St Kilda vs Geelong, Port Adelaide vs Essendon, Kangaroos vs Adelaide, W. Bulldogs vs West Coast. Good luck to all the people following this great game especially the Adelaide Crows Fans, players, coaches & officials Now that I am a Calgary CDN Kangaroo a special good luck to the North Melbourne Kangaroos." Myk Aussie
Wed, Mar 24 04' "
Former Aussie Rules Player & now Champ NFL Punter Darren Bennett now a Viking! Moose's Arena footy update & Week 8 picks! Canadians in the MLB, Moose's MLB predictions!"
Check this out! Mar 24 Super Bowl XXXVIII MYKwebTV Pt 9
3 mins - "Darren is now a Viking. 1 on 1 with NFL Aussie Star Darren Bennett. I ran into Darren outside Paris Hilton's new place at the recent Super Bowl. This is my 3rd interview with Darren in 3 years. Light Sp, Hi Sp Click here " Myk Aussie
Mon, Mar 22 04 "BillsFan 22 I've been a Calgary Kangaroo lately!" Myk Aussie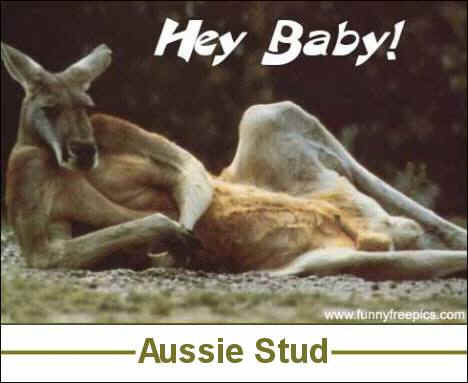 "Myk Aussie has a big reputation as being a lady's man and it's not hard to see why! There is Myk lying down on a beach somewhere down under flirting whit the beach babes!" BillsFan 22, SportsRage VZE webWORLD

Bills Fan you legend SportsRager. Thanks for that. You are correct but I've been doing some of this on the BC & AB Great Lakes recently. I have been a Calgary Kangaroo lately. I even played a few games of Aussie Rules Footy this year for the newly formed CDN Roo's. We need to get a team in Montreal. For CDN & US Aussie Rules Footy Click here " Myk Aussie

Mon, Mar 15 04' "Darren Bennett the Best NFL Punter!" Myk Aussie

As you guys may know I have interviewed Daren Bennett three times over the past 4 years. There is a excellent article today on AFL.com.au about Darren Bennett.

Oakland Raiders' punter Shane Lechler, one of the NFL's best punters, took time out from his Super Bowl preparations to pay tribute to Bennett, saying he was the punter by which all others are measured.

"I think that he's the best," Lechler said of his counterpart.

"Darren Bennett is the best. He's got the strongest leg in the league and his accuracy and downing the ball deep is amazing. He's the guy I look up to. I really respect what he's done."

I interviewed Darren at the recent Super Bowl in Houston. This interview is now on Myk's Mates Club MYKwebTV.

Mates Invest now & receive a Tina Redskins Pro Bowl 03 personally autographed poster or email me for a free Myk's Mates Club trial myk@mykaussie.com or check out some of my recent Super Bowl shows, link is at the bottom of this page Click here " Myk

Thurs, Feb 4 04' "Hey CDN Roo boys, Jeffo's birthday Friday night!"

Chriso
The 04 season is well under way over here in Western USA & CDN as per the great AZAFL recent 
weekend & now Chriso the, CDN Calgary CangaRoo's 03 great coach & player has organised a Rooooooooooooos 
Aussie event.Sorry guys still in Vancouver chasing BC Cwoc's & Van Cougars. Us Roo boys are ready for the Cougars again in 04.

 
"Hey CDN Roo boys Jeffo's birthday Friday night - so a few of us are going to the Rose and Crown 8.30 pm - everyone's welcome - 
also meeting for footy Thursday night at the Flying Emu 7.00 pm" Chriso



Help have more USAFL & CDN PC TV on MYKwebWORLD & Total-CFLwebWORLD. 
Invest In Inet MYKwebTV!

 Myk's Mates Club Click here A % of this Invest In Inet USAFL & CAFL webTV 
"A Buck A Week" 

to be decided real soon will be donated to USAFL & CAFL." Myk

Pro Football Weekly: AFL and Pro Football Video Picks with amazing coverage from Myk Aussie The Pro Football Comedy Media Guy
*****Invest In Inet MYKwebTV! Myk's Mates Club Click here *****
Check out me AFL 2003
Dec -Jan 04 webWORLD Click here
Check out me AFL 2003 Sept webWORLD Click here
Check out me AFL 2003 Aug webWORLD Click here
Check out me AFL 2003 July webWORLD Click here
Check out me AFL 2003 May-June webWORLD Click here

Check out me AFL 2003 April webWORLD Click here
Check out me AFL 2003 Jan-March webWORLD Click here