If you are new to MYKwebWORLD & want to know what I do this is a great article Click here

Make sure to check out Aussie Rules Footy MYKwebTV for some great USA and CDN Aussie Rules Footy Click here


Wed, June 30 04 "Dallas Magpies swim over Cincinnati Dockers in the Rain!" Myk Aussie

From Daniel Russo, Media Relations Dallas Magpies.

The Dallas Magpies Australian Rules Football Club, unable to play its usual free-flowing game due to a game-time downpour, adopted a scrappy style of football in the wet and rain to convincingly beat the Cincinnati Dockers 64 to 14 on Saturday. The game, played at Lookout Park in Richardson during persistent heavy rains, left both teams scrambling to keep possession of the slippery football. But the Magpies better adapted to the adverse, soggy conditions for a convincing victory.

After the Dockers kicked the opening goal, the Magpies roared back with nine unanswered major scores of their own to put the game out of reach.

With the victory, Dallas now leads the all-time series 3-0.

The victory was crucial for the Magpies, keeping them in the hunt for the Mid-America Australian Football League title after losing a nailbiter in Chicago just two weeks ago.

Due to the thunderstorms, the 2 p.m. kickoff was pushed back to 2:45 p.m., and when play got underway the ground was deep in water. Though the rain never let up, many valiant supporters were rewarded with an exciting and hard-fought game of underwater football.

Supporters at the game included a few Dallas Cowboys players, one of them Mat McBriar, an Australian native who is currently a punter on the Cowboy's roster.

Cincinnati opened up the scoring quickly to take the lead with a 6-point goal in the first two minutes of play. But Dallas answered strongly, and kicked away in the first quarter with four unanswered goals, three of which were scored by Dallas's team captain, Stuart Rackham, playing in front of the goals in the full forward position.

The second and third quarters were controlled by Dallas's on-ballers, Anthony Guterres and Seth Haesecke, who made sure that Dallas would win the contests when the ball went loose on the wet ground, as it continued to do throughout the game.

One of the few memorable clean possessions of play followed a center bounce when rover Brandon Blankenship ran clean through the middle, scooped up the ball and launched a 40-yard bullet of a drop punt to Rackham that never rose above head height. Dallas extended its lead in the second half by running fresh legs off the bench and keeping the forward line free so that Rackham and center half forward Glen Paton could control play in front of the goal. Sean Stover and Sean Neary played stalwart defense in the second half, stopping the ball from ever getting past the center half back line.

By the final horn, the Magpies had earned a thorough 50-point victory, led by Rackham, who kicked six goals in the rain and mud.

Dallas now moves up in the MAAFL standings to third place with a 2-1 record. With the MAAFL title still well within reach, the Magpies face two tough back-to-back road opponents in Nashville and Atlanta before playing their final home game in Dallas against Milwaukee in September.

The 2004 Magpies MAAFL Schedule/Results:
| | | |
| --- | --- | --- |
| Date | Opponent | Results |
| May 15 | vs. St. Louis | W 69-60 |
| June 5 | @ Chicago | L 89-84 |
| June 26 | vs. Cincinnati | W 64-14 |
| July 24 | @ Nashville | |
| Aug. 28 | @ Atlanta | |
| Sept. 11 | vs. Milwaukee | |
About the Dallas Magpies:
The Dallas Magpies are a 501(c)3 non-profit organization, dedicated to fostering national and international amateur sports competition as well as promoting a cultural exchange between Americans and Australians. The Magpies participate in the Mid American Australian Football League, a division of the United States Australian Football League, and also have a player, Brandon Blankenship, competing on the U.S. National team during international competition. The team is active in promoting the Australian national sport and Australian culture through clinics at area schools and by sponsoring events such as the annual Australia Day and ANZAC Day celebrations in the Metroplex.
For more details on organizing a school clinic, playing footy with the team or supporting the Dallas Magpies Australian Football Club, visit www.dallasfooty.com or e-mail the recruiting department (recruiting@dallasfooty.com).
Tues, June 29 04 "The Calgary Kangaroos to take on the Vancouver Cougars in the BC Cup Aug 7! A new CDN Aussie Rules team in Red Deer! The Crows finally have a win! AFL Aussie Rules footy Rd 14 results!"
"Well after about 100 emails from 12 different people, the BC Cup is scheduled for August 7th weekend. We will be sending a team across and it would be awesome if you were able to play for us. We played the Red Deer Magpies on the weekend. They overtook us in the last quarter to win by 4 goals. Was good for them to get a win on the board in only their 3rd game." Nige
OK Nige I'll again have a kick this year for the mighty Calgary Kangaroos. I look forward to again meeting up with the fellas now that am again based in Vancouver. Great to hear there is now a team in Red Deer.
St Kilda 19.13 127 def. Hawthorn 9. 7 61
Geelong 13.14 92 def. Brisbane 9.11 65
Port Adelaide 17.10 112 def. Fremantle 16. 6 102
Carlton 18.16 124 def. Richmond 14. 9 93
Kangaroos 16.12 108 def. West Coast 11. 9 75
Adelaide 20.13 133 def. W. Bulldogs 15.11 101
Melbourne 13.17 95 def. Essendon 10. 9 69
Sydney 13. 7 85 def. Collingwood 11.13 79
Fri, June 18 04 "AFL Aussie Rules footy Rd 13 games this weekend!"
FRIDAY
St Kilda vs. Hawthorn, Telstra Dome - 7:40PM

SATURDAY
Geelong vs. Brisbane, Skilled Stadium - 2:10PM
Richmond vs. Carlton, Telstra Dome - 7:10PM
Fremantle vs. Port Adelaide, Subiaco - 7:40PM

SUNDAY
Kangaroos vs. West Coast, Manuka Oval, Canberra - 1:10PM
Essendon vs. Melbourne, MCG - 2:10PM
Adelaide vs. W. Bulldogs, AAMI Stadium - 2:40PM

SATURDAY
Sydney vs. Collingwood, Telstra Stadium - 7:20PM
Thurs, June 17 04 "US Footy, New York Magpies News!"
From the Magpies. GOOD START TO 2004 FOR MAGPIES
Pies Beat Baltimore/Washington! The Magpies started off the season in style with a victory over the Baltimore Washington Eagles. 10-13 (73) Magpies to 2-7 (19) Eagles. Despite the wide final margin, the game was a closely contested and physical battle. Matt the Magpies webmaster has produced a video compilation of the match, located on the Magpies homepage at www.nyfooty.com
Magpies to Razzle Dazzle 'em in Chicago. The Pies fly off to Chicago this weekend to play the Chicago Swans at Rogers School Park. The game also coincides with the Swans' 2nd Annual Aussie BBQ Day, so they will be cooking snags and burgers during the game (while the Magpies are kicking goals). The BBQ is in conjunction with the Aussie Consulate and the Chicago Sharks, the other major Aussie Rules team in Chicago. Last year approximately 250 people were in attendance, so tell your friends in the Chicago area to come along as it should be very fun.
T
ues, June 15 04 "AFL Aussie Rules footy Rd 12 results!"
Carlton 15.10 100 def. Hawthorn 14. 4 88
W. Bulldogs 15.13 103 def. St Kilda 11.14 80
West Coast 15.18 108 def. Adelaide 11.10 76
Brisbane 25.12 162 def. Essendon 14.12 96
Port Adelaide 20.12 132 def. Sydney 8.12 60
Geelong 14.10 94 def. Kangaroos 12.12 84
Fremantle 12. 9 81 def. Richmond 10.11 71
Melbourne 12.10 82 def. Collingwood 11. 7 73
Thurs, June 10 04 "AFL Aussie Rules footy Rd 12 games this weekend!"
Carlton vs Hawthorn - Fri 11 Jun - 1:40 AM
W. Bulldogs vs St Kilda - Fri 11 Jun - 8:10 PM
Essendon vs Brisbane - Sat 12 Jun - 1:10 AM
West Coast vs Adelaide - Sat 12 Jun - 1:40 AM
Port Adelaide vs Sydney - Sat 12 Jun - 7:10 PM
Geelong vs Kangaroos - Sat 12 Jun - 8:10 PM
Richmond vs Fremantle - Sat 12 Jun - 8:10 PM
Melbourne vs Collingwood - Sun 13 Jun - 8:10 PM
Tues, June 8 04 "AFL Rd 11 games results! USAFL Development coach named!
Collingwood 14. 9 93 def. West Coast 11. 9 75
Carlton 14. 7 91 def. Adelaide 12.15 87
Essendon 24.10 154 def. Hawthorn 12. 8 80
Brisbane 18.15 123 def. Port Adelaide 12.14 86
Kangaroos 24.10 154 def. Richmond 12. 8 80
Sydney 17.10 112 def. St Kilda 11.10 76
Geelong 17.11 113 def. W. Bulldogs 10. 7 67
Melbourne 13.15 93 def. Fremantle 9. 8 62
USAFL Club Development Coach Named. From the USAFL.
The USAFL is proud to announce that Dave Ulonska of the Pittsburgh Wallabies has accepted the position of USAFL Club Development Coach. In late 2000, Dave joined the Philadelphia Crows after never previously playing football. By 2001, Dave was the Social Coordinator and Assistant Coach with the Crows and a senior member of the Committee. In recognition of his efforts, Dave was honored by the USAFL with a Club Administration award at the 2001 USAFL Nationals.
In late 2002 after Dave's transfer to Pittsburgh, he saw the opportunity to start his own team and co-founded the Western PA Wallabies. He became President and led his team to the submission of a team in the 2002 Nationals to join with Cincinnati in Division 2.
In January 2003, Dave returned home to Australia, but returned back to Pittsburgh in February 2004. He was welcomed back and re-claimed the Club Presidency position, and has since grown the Club with many initiatives including the development of a Metro League (Western PA Australian Football Metro League – WPAFML). He also initiated a name change from the Western PA Wallabies to the Pittsburgh Wallabies to foster more local support.
The Club Development Coach (CDC) will be responsible for assisting and facilitating the growth of USAFL registered clubs by sharing knowledge, information, and consolidated USAFL approved materials. The CDC will provide ongoing assistance to Clubs in their startup endeavors, and to identify and share best practices from around the League to Clubs.
Please join us in welcoming Dave aboard!" Mark Wheeler, USAFL President
Fri, June 4 04 "This weekend's AFL Rd 11 games!" Myk Aussie
Collingwood vs West Coast - Fri 4 Jun - 1:40 AM
Hawthorn vs Essendon - Fri 4 Jun - 8:10 PM
Adelaide vs Carlton - Fri 4 Jun - 8:40 PM
Brisbane vs Port Adelaide - Sat 5 Jun - 1:10 AM
Kangaroos vs Richmond - Sat 5 Jun - 1:10 AM
Sydney vs St Kilda - Sat 5 Jun - 7:10 PM
W. Bulldogs vs Geelong - Sat 5 Jun - 8:10 PM
Fremantle vs Melbourne - Sat 5 Jun - 10:10 PM
Wed, June 2 04 "From Iraq!" Myk Aussie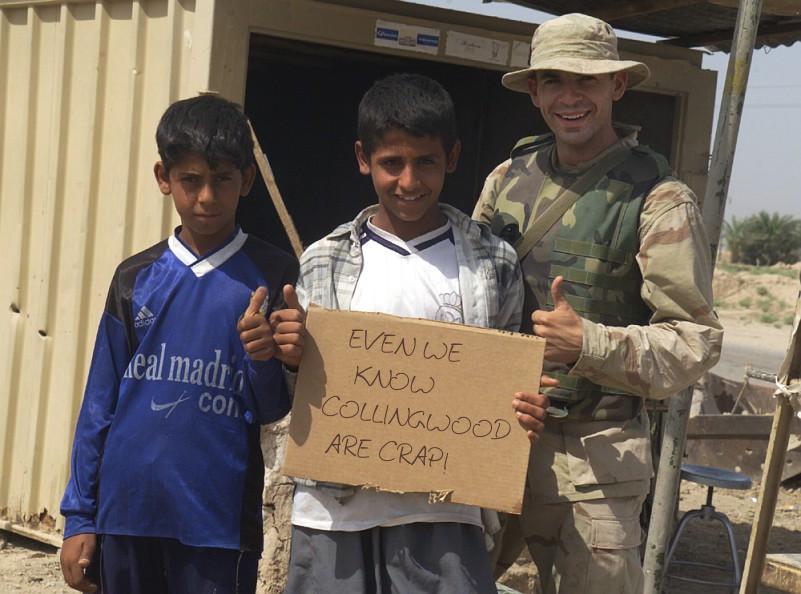 From Youngy Miller, Sth Gawler Lions Champ especially for Batmans in Melbourne me Colliwobble mate!" Myk Aussie
Do you follow the AFL & have ambitions to become a web Sports Caster? Email me for details on writing a weekly AFL report for MYKwebWORLD. Be informative & when it suits comedic. myk@mykaussie.com " Myk Aussie

Pro Football Weekly: AFL and Pro Football Video Picks with amazing coverage from Myk Aussie The Pro Football Comedy Media Guy
*****Invest In Inet MYKwebTV! Myk's Mates Club Click here *****
Check out me AFL
April-May 04 webWORLD Click here
Check out me AFL
March 04 webWORLD Click here
Check out me AFL 2003
Dec -Jan 04 webWORLD Click here
Check out me AFL 2003 Sept webWORLD Click here
Check out me AFL 2003 Aug webWORLD Click here
Check out me AFL 2003 July webWORLD Click here
Check out me AFL 2003 May-June webWORLD Click here

Check out me AFL 2003 April webWORLD Click here
Check out me AFL 2003 Jan-March webWORLD Click here