If you are new to MYKwebWORLD & want to know what I do this is a great article Click here
***** Check out Myk drinking out of The Stanley Cup Click here

***** Check out The Stanley Cup winners Click here

***** Invest In Inet MYKwebTV ! Myk's Mates Club Click here *****
Sat, June 26 "What a great job the Not Cwoc had for 4 mths sitting back playing with her (you know what I mean) researching the case! Moose goes HARDBall on the NHL Hockey Vancouver Canucks star Todd Bertuzzi charged with assault!
As I said on Gabriel Morency's SportsRage last night what a disgrace out here in BC! The normally very Cool BC Cops must have had some a "Not Cwoc" researching for 4 mths the case. What did she do, sit back and play with herself all day watching the big rough and tough hockey players on video? Having all the NHL officials suck up her fanny for 4 mths! Researching what for 4 mths? Anyone could tell what he did watching the video. Should have taken 2 days to make a decision. Typical Govt waste of $$$ out here, nothing seems to have changed since I Left this great part of the World three years ago but this is to date and will be over the next months in court a huge waste of BC taxpayers money and I'm again one of these tax payers.
Vancouver Cops many of them are the Coolest Cops in the World! I'm serious on that but all it takes is one or two Not Cwoc's that want the attention. Disclaimer: I have no idea which Not Cwoc's I'm talking about! Maybe I'm making it up but I know there is pussy involved when something stupid like this happens. Did see some females on TV involved in this.
Now HARDBall from Moose "The Todd Bertuzzi thing has really got me going. No, Todd DID NOT ASSAULT Steve Moore. He sucker punched him. The jerks in B.C in the 'Just-us' Dept. need to keep their stupid noses out of the NHL's business. If Bettman would quit raiding the European market for players thing like this wouldn't happen. Like Don Cherry says, Play Hockey 'the Canadian way or go home." Amen! And no, Marty McSorely didn't assault dummy Donald Brashear either; He retaliated for Brashier going by the penalty box taunting him. Whatever goes around comes around. In Arena Football and Hockey. Yes, Bertuzzi SHOULDN'T have sucker punched Moore in the back of the neck. Bertuzzi is way to strong for that. But then why doesn't that wuss Bettman back up HIS players and tell B.C'S cops to back off?!" Moose
Thurs, June 24 "NHL Hockey Vancouver Canucks star Todd Bertuzzi charged with assault! OK Moose I'll finally acknowledge the US Tampon Bay Lightening won the Stanley Cup. Moose's report!
Todd Bertuzzi the Big Rough and tough but great player was charged today with assault causing bodily harm for his attack on the Ice at GM Place on Colorado Avalanche player Steve Moore. The punches that Todd threw left Moore with very bad neck injuries.
The charges were announced today by the criminal justice branch of the Ministry of the Attorney General. This investigation lasted four months.
The last time a big story like this came out I was lucky enough to be on TSN Off The Record. The Brashear vs McSorley incident MYKwebTV 3 mins. Check it out Click here
Moose's NHL Update" Myk Aussie
"People have asked me a lot lately what is the best team in NHL history. I don't think there can be any doubt about it. The 1983-84 Edmonton Oilers. Wayne Gretzky, Mark Messier, Glenn Anderson, Paul Coffy, Grant Fuhr, Andy Moog, et, all and Coached by Glen Sather. Even Don Cherry admits this. And so does ESPN, who last night had their top 25 teams of the last twenty-five years show on. I disagreed with the order of most of their picks, but even I say the 1983-84 Edmonton Oilers are the best team ever, even better than my buddy Larry Csonka's best Pro Football team ever, the '72 Miami Dolphins. Now to close out the NHL SEASON on the right note: Hail, Hail, Tampa Bay (& Calgary), new city of Champions (besides Edmonton for the moment, until the 'Riders win the '04 Grey Cup).

The Buccaneers won Super Bowl XXXVII with Moose & Myk in attendance in San Diego in Jan. '03. The Tampa Bay Storm (with my buddy Kelvin Kinney from Virginia on loan) won Arena Bowl XVIII in Jun. '03. And now the Tampa Bay Lightening won the NHL's 88th Stanley Cup in their 12th season, for the first time. They had been down in the series 3-2 in Alberta three Saturday nights ago but won the last two in one of the greatest Stanley Cup 7 game finals of all time. I saw Manon and Pascal Rheaume here as well as a great sign: "Stan needs a tan." Gotta like that one!

The Lightning are young enough to win another next year too, but courageous Calgary needs one or two more scorers. You can't win many Stanley Cups scoring barely two goals a game! And Canadians should take solace in the fact that the team with the most Canadian players actually won the Cup. That's right, Tampa Bay had more Canadians than any other team in the league this year. I checked all the NHL team rosters yesterday. Jarome Iginla is very good - but not quite as good as Conn Smyth winner Brad Richards, who looked and sounded absolutely pickled on that ESPN Cold Pizza show the morning after the Lightning won that Cup!" Moose
Wed, June 9 04 "The Calgary Flames win the Stanley Cup in 6, no that's not right they win in 7. No the Tampon Bay boys win in 7. What is going on!
It's all a dream. I'm not sure what is going on. The Flames win in game 6 but the Black and White Magpies don't call it a goal. The Stanley Cup gets stolen by a few of me Calgary mates and taken to Kelowna for a night but then returned to Tampon Bay Monday morning as a NHL overrule. A Tampon Bay newspaper today reports that the Flames win. What is going on with this Hockey MADNEss.
All I know is it has been a crazy fun past 2 months watching the NHL Hockey playoffs. It was a great thrill to drink out of The Stanley Cup. I know Jarome Iginla can walk on water but I didn't know he was expected to water ski as well !!!!!!! Yep the conspiracy continues as the Americans not only steal our great players with more money but they now make us play on the water and not the Ice. 93 degrees Fahrenheit it was in Tampon Bay last week and they gotta play Ice Hockey. Jarome and the Calgary fella's should have got their water ski's out for the trip! Very disappointing that the Cup did not come home to it's Canadian home in what will probably be the last NHL season as we know it with the strike apparent.

Well at least I kicked the Vancouver DSNY guys butt as I ran out a massive winner in the Hockey Pools with 107 points, 2nd place was Mike on 81. With the others down to 1 or 2 players my last 4 players standing were Iginla, Conroy, Richards, Khabibulin.
Now this did happen awhile back as The Stanley Cup makes the rounds in Western Canada. Enjoy this great MYKwebTV especially for Cwoc Oiler Babe and all me Canadian, US and Aussie Hockey mates! Click here " Myk Aussie
Monday, June 7 04 "The Calgary Flames win the Stanley Cup in 6, I think! The Cup is already back in Canada I think! The Calgary Flames defeat the Tampon Bay Lightening in Overtime to win the toughest trophy in Pro Sport! Me dream comes true as they were the winners!" Myk Aussie
Me dream from awhile back comes true and the Flames win. It was a great day and a big night here in Western Canada. The puck crossed the line, great TV camera work by CBC and we have won the cup! As always I'm right onto the big stories so make sure to check out great action from Sundee night here in BC. The cup is already on the rounds to all the winning Flames Canadian Cities and towns. 1st stop was Kelowna in Beautiful BC. Enjoy this great MYKwebTV especially for Cwoc Oiler Babe and all me Canadian, US and Aussie Hockey mates! Click here
Well I wish this was the case as several NHL hockey experts Saturday night believe the Cup has already been won. Not according to the Magpies in Black and White. No goal, play continues and not even a TV revue! But was there! I hear now there was a revue but it was judged non conclusive thus no goal. "Its a damned conspiracy! They're cheating! The Yanks won't let us have our Cup back! That was a goal, look its over the line" was the call by the fella's in the bars and clubs all over Vancouver last night including Hockey Fanatics Gator and Chris from Montreal. I went right off as well as I called into Calgary's Sports talk radio with Brucey Boatman Barker. I even think I got cut off but I'm quite sure I wasn't swearing. I know I gotta be careful in Conservative Calgary town with QR77's Mark and Bruce.
"But Myk Aussie the puck came off the guys skate. It's not a goal" was Richard's Rooters call on the controversy and maybe he was right but most don't think so.

Game 6 thus goes into Overtime and the Tampon Boys win to tie the series up at 3-3. Tonight in Tampa Bay the home of the Super Bowl 37 Champs the Tampa Bay Buccaneers the decider will be played on the water. It'll be like water skiing for the boys on the ice and lets hope Jarome Iginla can again walk on water this time when he is most needed in game 7. He'll need lots of great help from the rest of the mighty Flames if they are going to win. The temperature in Tampa in one of the games last week was nearing the 40 degree Celsius mark. I know one thing nearly all of Canada will be watching the excellent CBC TV coverage. When is this Hockey MADNess going to end. Although many believe the Flames already have won we gotta except that the Magpies in Black and White make the decisions. Flames to win game 7!" Myk Aussie
Sat, June 5 04 "The Calgary Flames could win it all tonight!

Canada is going Crazy and especially in Calgary as our National Sport Ice Hockey enters game 6 of The Stanley Cup. Calgary are one win away with a 3-2 lead at the moment. Read below for lots of NHL Ice Hockey news over the past weeks. Yes I am an Aussie but now Landed Status Canadian thus "Our" national sport." Myk Aussie

Fri, June 4 04 "Calgary Flames one win away from the Stanley Cup as they defeat the Tampa Bay Lightening in overtime 3-2! Just about every Canadian wants it. Oiler Babe? maybe not"
What a great game it was last night as the Flames win in Overtime. Coc Fanny Anny my sexy star MYKwebTV co host calls me today and says I gotta get my butt over to Calgary for the big game 6. 50-60,000 Calgarians having fun on 17th Ave last night she tells me. Yep she is right I should be there but I gotta be in Vancouver at the moment getting Total-CFL.com ready for CFL 04 season.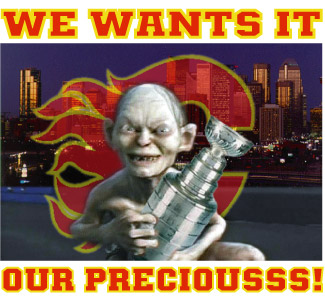 A great picture sent to me today from Cwoc Buffy in Calgary. I wonder if Cwoc Oiler Babe up their in Edmonton is supporting the Flames who are the Oilers arch rivals. Lots of Edmonton people are I heard but the die hard's probably aren't. The Stanley Cup could be decided on Saturday night in Calgary. Lets hope the Flames can win." Myk Aussie
Wed, June 2 04 "Elvis is Alive and he's in Calgary Canada!
Yes Elvis is alive two of them actually. One is the best Ice Hockey Player in the World and the other is his dad. Elvis Iginla, Jarome's dad was very entertaining Saturday night as he was interviewed by CBC at the end of the 2nd "no it's not a women's" Period. Elvis senior named his son Arthur Leigh Elvis Jarome Iginla. What a great name and I think I missed part of it as well as I hurriedly wrote it down when they showed Jarome's birth certificate.
Elvis a man of faith it seems does not like his son to fight but realized it's part of the game well didn't Jarome have a rippa of a fight against Vince Le Lecavalier. Flames won the game 3-0, Jarome was again a star but then they lost on Monday night 1-0 and the series is all tied up at 2-2. Thursday night it's back on in Tampon I mean Tampa Bay. That 3 Periods gets me mixed up but NHL is definitely not a sheila's game as it is one of the roughest and toughest games in the World. The only sport I have ever known that is not 4 quarters or 2 halves but 3 sheila's periods. Aussie Joke: Why do women get.....Oops better go to Mates Club now Click here or the link that you existing mates already have." Myk Aussie
Sat, May 29 04 "It's 1 game all in the Stanley Cup Playoffs! Lots of Fist Fights in game 2 as the Tampa Bay Lightning come back to Hammer the Calgary Flames! Moose's Pro US report!
Wow! What a game it was Thursday night as the Lightening hammered the Flames in game 2, 4-1. With 15 minutes to go in the 3rd "Period" the Flames were down 4-0 and in the NHL Canadian way decided to start Fist Fighting! What a entertaining final 15 minutes it was with many players going to the box for penalties. All set for Game 3 today in Calgary.

Let hope the Flames win as I did have a dream after game 2 early in the playoffs that the Flames would win the Stanley Cup. Seriously it was so real it was scary and I even talked about it with Mark Sport Stephen on Calgary's QR77 Sports radio! Refer to April 22 report below. It was a frightening morning as I woke up realizing that the Vancouver Canucks would now possibly not defeat the Flames in Round 1 of the Stanley Cup. For Canada's sake I hope the Flames win. For my sake as I continue to promote Canadian Sport to the World I hope they win and thus some UCPTPSK "critical pricks" will realize that I am "The Aussie Sports Guy" with Some Sensational Special Sport Powers! Either way the Flames have had a great year and the Dream is still alive. I hope me other dream of soon meeting the real Pammy Anderson comes true soon as well! Now wouldn't that be something! Oh my I've lost concentration now so here's Mooses Pro US NHL report.
NHL Update By: Rich Salzer
"Let's get ready to rumble, Tampa Bay! I see the 'great one' Wayne Gretzky was in attendance in Tampa Bay to watch Manon and Pascal Rheaume's former team, the Lightning crush the Calgary Flames, much to Barry Melrose chagrin. Melrose is the quintessential Canadian all the way down to his 'Cal-GARY', but to his credit, he did pick Tampa in 6. Boy, does he like to pick Stanley Cup winners in 6! Folkes, it's good to see a Canuck team back in Lord Stanley's Cup, the first time since '94. But Cal-GARY just doesn't have the horses to pull the Molson truck across the line v. a very young, skilled and deep Lightning squad. I'm taking Tampa in five or six (there you go Barry)!" Moose
"Moose get Stuffed" Myk "former Calgarian" Aussie
Fri, May 28 04 "NHL Stanley Cup is all go!"

The Calgary Flames won the 1st game of the Stanley Cup over the Tampa Bay Lightning 4-1 but just got hammered 4-1 in game 2. Cwoc Buffy emails me today and tells me to my ass back to Calgary as I am missing out on a lot of fun.
Jarome Iginla is the best player in the NHL. He is tough, very very skillful and a great leader but the whole team is playing as "a team" and thus a real chance to go all the way. Good luck to the Flames as we all hope they bring the Cup back to Canada. Make sure to check out my MYKwebTV above or here Click here as I was lucky enough to drink out of the very famous Cup awhile back in Kelowna BC.

Kelowna is the home of the recent Memorial Cup winners the Kelowna Rockets. Way to go Rockets, love your city my favorite place in Canada if not the World!" Myk Aussie
Fri, May 21 04 "The Calgary Flames make it to NHL The Stanley Cup! Flames Cwoc's going crazy in Cowtown! It's was a Sad day in Vancouver Canuck land as I take the lead in the Hockey Pools!"
Amazingly the Calgary Flames have made it to the Stanley Cup with a great win in game 6 against The Sharks. This is the first time a Canadian Team has made it to the Stanley Cup in ten years. It's Canada's game with a large majority of the best players in the NHL coming from the Great White North but the rich American's have hammered us of late stealing our players with all their money and winning all the cups the past decade.
I don't very often do this, that is recommend another site but their is a site that you fella's might want to check out flamesgirls.com for some crazy Cwoc photos of the girls going wild for the fella's in Calgary.
From my email to Destiny Media Technologies mates on Wednesday this week
"Guys it must seem a sad day! When a Aussie takes the lead of CDN's Sport, Destiny's NHL Hockey Pools!!!!!! Mike hope you are all OK after once having a massive lead." Myk
"Myk Aussie I think you should be deported, and your position in the pool removed!" Mike

"And then Myk Aussie should be sent up the Swanee River without a paddle" John the Englishman
With the players I have left I think it's all over and a big win coming but we will have to wait and see! Lots more to come on NHL webWORLD during the Stanley Cup." Myk Aussie
Fri, May 7 04 "Sutter = Mr Bean! Flames are in! Hab's and Leafs gone! Flames vs Sharks, Lightening vs Flyers are the 4 teams still in the race for the last as we know it Stanley Cup! Team Canada are in the final 4 Minus NHL Players World Championship! The Cage Call Inet and Montreal Radio Champions from Morency's SportsRage are in the studio right now!"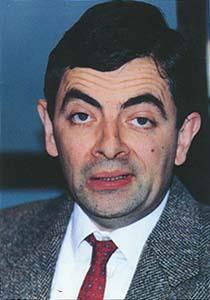 "Myk Aussie what do you think Darryl Sutter = Mr Bean" Fortunato in Oiler Land, SportsRager
Very funny Fortunato. Darryl Sutter is the current star coach of the Calgary Flames, Rowan the very funny comedy man known as Mr Bean. You should go see go see where Oiler Babe is! It seems her pussy is still crying!
Thursdee night/Friday MYKwebWORLD Mates tune in now, 8-11pm Pammy's BC Lions, also NFL Raider Nation, Charger, 49er time the best Call In Sports' guests in the World are on!!!! MADNess the peoples Champ, MikGazStation Raider Nation the runner up and Champ and Johnny Powers a former Cage call Champ are all in the studio's of the Team tonight with Gabriel Morency the Super Star of Sports radio in Nth America.
I decided to get my call in early to congratulate the fella's on winning the Big events over the past 2 years. I thought it would be utter MADNess later in the show but the boys still seem in some sort of control. I also had to report to the guys of the CFL Lions Ray Jacob's current "3 Hooker" possible problem and apparent "The Evil" Crack problem out in Surrey. Surrey is the current training home of the CFL BC Lions me fav team.
I gave Johnny Powers heaps for disappearing for a few months as his girlfriend must have told him off but also told him he is a Champ Sports radio guy. I asked MikGaz what's the latest with Big Bill Romo especially after reading the MLB Baseball Steroid and Energy food troubles. Seems Greg Anderson has moved from Amino Acids to more massive muscle money making items!
As always the MADNess called me a Kiwi! I thanked MADNess for being a Crazy and helping me in some sort of Insane type Sports way over the past 1 1/2 years. Again thanks MADNess for all your Crazy Comedic Callin's. I enjoyed them especially while I was in da trouble in Calgary Flames and Stampeder Land and listening every night!
I gave Morency a bit back about him wanting the Detroit Redwings to win game 5 of the recent Calgary Flames NFL playoff series, Gabby was just pissed the Montreal CDN's were beat 4-0 and out of the Stanley Cup race! I asked Morency why I can't show his "Houston Honey" Cwoa Joanne Hilton from Super Bowl on "Myk's Mates Club" and ChickenTrainer's VZE.com PC TV.
I enjoyed talking to the boys.
You can also join me as I am on this great show with me MADNess Mates every Fridee (9/10) on Gabriel Morency's "SportsRage" The World Champs Inet & Montreal Radio, Fri 10.45am Pammy's Pacific CDN/US time, Sat 5.45pm EST Aussie time. Click here This Fridee night is Road Rage 6 on location in Montreal so a night off for me as well. I was lucky enough to meet some of the guys at Road Rage 4 in early Jan. I'm sure it will be a Crazy night in Hab's, Alouettes and Expo's Land. Enjoy MYKwebWORLD and MYKwebTV. 90% of MYKwebTV, Total-CFLwebTV shows and columns are updated. I'm going walkabout for a few days. Enjoy MYKwebWORLD!!!!!" Myk Aussie

***** Check out Cwoc Oiler Babes past report's Click here
For me Jan-April 04 NHL webWORLD Click here
For me May-Dec 03 NHL webWORLD Click here

For me April NHL webWORLD Click here

For me Feb Mar NHL webWORLD Click here
Pro Hockey Weekly: NHL and Pro Hockey Video Picks with amazing coverage from Myk Aussie The Pro Sports Comedy Media Guy.
Invest In Inet MYKwebTV ! Myk's Mates Club Click here