If you are new to MYKwebWORLD & want to know what I do this is a great article Click here
Make sure to check out Aussie Rules Footy MYKwebTV for some great USA and CDN Aussie Rules Footy Click here

Mon, Aug 30 04 "AFL Rd 22 results!
Rd 22 RESULTS:
Carlton 17. 6 108 def. Collingwood 16.11 107
Sydney 16.12 108 def. Richmond 6. 8 44
West Coast 15.17 107 def. Melbourne 10. 7 67
Brisbane 26.14 170 def. Kangaroos 9. 3 57
St Kilda 17.10 112 def. Fremantle 12.11 83
Port Adelaide 12.13 85 def. Adelaide 9. 6 60
Essendon 17.11 113 def. W. Bulldogs 14.12 96
Geelong 17.21 123 def. Hawthorn 9. 4 58
Fri, Aug 27 04 "More on A CFL Player goes onto play Australian Rules Football but was then tragically killed in 2003!
Michael Lazecki pictured here helping form what is now the largest Aussie Rules Footy competition outside of Australia, the Ontario Australian Rules Football League. Keep reading for this amazing story.
Toronto Downtown Dingos Players - Founding Year, 1996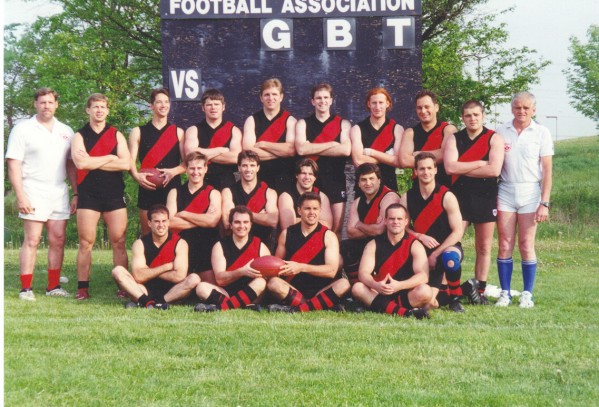 REAR: Warren Moore, Arco vanden Heuvel, Mike Lazecki, Chris Cunning, Paul Tinkler, Dan Depiazzi, Paul Zisson, Chris David, Kingsley Ellis (Umpire)
MIDDLE: Rob Dietrich, Terry Wallis, Matt Sund, Chris Kourtis, Tim Moller
FRONT: Chris Caetano, Tino Riccio, Mark Jones, Tony Foster
Stuart the webmaster at the Downtown Toronto Dingo's today gave me permission to add this team photo to my Aussie Rules Footy webWORLD.
From Dingos website "Mike was a member of the first Dingos team and all at the club were shocked and saddened to learn of his passing. As a club we decided to dedicate the first game of 2003 to his memory and wear black arm-bands in honour of Mike, his family and his friends." For the full story Click here
For the Toronto Downtown Dingos site Click here Keep reading from yesterday.
Any Aussie's or others out there that love our game that want to help in some way in promoting our great game in Canada and the US please feel free to contact me and I'll tell you more about some of the teams that you may want to help. I can put you in direct contact with some of the great men running these clubs. Many if not all are always looking for help in attracting more players, financial help etc etc. myk@mykaussie.com " Myk Aussie
Thurs, Aug 26 04 "A CFL Player goes onto play Australian Rules Football but was then tragically killed in 2003!
I met one of Michael Lazecki's best friends last Friday through a good friend of mine. Robert, Michael's friend told me how Michael played for the Sask Rough Riders in the CFL as a kicker for many years, also in the Arena league with Tampa Bay Storm but then his playing footy story continued.
Michael then went onto play in the Ontario Australian Rules Football League for the Toronto Downtown Dingo's before he was tragically killed in a car accident. I believe Michael is the only CFL Player to ever play Aussie Rules Footy.
Toronto has the biggest league of Aussie Footy outside of Australia. Robert told me several great stories about Michael including how he loved playing Aussie footy in his late 30's. Then a great story how he helped a homeless lady. He walked around a supermarket with her picking out all the healthy good value food then bought it all for her and her kids. He then went back to the car with his mates and got them to also throw some money in for the food. Seems he was a terrific person.
For all the latest CFL News from the very best CFL Fans in the World check out Total-CFL.com and especially the excellent Discussion/Argument especially this week/Friends Making Friends Click here " Myk Aussie
Mon, Aug 23 04 "AFL Rd 21 results!"
Port Adelaide 16.11 107 def. Collingwood 9.16 70
Carlton 14. 9 93 def. Melbourne 8.14 62
Adelaide 15.19 109 def. Geelong 12.15 87
Sydney 17. 8 110 def. Essendon 12.18 90
W. Bulldogs 21.10 136 def. Kangaroos 15.16 106
Brisbane 20.10 130 def. St Kilda 13. 7 85
Hawthorn 16.13 109 def. Richmond 13. 8 86
West Coast 13.15 93 def. Fremantle 6. 9 45
Tues, Aug 17 04 "The Vancouver Cougars are all OK after loosing to the Alberta RooPies last week! AFL Rd 20 results!
It was great to see many of the Vancouver Cougar guys are smart! Although still a bit upset at loosing last week many were in attendance Sunday at SSSonja's Miss Bodyrays contest at Malones Beach Bar. It was a magnificent day admiring the Cwoc scenery lead buy the beautiful SSSonja. Many ales were consumed, it was a near must in the hot Vancouver sun and I also enjoyed chatting Aussie Footy especially with the newcomers to Canada with all the latest AFL gossip.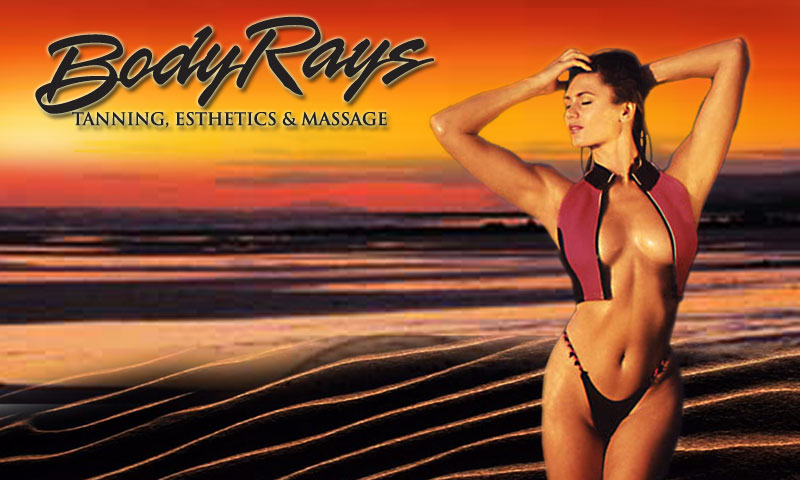 I'm sure you guys know of SSSonja but here she is if you are new to MYKwebWORLD

RESULTS AFL Rd 20

Essendon 18.13 121 def. Collingwood 13. 9 87
Geelong 9.21 75 def. Fremantle 3. 7 25
Brisbane 8.18 66 def. Hawthorn 6. 7 43
Sydney 10. 7 67 def. Melbourne 7. 4 46
Port Adelaide 23. 9 147 def. W. Bulldogs 9. 7 61
Adelaide 21.12 138 def. Richmond 13. 8 86
St Kilda 23. 9 147 def. Kangaroos 15. 6 96
West Coast 15.21 111 def. Carlton 6.13 49

Newcomers me Aussie lingo Cwoc's Cool Women Of Canada Click here" Myk Aussie

Mon, Aug 9 04 "The Alberta Roo Pies won the Big AFL, Aussie Rules Footy Clash on Saturday in Vancouver defeating the Vancouver Cougars! CFL Rd 8 was awesome!

It was a magnificent day at UBC's Thunderbird stadium as the Calgary Kangaroos combined with the newly formed Red Deer Magpies to defeat the Vancouver Cougars in a great great game of Aussie Rules Footy. The Van Cwoc's even served us up meat pies, just like being at home it was. More to come on the Big day and great night." Myk Aussie

Fri, Aug 6 04 "Big AFL, Aussie Rules Footy Clash this Saturday in Vancouver!



Details from Vancouver Cougars. BIG WEEKEND OF FOOTBALL @ UBC This Saturday sees the Cougars return to their "home-away-from-home" at UBC for this years' BC Footy Cup Saturday August 7th Vanc. Cougars • Calgary Kangaroos • Vict. Lions

The first bounce goes at 12 noon at the UBC Rugby Fields (Directions to follow). There will be post-match discussions, and drinks, in the Thunderbird Stadium Function Room.

Hope you can join us. Last years game in Calgary was a rippa, MYKwebTV was there Global TV was there. Great footage on here Click here

I wish I had it edited in Clipstream Video as Billy Gates Media Player versions due to the cabling companies are giving me trouble at the moment. I'm sure it will be a Big day Saturday and a Big night as I join the Aussie footy players in downtown Vancouver." Myk Aussie

Mon, Aug 2 04 "Great News! Aussie Rules Footy game was played at at Pammy's BC Place! AFL Rd 18 results and the Crowingless Crows finally win!

Thursday night at 1/2 time of the CFL Lions vs Al's game the Vancouver Cougars Aussie Rules Footy team played a great exhibition game! This is up there with the best news I have ever heard in my 6 1/2 years in Canada!

So lots of the Lions Fans in between watching the Lions going at it with the Al's enjoyed watching one of the best games in the World that is expanding in Nth America big time.

From Total-CFL Discussion "About ten years ago I was in Australia, and got hooked on Aussie Rules Football, what a game. Reminded me alot of the CFL, kind of the best game that was looked down on by the "established Rugers", and the players seemed to be paid like the CFL players for the most part. Kicked myself for not picking up a jersey or 2." Sideline Reporter Total-CFLer

Thanks Sideline. Similar to the CFL you say, not sure about that but in some ways I suppose.

AFL Rd 18 results. Finals are approaching!

Adelaide Crows 5.19 49 def. Kangaroos 5.12 42
Fremantle 16.15 111 def. Carlton 9. 9 63
Collingwood 15.13 103 def. Richmond 14.14 98
Essendon 18.11 119 def. Port Adelaide 11.13 79
Sydney 12.11 83 def. Brisbane 7. 9 51
Geelong 15.11 101 def. St Kilda 15. 4 94
Melbourne 15.17 107 def. Hawthorn 9. 9 63
West Coast 15.16 106 def. W. Bulldogs 8. 9 57

Thurs, July 29 04 "A big squad is coming from Alberta to Vancouver for the Aug 7th Aussie Rules footy clash!

I talked lots of AFL yesterday on Monroe New Orleans Saints Land radio!

From Chriso Champ Calgary Kangaroos player and one of the coaches

"Looks like we have a pretty healthy squad coming over for the BC Cup. We should have a squad of 30 or so. We'll be the Alberta Lions - mix of Red Deer and Calgary. 90% are driving over - the Red Deer boys are coming in an RV.

We'll be staying at the UBC dorms Saturday night." Chris O'Connell Calgary Kangaroos

I had a great 15 minute NFL, CFL, AFL Aussie Footy League interview yesterday with Tim Hendrix on his Sports radio show in Monroe, New Orleans Saints area. I talked lots of AFL especially encouraging the listeners to support the St Kilda Saints in the AFL finals. As always many US listeners don't know about AFL and think it's rugby so we talked about Daren Bennett now with the Vikings and some of the rules of the great game that we know it to be." Myk Aussie

"AFL Betting.
Check out "Myk's Mates Club" for AFL Betting, Australian Rules Football Betting, AFL tips, AFL picks, AFL picks against the spread, Aussie Rules Footy tips, Australian Rules Football picks, Australian Rules Football picks against the spread. Click here" Myk

Tues, July 20 04 "AFL, Aussie Football League Rd 16 results! The Calgary Kangaroos to take on the Vancouver Cougars in the BC Cup Aug 7!

It looks like the Crows are gone thus my interest from afar has wavered in this great game!

West Coast 18. 9 117 def. Essendon 10.13 73
Carlton 9.16 70 def. Kangaroos 9. 8 62
St Kilda 16. 9 105 def. Richmond 9. 7 61
Fremantle 14. 8 92 def. Adelaide 12. 8 80
Brisbane 16.13 109 def. Collingwood 11. 7 73
Geelong 11.11 77 def. Sydney 9. 8 62
Port Adelaide 15.15 105 def. Hawthorn 7.11 53
Melbourne 12.21 93 def. W. Bulldogs 7.13 55

The game is getting closer and I'm getting ready to get on the boots again for the Roo's as I am now living back in Vancouver. Lots more to come on the big upcoming Calgary Roos vs Vancouver Cougars clash on Aug 7. Check out MYKwebTV action from last years great game Click here " Myk Aussie

Wed, July 14 04 "Lots of AFL Aussie Rules Footy talk on Detroit Lions radio yesterday!!

Detroit radio was huge, was on for 20 minutes and even had 2 people call in to ask me questions. Lots of CFL, NFL and Aussie Footy talk. One of the callers asked me about the Brisbane Lions chances this year. So I mentioned again they will be a big chance and that they are Lions just like the Detroit Lions. It was great to hear a AFL fan from Detroit calling.

We also talked about Darren Bennett the former Melbourne Demon full forward and San Diego Charger Punter now at the Minnesota Vikings and Melbourne boy Mat McBriar at the Dallas Cowboys. Mat played NCAA which is US College footy with the Hawaii Warriors and recently signed with the Cowboys after time at the Seahawks.

Also Greg the host says to me "So who's going to win the CFL Grey Cup this year?" I said "I think it will be out of Montreal and Edmonton again but the Regina boys, you know the great name of the city here that sounds like the woman's body part they are a chance". Then Michelle the co host starts talking sexy saying "Yes we know it's all warm and moist ........gotta go to Mates Club here. Can't upset me conservative mates and Cwoc's on here. Invest In Inet MYKwebTV! Myk's Mates Club Click here or email me for a 7+ day trial password" Myk Aussie

Mon, July 12 04 "Maybe these guys are tough playing in the Bronx! Denver 10.7 67 defeated the Magpies 5.6.36 in The Bronx! The Pap Smears win Big! AFL Rd 15 Results!

Maybe these Magpie guys are tough playing in the Bronx! Wow! That would sound scary to many Aussies as some were scared to go past the Gawler Bypass as we used to say to Gawler Sth Lions legends that never ventured out of Lionland. The Magpies faced the Denver Bulldogs on Saturday July 10 at Van Courtland Park. Two games were held
11 am: A MetroLeague style game first. This may not be going on … we're still working on it.

12 pm: Magpies v. Bulldogs. The big game!
Denver won the USAFL Nationals last year, and is considered the best team in the USA. They also beat us last year when we traveled to Denver. However, they recently lost to Arizona, so they will be desperate to prove it was a fluke.
For a excellent Aussie Rules footy newsletter I recommend The Magscene Click here

Keep reading below for what the Yanky Aussies are saying about us CDN Aussies.
AFL Rd 15 RESULTS:
Geelong 12.22 94 def. Collingwood 9.11 65
West Coast 12.14 86 def. Hawthorn 12.10 82
Essendon 24.11 155 def. Richmond 11.11 77
Kangaroos 14.12 96 def. Fremantle 12. 7 79
Sydney 8.10 58 def. Adelaide 6. 9 45
Brisbane 20.16 136 def. W. Bulldogs 10. 8 68
Melbourne 23. 8 146 def. St Kilda 13.11 89
Port Adelaide Pap Smears 18.15 123 def. Carlton 5.10 40" Myk Aussie
Sat, July 10 04 "The New York Magpies to HELP USA beat boring Canada they are saying! AFL Rd 15 has started! The Calgary Kangaroos to take on the Vancouver Cougars in the BC Cup Aug 7!
"New York Magpies to HELP USA beat boring Canada" More to come on these Amazing comments! But it Seems the USA "Revolution" footy players from New York think Canadians are "Too friendly! They like helping people! They don't J-Walk! They're cities are too clean and they have socialized health care. Boring."
Well, well, well! Wow! I'll say this I bet many of the Canadian and Aussie Rulers footy players up in Canada are like me! Enjoying great snowboarding, skiing, boating, hiking, camping, going to great CFL games and while doing this being in the company of some of the best ladies in the World or as I say great Cwoc's Cool Women Of Canada. Go Canada vs the US in on July 31. Check out Cwocs Click here
More on a excellent report from the guys at the New York Magpies coming this week!"
AFL Rd 15
FRIDAY
Collingwood vs. Geelong, Telstra Dome - 7:40PM

SATURDAY
Hawthorn vs. West Coast, York Park - 1:10PM
Richmond vs. Essendon, MCG - 2:10PM
Sydney vs. Adelaide, SCG - 7:10PM
Fremantle vs. Kangaroos, Subiaco - 7:40PM

SUNDAY
Brisbane vs. W. Bulldogs, Gabba - 1:10PM
Melbourne vs. St Kilda, MCG - 2:10PM
Port Adelaide vs. Carlton, AAMI Stadium - 2:40PM
Lots more to come on the big upcoming Roos vs Cougars clash on Aug 7. Check out MYKwebTV action from last years great game Click here " Myk Aussie
Tues, July 6 04 "The Calgary Kangaroos to take on the Vancouver Cougars in the BC Cup Aug 7! The Adelaide Crows win again! The Pap Smears do as well! AFL Rd 14 results!" Myk Aussie
Lots more to come on the big upcoming Roos vs Cougars clash on Aug 7. Check out MYKwebTV action from last years great game Click here
AFL Rd 14 RESULTS:
Kangaroos 14.16 100 def. Essendon 12. 7 79
Sydney 15. 5 95 def. Carlton 12.12 84
Collingwood 20.20 140 def. Hawthorn 11. 9 75
West Coast 7. 9 51 def. Geelong 7. 7 49
Brisbane 17.12 114 def. Richmond 14.12 96
Port Adelaide 14. 9 93 def. St Kilda 7. 5 47
Fremantle 18. 9 117 def. W. Bulldogs 10.16 76
Adelaide 22.13 145 def. Melbourne 10.13 73
Fri, July 2 04 "AFL Rd 14 is about to start!" Myk Aussie
Essendon vs Kangaroos - Fri 2 Jul
Carlton vs Sydney - Fri 2 Jul
Collingwood vs Hawthorn - Fri 2 Jul
Brisbane vs Richmond - Sat 3 Jul
West Coast vs Geelong - Sat 3 Jul
St Kilda vs Port Adelaide - Sat 3 Jul
W. Bulldogs vs Fremantle - Sat 3 Jul
Adelaide vs Melbourne - Sat 3 Jul
Do you follow the AFL & have ambitions to become a web Sports Caster? Email me for details on writing a weekly AFL report for MYKwebWORLD. Be informative & when it suits comedic. myk@mykaussie.com " Myk Aussie
Pro Football Weekly: AFL and Pro Football Video Picks with amazing coverage from Myk Aussie The Pro Football Comedy Media Guy
*****Invest In Inet MYKwebTV! Myk's Mates Club Click here *****
Check out me AFL
June 04 webWORLD Click here
Check out me AFL
April-May 04 webWORLD Click here
Check out me AFL
March 04 webWORLD Click here
Check out me AFL 2003
Dec -Jan 04 webWORLD Click here
Check out me AFL 2003 Sept webWORLD Click here
Check out me AFL 2003 Aug webWORLD Click here
Check out me AFL 2003 July webWORLD Click here
Check out me AFL 2003 May-June webWORLD Click here

Check out me AFL 2003 April webWORLD Click here
Check out me AFL 2003 Jan-March webWORLD Click here