You can also join me & me MADNess Mates every Fridee on Gabriel Morency's "SportsRage" The World Champs Inet & Montreal Radio, Fri 10.45pm Pacific CDN/US time, Sat 5.45pm EST Aussie time. Click here" Myk Aussie
*****Invest In Inet MYKwebTV! Myk's Mates Club Click here *****
If you are new to MYKwebWORLD & want to know what I do this is a great article Click here
Aussie Rules Footy MYKwebTV Make sure to check out MYKwebTV for some great AFL, USA, CDN, BL&GFA & SANFL Aussie Rules Footy Click here

Thurs, July 28th 05 Updated "Cougars win the CDN/USA Aussie Rules Footy tournament! BL&GFA Lions report!" Myk Aussie
Cougars win the CDN/USA Aussie Rules Footy tournament!

Results: Game 1 Burnaby Eagles 13.3.81 defeated Seattle Grizzlies 2.4.16
Game 2 Vancouver Cougars 11.6.72 beat Burnaby Eagles 4.3.27
Game 3 Vancouver Cougars 10.9.69 defeated Seattle Grizzlies 2.3.15
It was another sensational day of Aussie Rules Footy here in Vancouver on Saturday. Not only did we again welcome our closest USA neighbors the Seattle Grizzles but we had the pleasure of playing on the magnificent UBC Thunderbird stadium designed years ago by "a visionary" transplanted Aussie especially for Aussie Rules Footy in the 20th century. Fans gathered including my "Friends of the AFL, USA" mates Jeff, Anthony and Vince all the way from Chico California and Tommy with video camera in hand from MYKwebTV's major sponsor Destiny Media Technologies. These new fans enjoyed the day immensely. Vince was so rapped in the game he wants to play and now wants to help form a team in Chico.
As the fans enjoyed the Aussie Meat Pies served up by Lydia and Mrs Cashie the 1st game got underway, The Eagles vs the Grizzles. I had the pleasure of lining up in the back pocket alongside the very strong and skillful legendary Eagles defender Peter Taylor and Whizzer the CDN. This thus formed a CDN backline as Peter Taylor and myself are Landed Status Canucks. It was probably the oldest line of the field as I believe Peter and The Whizz are in their late 30's while I'm still the forever young 29 year old. Not only did Whizzer the CDN have his best day of the year and Peter Taylor was again sensational we also had the pleasure of watching the Eagles forwards, onballers and half backline play some incredible football as we thrashed the somewhat weakened Grizzles.
This 1st game against the normally strong Seattle Grizzles was a great prelude to the game of the day, the Cougars vs the Eagles and Eagles coach Chris Freeman made sure we all knew that this was the Biggest game of the day. We knew the Cougars would be fired up more than normal after now being 4-1 down in the 05 series but oh my, what a tough 1st quarter of footy it was as the Cougars scored 3 majors to our 1 goal to take a well deserved ¼ time lead. The 2nd quarter was again rugged, tough and skillful and at ½ time we were within 8 points of the Cougars and I knew I was playing in one of the best ever Western CDN games of Aussie Rules footy. One of the highlights of the day occurred in this term as Troy the new Cougar and best on ground two weeks ago lost the plot after giving a free kick away to Luis the star Eagles onballer.

Troy obviously not happy with the decision started to argue with one of our professional umpires from Australia. Not a smart idea as a 50 metre was given to the Eagles and then as Luis was about to look for a forward a 2nd 50 metre penalty was given and thus Luis booted a major from 5 metres out to put us within points of the Eagles. I am simply laughing my head off and encouraging my Eagles up field mates and then I start talking to Peter Taylor saying "Pete, totally undisciplined footy that, you wouldn't see that from a Eagle. Disgraceful!" knowing full well the now pissed off Cougars coach Stewy Grills was standing right next to Pete. All this being said Troy was again one of the best players for the Cougars on the day, taking many well judged marks, disposing of the ball brilliantly on nearly all occasions and kicking some majors. The 3rd quarter was again close and still rough, tough and skillful but in the last quarter the Cougars ran away with the game to earn a much deserved win and bridging the gap in the 05 series to 4-2.
Some of the better Cougars in this game and on the day were as mentioned Troy along with Mr Elastic President Tony Cooper who was a clear winner in the backlines. Simon Cashie on this day a forward was very good gathering many touches and brilliantly passing the ball to his forwards with great accuracy. Coach Stewy Grills who was extremely fired up after going walk about recently played well either at center half or full forward or on the ball. Doug Vargo who played well mainly on the ball in the Eagles clash then kicked 6 goals in the last game of the day against the Grizzles, a great effort. Cashie was again very good on his half back flank judging the ball very well, taking many fine marks and as always hitting the ball and any players around him hard but now and for the betterment of his game with controlled aggression. Campo was dangerous in the forward lines boating 3 majors all when the game was on the line. Josh Lappin was again getting many touches. Craig Walker the fellow South Aussie was good at centre half forward taking some great grabs. From the back pocket I was extra careful to watch this guy and at any chance I had I went hard at the big skillful player to try and stop his influence on the game and help my mate the shorter Simon Nolan who stood Craig for most of the day. Although Ritchie only played the Eagles game he was again everywhere and a definite player all the Eagles watch and try and hit hard.
True CDN's not transplanted ones like me and Pete Taylor that played well included Chris Bennett again in ruck most of the day, Matty in the backlines, Mikey in the forward lines, Jnr Scotty and Teddy Bundy. One of the comments on the day that I enjoyed hearing came from Eagles Shane who recently played in the London league was "Damn that Teddy Bundy. He got 4 kicks on me, I was pissed off!". Well done Teddy. Scotty the 15 year old up from the Nth Delta Aussie Junior league was elusive, skillful and fit Scotty who kicked a major against the Grizzles will be a very good player in this league as he continues to learn this great game.
The Eagles had many good players as well but it was the Cougars day. A newcomer to the Eagles two weeks ago and another fellow South Aussie Nik from Gaza was dominant in the middle hitting the ball hard and using his strength to run and deliver the ball down field well. Nik kicked some very good goals and probably the goal of the day. But my special mention this week as mentioned above goes to The Whizz a Canuck. I particularly enjoyed playing alongside The Whizz because not only is a he a big CFL fan like me but he goes all day, has not missed any time at all this year with injury and yesterday he took some great marks, stuck close to his man, fought hard on the ground for the ball along with delivering the ball well from his set kicks. After I'm all showered up from the 2 games I then sit back and amazingly saw The Whizz go at it again as he suited up to help out the Grizzles who were a few players short in the 3rd game of the day against the Cougars. A great effort from the Whizz, my CDN Player of the day.
Many of us enjoyed some ales up in the UBC Thunderbird clubrooms and then downtown at the trendy Bar None. My "Friends of the AFL, USA" mates enjoyed meeting many of the players and complimented them on their great play. Three disappointments on the day were, Seattle not fielding as strong a team as in the BC Footy Cup last month, there were some great fans in attendance but a day like this truly deserved a crowd of 5,000 that could have fitted into the magnificent stadium and finally my beautiful friend Calgary Cwoc Charlene a MYKwebTV star was not working a Bar None on Saturday night. So on that note hope you can join me and watch Charlene on this very sexy 5-minute Internet TV show.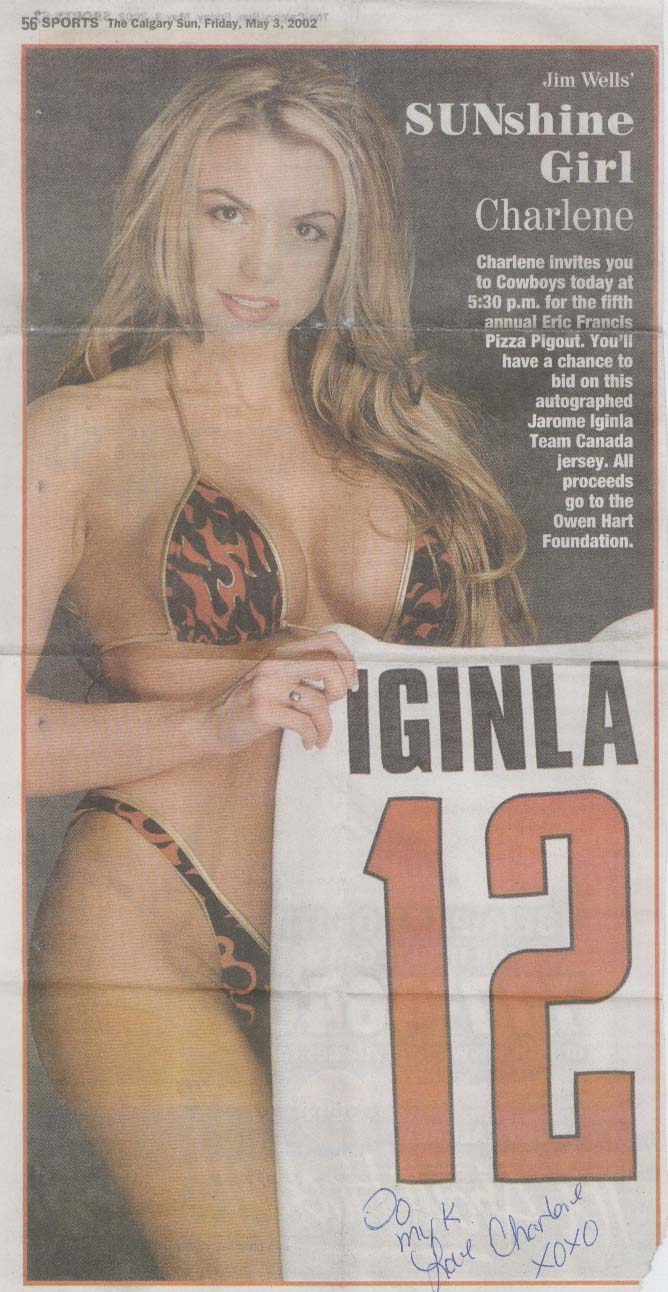 What a great time I had filming on this day with Cwoc Charlene. It's the 1st show below the main screen Click here

For all the scores, goalkickers and soon a even more detailed report from the Legendary BC Footy.com mystery reporter check out BC Footy.com that is brilliantly run by Rob of the Cougars Click here

In 2 weeks time the Cougars will again take on the Eagles while on August 20 the Cougars and Eagles travel to my old home city to take on the Calgary Kangaroo's and the Red Deer Magpies. Be there or be square!

BL&GFA South Gawler Football Club – Part of In the Lions Den from President Percey

"South Gawler Football Club congratulates Steve Nicolai on the excellent achievement of playing 200 games for our club. 'Chipper' would probably be the first to admit he has never been a star but he and his family have made an invaluable contribution to our club. He is a reliable and solid performer every week who makes his opponent earn every kick. He has been a premiership captain and won numerous 'Team Man' Awards. Steve is also a sponsor and an example to the many young players we have at our club in his attitude both on and off the ground. Well done to a true club person.

Congratulations also to his wife Anne-Marie who is this weeks 'Cub Person of the week' Anne-Marie along with Natalie, Ray and Julie Nicolai volunteer every Thursday to cook teas which are enjoyed by the players thus making a real contribution to our club. Last week the Lions visited Freeling. The junior teams recorded excellent wins, the Reserves 'stopped' and paid the price whilst the A grade put in a very competitive and improved performance against a top four team" Percey

Great stuff Steve Nicolai. 200 games is a great achievement. For more on the Sth Gawler Lions Click here " Myk Aussie

"Do you want me to show you a demo/presentation/Live TV show with me as Myk Aussie? I have it all set up with a magnificent view of the Vancouver Harbor in the background! Clipstream Live Video to the web! Do you need to broadcast a sporting event, work conference etc, I have it Click here Call me to discuss 1 604 609-7736 ext 240" Myk

June 05, BC Footy Cup MYKwebTV 45 minutes, try it full screen Click here

Wed, July 27th 05 Updated "AFL Results!" Myk Aussie

AFL R17 results:

St Kilda Saints 21.17 143 def. Collingwood Colliewobble Magpies 10.10 70
Hawthorn Hawks 19.13 127 def. Carlton Blues 15.13 103
Western Bulldogs 20.13 133 def. Geelong Cats 14.14 98
Port Adelaide PAP Smears 14.12 96 def. Richmond Tigers 12.11 83
Brisbane Lions 17.12 114 def. Essendon Bombers 14.17 101
Sydney Swans 13.10 88 def. West Coast Eagles 9.13 67
Adelaide Crows 19. 8 122 def. Nth Melbourne Kangaroos 16.13 109
Fremantle Dockers 15.11 101 def. Melbourne Demons 11.10 76

Sat, July 23rd 05 Updated "CDN and USA Footy is today as Eagles, Cougars and Grizzles play at the magnificent UBC Thunderbird Stadium! Youngy's AFL washing liquid! Calgary Stampede update and MYKwebTV" Myk

I've kept this below in the headlines all week because I luv it! Go Crows!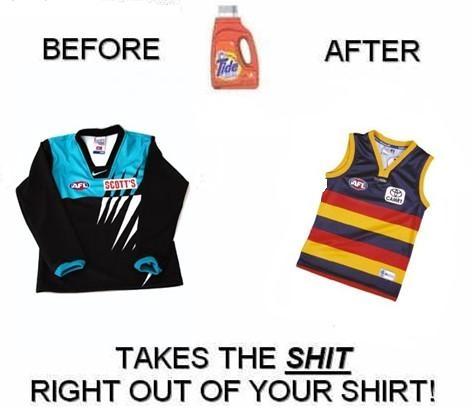 "Myk Aussie do you like my new washing detergent that I developed for the South Aussie footy fans?" Youngy Miller, Sth Gawler Lions
Youngy fantastic! Thanks for this recent development from my homeland. I bet it's a huge hit in South Aussie especially in houses where a few of the guys are living together and thus the Crows guys now offering to do their Pap Smear mate laundry for them. I bet some mum's must love it if they unfortunately have PAP Smear fans in the house. I hope someone can wash Darren Bloffy and Scotty Rotten Rigg's Pap Smears jersey's ASAP.
CDN and USA Footy is today as Eagles, Cougars and Grizzles play at the magnificent Aussie Footy Field Designed UBC Thunderbird Stadium!
It should be a great day today as 3 of the 4 coast teams fight it out. The Seattle Grizzles came very close to winning the BC Footy Cup several weeks ago and I'm sure they will bring a great side to Vancouver today. The 2nd game of the day should also be a rippa as the Cougars are Wild at being 4-1 down in the 05 Cougars vs Eagles series.
At training Thursday night when we split up into the 2 teams Eagles "Super Coach" Freeman had a chat to us all reminding us how important it is again to have a wins this Saturday against both teams. I believe one of the Eagles stars The Shine Man will be back, fit and raring to go after a knee injury. Me Banana Bender mates Steve and Shane should also be fitter as they are now out of my place of residence and away from the Stripper Cwoc's The Cecil and into a more normal living environment thanks to a lovely Aussie business lady.
The Cougars led by "Coach" Stuart Grills who has no doubt had to let go of the term "Super Coach" will be fired up by 2.30pm ready to take on the Eagles. Cougars forward Doug Vargo a surprise no show due to future family reasons I believe in the last game was making sure the new Cougars star Troy was settling in and happy at Thursday's night training and beers afterwards.
It should be a rippa of a day and evening. Be there or be square! 1.00pm at the magnificent UBC Thunderbird Stadium especially designed by a "visionary" Aussie 30 years ago in the shape of a Aussie Footy Field. Beers and Meat Pies available all day." Myk Aussie
CDN Footy, Games start 1pm Saturday! Cougars and Eagles update from Cougars coach Stewy Grills.
Seattle vs Burnaby 1:00 pm
Burnaby vs Vancouver 2:30 pm
Vancouver vs Seattle 4:00 pm

Also please note that after the final game we will all be gathering at the Players Lounge at Thunderbird Stadium for drinks and some good old fashioned footy small talk!" Stewy Grills
This Saturday should be another great day of CDN Aussie Rules footy. Can the Eagles go to 5-1 over the Cougars in the 2005 series or will the Cougars be fired up after the recent Big loss. Refer July 12th below for the reports. Aussie Rules footy players can be seen in the BC Footy MYKwebTV 3 part 45 minute show Click here
Many of the guys, approximately 30 of them were in Calgary for the Stampede last weekend. I'm sure I will hear some great stories from the trip to Calgary, my other home CDN city at tonight's training. Check out my Stampede MYKwebTV of the magnificent Chuckwagon races and the Strathmore Rodeo Running of the Bulls and more Click here " Myk Aussie

"Do you want me to show you a demo/presentation/Live TV show with me as Myk Aussie? I have it all set up with a magnificent view of the Vancouver Harbor in the background! Clipstream Live Video to the web! Do you need to broadcast a sporting event, work conference etc, I have it Click here Call me to discuss 1 604 609-7736 ext 240" Myk
June 05, BC Footy Cup MYKwebTV 45 minutes, try it full screen Click here

"Clipstream Live Video to the web! Some BC, Canadian Footy games Live to the web coming in 2005! Do you need to broadcast a sporting event, work conference etc, I have it Click here Call me to discuss 1 604 609-7736 ext 240" Myk
Pro Football Weekly: AFL and Pro Football Video Picks with amazing coverage from Myk Aussie The Pro Football Comedy Media Guy
*****Invest In Inet MYKwebTV! Myk's Mates Club Click here *****
Check out me AFL Ju
ly 1-20 05 webWORLD
Click here
Check out me AFL
June 05 webWORLD Click here
Check out me AFL May 05 webWORLD Click here
Check out me AFL April 05 webWORLD Click here
Check out me AFL Oct 04-Mar 05 webWORLD Click here
Check out me AFL Sept 04 webWORLD Click here
Check out me AFL July-August 04 webWORLD Click here
Check out me AFL
June 04 webWORLD Click here
Check out me AFL
April-May 04 webWORLD Click here
Check out me AFL
March 04 webWORLD Click here
Check out me AFL 2003
Dec -Jan 04 webWORLD Click here
Check out me AFL 2003 Sept webWORLD Click here
Check out me AFL 2003 Aug webWORLD Click here
Check out me AFL 2003 July webWORLD Click here
Check out me AFL 2003 May-June webWORLD Click here
Check out me AFL 2003 April webWORLD Click here
Check out me AFL 2003 Jan-March webWORLD Click here