You can also join me & me MADNess Mates every Fridee on Gabriel Morency's "SportsRage" The World Champs Inet & Montreal Radio, Fri 10.45pm Pacific CDN/US time, Sat 5.45pm EST Aussie time. Click here" Myk Aussie
*****Invest In Inet MYKwebTV! Myk's Mates Club Click here *****
If you are new to MYKwebWORLD & want to know what I do this is a great article Click here
Aussie Rules Footy MYKwebTV Make sure to check out MYKwebTV for some great aFL, USA, CDN, BL&GFA & SANFL Aussie Rules Footy Click here

Thurs Sept 30, 04 "I still can't believe it! The PAP Smears win their 1st ever AFL Premiership as they defeat the Brisbane Lions in a rippa of a game!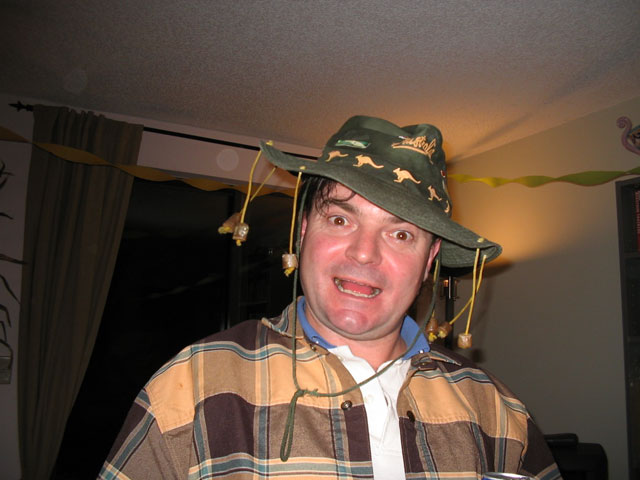 "Ahhhhhhh Ahhhhhhhh Ahhhhhhh those damn PAP Smears winning!! I finally have to except it but this is how I looked in disbelief over the weekend" Myk Aussie
"You see over here in Canada I am all upside down and back to front and my head spun in reverse as watched the Pap's win on Friday night. Now stand on your head and read my business card and then you will realize how I feel over here all upside down and back to front. At least I get to drink my Blue and White Sth Gawler Lions/Kokanee beer to maintain some normality. Just as well it's Crows 2, Paps 1. Keep reading below for my stirring of Nikki Adelaide Aussie babe over here in Canada the past week." Myk Aussie
Mon Sept 27, 04 "The PAP Smears win their 1st ever AFL Premiership as they defeat the Brisbane Lions in a rippa of a game! Nikki the Pap's Adelaide Aussie babe in Calgary Canada gets the last laugh!"
What a great Grand Final it was! Moose's Downunder bar and restaurant here in downtown Vancouver put on a great show with many Aussies there watching the game. The 1st half was very close but then the PAP Smears (Port Adelaide Power) ran out big winners 17.11 (113) to 10.13 (73). Only 77,000 fans at the MCG. Wow! that's not good, seems the Melbourne footy fans snobbed off a all interstate Grand Final. Now that's a bit soft! or were they rebuilding parts of the MCG.

As I said last night on SportsRage with Gabriel Morency during the 1/2 time break which was 10.45 pm over here "Morency it's a great game on right now on Fox Sports world Canada. There are many great nicknames in sport, you know Al's is short for Alouettes, Esks short for Eskimos, Tits short for the Titans but nothing is better than the PAP Smears! A major blunder by Port Adelaide marketing when the new Port Adelaide team could not be called the Magpies. Thus the Port Adelaide Power, PAP's were immediately named the PAP Smears by many a Adelaide Crow fan. Congratulations to the PAP's on their 1st AFL Premiership. But remember it is still Crows 2, Paps 1.
Port Adelaide: 4.5 6.6 12.8 17.11 (113)
Brisbane Lions: 2.2 6.7 9.9 10.13 (73)

Goals: Port Adelaide Power PAP's: Wanganeen 4, Pickett, Thurstans 3, S Burgoyne, Mahoney, Dew, Carr, Tredrea, Lade, Kingsley 1
Brisbane Lions: Akermanis, Bradshaw, Notting 3, Keating 1
Best: Port Adelaide Power PAP's: P Burgoyne (Yes a great game), Pickett, Carr, Gavin Wanganeen the Champ and former Bomber), K Cornes, Thurstans
Brisbane Lions: Michael, Lappin, Notting, Power, Bradshaw, Akermanis (The Blondie with the Black beard can play, Chris Cowboy Corean says to me.
Injuries: Port Adelaide Power PAP's: None (Well except for all the Pap fans going crazy down at the Port and having very sore heads Sunday morning)
Brisbane Lions: Lynch (quad), Brown (knee)
Changes: None
Reports: Simon Black (Bris) for striking Damien Hardwick (Port), Gavin Wanganeen (Port) and Alastair Lynch (Bris) for wrestling and no doubt may be more if they watch the video. Some great fights)
Umpires: Allen, James, McInerney
Crowd: 77,671 at MCG Soft ! Soft ! Soft! US and CDN mates there is normally 90,000+ at the big game. Rebuilding the MCG could be the reason.
Especially for the PAP's! Re posted from Sept 03 AFL webWORLD.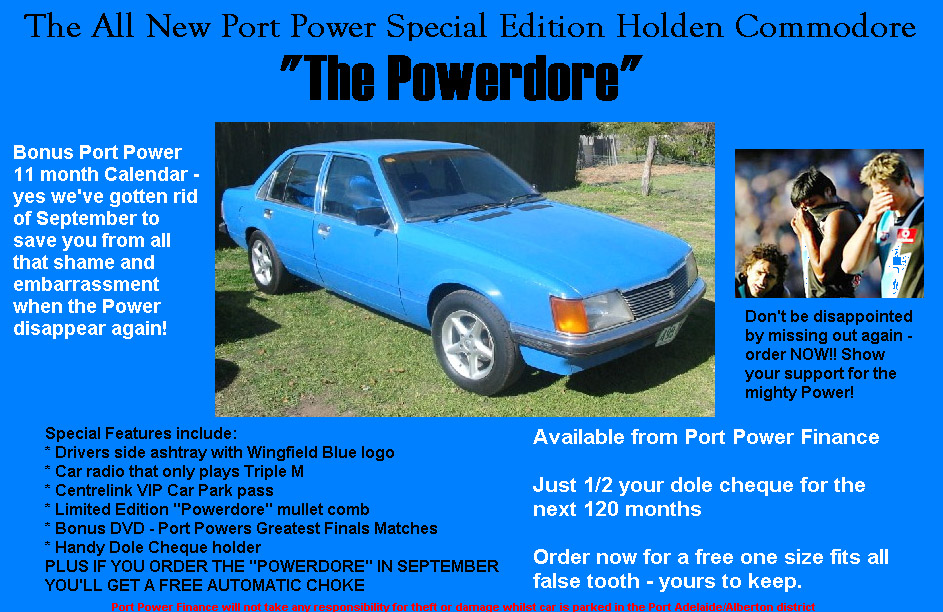 From Youngy me Sth Gawler Lions mate. As a Crow we now retain a 2-1 AFL Premiership lead over the PAP Smears!
Keep reading below for my stirring up of a PAP Adelaide Aussie babe in Calgary the past week. Nikki has the last laugh! Congratulations you crazy Pap Aussie babe" Myk Aussie
Fri Sept 24, 04 "More on the AFL Grand Final this Saturday
, tonight North American time as the Brisbane Lions take on the PAP Smears and Nikki a Adelaide Aussie Babe in Calgary is already fired up for the Big game! The Team lineups!
Brisbane Lions are going for a incredible 4 Premierships in a Row!

My stirring of Adelaide Aussie Babe in Calgary contd...."Myk Aussie I'm on the other side of the world and still finding a Crow supporter to bag! I'm notorious for being a footy psycho! Getting really pumped for Friday. Bundy, Coopers beer and Aussie Rules, what more can a girl ask for eh?" Nikki
"Bundy, Coopers beer and Aussie Rules" eh! You like the Bundy that is a Queensland drink so you should also be a Brisbane/Queensland Lion fan it seems! You seem a little confused! You got the CDN "eh" saying now! You got any friends that are hot and that easy to please? Most of you hot babes want way more than that ie Great sex, lots of cuddling afterwards, money, nice car, security etc etc. Nikki Trust me on this you will need lots of Bundy at about midnight Friday night Cowtown time when your PAP's are a gonna! I am going to meet up with Van Cougars Aussie Rules guys to watch the game.
Now here's the lineups for the Big Game!

PORT ADELAIDE v BRISBANE LIONS Saturday, 2:30pm, MCG

B: Michael Wilson, Darryl Wakelin, Matthew Bishop
HB:Adam Kingsley, Chad Cornes, Brett Montgomery
C: Kane Cornes, Roger James, Domenic Cassisi
HF: Byron Pickett, Warren Tredrea, Stuart Dew
F: Gavin Wanganeen, Shaun Burgoyne, Jarrad Schofield
Foll: Dean Brogan, Josh Carr, Peter Burgoyne
I/C: Damien Hardwick, Brendon Lade, Josh Mahoney, Toby Thurstans
Em: Stuart Cochrane, Brett Ebert, Damon White
No Changes made from last week.

BRISBANE LIONS
B: Chris Johnson, Mal Michael, Martin Pike
HB: Robbie Copeland, Justin Leppitsch, Chris Scott
C: Brad Scott, Michael Voss, Jason Akermanis
HF: Luke Power, Jonathan Brown, Tim Notting
F: Craig McRae, Alastair Lynch, Daniel Bradshaw
FOLL: Clark Keating, Simon Black, Nigel Lappin
I/C: Darryl White, Richard Hadley, Dylan McLaren, Blake Caracella
EMG: Ash McGrath, Joel Macdonald, Anthony Corrie
IN: Darryl White
OUT: Shaun Hart (facial fractures) What a terrible feeling Shaun must be having at the moment.

Make sure to check out Aussie Rules MYKwebTV as I was in Melbourne Lionland awhile back Click here The Brisbane Lions formed after the Fitzroy Lions in Melbourne were relocated to combine wit the Brisbane Bears.
Canadians and US mates you can see the game on Fox Sports World in the US and Fox Sports World Canada 9.30pm Friday night Pacific Pammy time. Get ready for the Grand Final in the best game in the World to Play and one of the very best games in the World to watch. Lions will not only Rrrrrrrrrroooooooooooooaaaaaaaaaaaaarrrrrrrrrrrr tomorrow night in the CFL but they will again Rrrrrrrrrrrrrrroooooooooooooaaaaaaaaaaaaarrrrrrrrrrrrr in the AFL Aussie Footy! " Myk Aussie
T
hurs Sept 23, 04 "AFL Grand Final this Saturday as the Lions take on the PAP Smears! Nikki a Adelaide Aussie Babe in Calgary Canada missing her PAP Smears!"
My recent chat/stirring up of a Adelaide babe in Calgary that found MYKwebWORLD via the web.
"Myk Aussie I actually heard there were heaps of Crows supporters at Footy Park 
(AAMI

 Stadium, whatever, just can't bring myself to call it that!) supporting the

 Power 
on Friday night. Nice work Crow Peops! I was stoked with that!

 Little Adelaidians sticking 
together, nice.

 GO THE POWER!

" Nikki in Calgary

"Nikki I can tell you it would not have been any of my Crows mates supporting your 
PAP Smears or me either if I was there. Lions to win 4 in a row!" Myk
"Yeah, typical Crows supporter! Why would ya want the same damn

 

team

 to win 4 in a 
row....boringggggg!
I heard Brisbane aren't playing that good at the moment. Thought we weren't in for a chance but everyone back home reckons it's 50/50. Don't hold the fact that I'm a Port supporter against me! Never heard of the PAP Smears. Nice! Have a lot of friends back home in Adelaide that would truly appreciate that one! I've only ever copped Port Powder Puffs" Nikki
T
ues Sept 21, 04 "AFL Grand Final this Saturday as the Lions take on the PAP Smears! More coming to this section"
Port Adelaide Power (PAP Smears) 14. 10. (94) def. St Kilda 13. 10. (88)
Brisbane Lions 12. 12. (84) def. Geelong 10. 15. (75)" Myk Aussie
Thurs Sept 14, 04 "Four teams are left including the PAP Smears!" Myk Aussie

PAP Smears to play St Kilda while the Lions play the Cats this weekend.
Last weekend Results: St Kilda 16. 11. (107) def. Sydney Swans 8. 8. (56)
Geelong 10. 14. (74) def. Essendon 9. 10. (64)
For Calgary mates The Flying Emu in downtown Calgary is the place to watch the AFL Grand Final. Go join me Calgary Kangaroo mates if you are in the area" Myk Aussie
Sat Sept 11, 04 "Aussie Mat McBriar a Cowboy! ! Aussie's to go head to head in the NFL! Will I support the PAP's no!"
Yeh Yeh Yeh as Aussie and now a Cowboy, Punter Mat McBriar will not only anticipate his first punt in an NFL game, but he will be the holder for Cundiff on field goal attempts. Mat will go up against his buddy and one of the main reasons he is now in the NFL, Aussie Champ Darren Bennett now a Viking. Darren helped Mat to get in the Uni of Hawaii NCAA program. For more NFL including a MYKwebTV interview with Mat check out the Massive NFL webWORLD Click here
As I stated last night on SportsRage, As a Adelaide guy will I be supporting the PAP Smears, Port Adelaide Power? No. Brisbane Lions to win the AFL Grand Final. " Myk Aussie
Fri, Sept 3 04 "AFL Finals are here! A good International year on here but a horrid AFL year!
Rd 1 of the Finals: Lions defeated the Saints 23.11 to 10.9.

Demons to play the Bombers, Swans to play the Eagles, PAP Smears to play the Cats.
Why was it a good International Aussie Footy year on here but not a great AFL section? 2 reasons 1) The Adelaide Crows sucked so I lost interest from a far 2) I get little help from Australia and thus decided to promote the CDN and USA Aussie Footy leagues. If you are new here I hope you enjoy the columns, pictures and Aussie footy MYKwebTV from the past 18mths below. I have often talked AFL footy on my US radio guest appearances and on SportsRage. It is the best game in the world to play. AFL Finals are starting. As a Adelaide guy will I be supporting the PAP Smears, Port Adelaide Power? No." Myk Aussie
Do you follow the AFL & have ambitions to become a web Sports Caster? Email me for details on writing a weekly AFL report for MYKwebWORLD. Be informative & when it suits comedic. myk@mykaussie.com " Myk Aussie
Pro Football Weekly: AFL and Pro Football Video Picks with amazing coverage from Myk Aussie The Pro Football Comedy Media Guy
*****Invest In Inet MYKwebTV! Myk's Mates Club Click here *****
Check out me AFL Ju
ly-August 04 webWORLD Click here

Check out me AFL
June 04 webWORLD Click here

Check out me AFL
April-May 04 webWORLD Click here

Check out me AFL
March 04 webWORLD Click here

Check out me AFL 2003
Dec -Jan 04 webWORLD Click here

Check out me AFL 2003 Sept webWORLD Click here
Check out me AFL 2003 Aug webWORLD Click here
Check out me AFL 2003 July webWORLD Click here
Check out me AFL 2003 May-June webWORLD Click here
Check out me AFL 2003 April webWORLD Click here
Check out me AFL 2003 Jan-March webWORLD Click here