If you are new to MYKwebWORLD & want to know what I do this is a great article Click here
***** Check out Myk drinking out of The Stanley Cup Click here

Fri, Dec 30 05 "Winter Olympics are coming, CDN's are favorites again! Todd Bertuzzi selected, Hmmm! Moose's NHL update!" Myk Aussie
I would like to cover the Olympics Hockey on here over the next months as I enjoy it immensely. I had a great day here in 2002 in Calgary wearing my Canucks jersey when Canada won the Gold Medal. I'm sure Moose will be bragging how good the US team is so let's go Moose, Canada to win the Gold again, I hope!
I am like many in many parts of Canada except for BC disappointed that Todd Bertuzzi was selected in the initial CDN squad. His form has been average to good and well you know, should he be representing Canada after his King Hit? I don't think so!

Sidney Crosby is definitely living up to the hype that he came into the NHL with. What a delight it is to see a Rookie star! There are several other Rookies also going great including Alex Ovechkin. NHL is Back in a Big way but I love the Olympics even more.

From Moose "Alex Ovechkin might just hold on and edge out sensational rookie Sid Crosby for Rookie of the Year, if Crosby continues to have injury problems. There is now suggestion that the Pittsburgh Pens might be up for sale! Say it ain't so, Mario! Mario has also had problems with injuries/ illness lately.

Wayne Gretzky, 'The Good One' (as far as Coaches go, so far) is back in Phoenix and will be back behind the bench for the Coyotes Wednesday. He flew out last week to attend his mother's funeral back in Edmonton, the City of Champions. Our heat felt Condolences to the whole Gretzky family. Wow, the poor guys' Mum died during the Christmas week. R.I.P" Moose
"New Cwoc Pammy and the real Pamela Grey Cup 05 TV Click here" Myk
Sat, Dec 10 05 "Moose's recent Vancouver Hockey pictures!" Myk

Some pictures Moose took during his recent trip here to Vancouver for the CFL Grey Cup.


Left: General Motors Place the home of the Vancouver Canucks. Right: The CBC Hockey Night in Canada and CFL truck all ready to broadcast from The Shark Club it seems during the Grey Cup week.
The Two Parrots, one of my favorite downtown Vancouver bars and a excellent place to watch a Canucks game. The beers are very Big there if you are a member." Myk

"Myk Aussie is the best NFL Cheerleaders interviewer Click here" Joe

Tues, Nov 21 05 "NHL and AHL update!" Moose

Coach Wayne (The Good One, so far? Gretzky has the Coyotes back in

contention since the retirement of Brett Hull has faded from recent memory.

The howlers have now won 3 of the last four and are upping the scoring. Keep

it up Wayne!

AHL Scores:


Grand Rapids 3, Toronto Marlies 1


Binghamton 1, Springfield 0


Hersey 5, Rochester 1


Wilkes-Barre/Scranton Pens 3, Norfolk 1 (Admirals 몊toned?by Marc Anthony Fluery!)

Manchester 5, Lowell 4, O.T." Moose

Fri, Nov 18 05 "NHL update!" Moose

Milestones: Defending Champ Tampa Bay's Dave Anderchuck has now played in 1,615 NHL games, 5th in NHL history, tied with Larry Murphy. Edmonton Goalie Mike Morrison had 31 saves in his first ever start, 7th all-time. Tampa's Vinny Prospal extended his streak to to 10 games after recording his 3 goals and an assist in Monday's win over then red-hot Philly.

In the Divisional races, Carolina, Vancouver, who I will see next week, Los Angeles, Montreal and Detroit are rolling - for now. Expect Wayne (Genius, the Good Coach) Gretzky's Phoenix Coyotes to turn it on soon, too. They are just getting over the shock of Brett Hull's sudden retirement, only 5 games into his 18th Pro season. Hull played on two US Olympic teams, 2004 and 2000." Moose

Mon Nov 7 05 "AHL update!" Moose

Loose Pucks...Rook Centre Martin St. Pierre, brother of ex-NFL QB Brian, who is leading the Norfolk Admirals in goals (4), assists (8), points (12), and plus/minus, has been signed by the 'Big Brother' Chicago Blackhawks. Norfolk's Brian Lee entered the week having played only twice and sitting out as many as six times on scratch due to an inflamed stomach virus. Norfolk Ast. Coach Rick Kowalsky, recently took part in the ECHL Trenton Titans '04-'05 Championship ring ward ceremony. Kowalsky, a former ECHL Admirals player, had the same role with Trenton last season." Moose

Sat Oct 29 05 "Bertuzzi the Basher Booed Badly!"

Wow! Thursday night against the Colorado Avalanche, Vancouver Canucks strong man Todd Bertuzzi was Booed all night, the 1st game against the Av's since the well documented Steve Moore bashing. Fans were also dressed in jail outfits giving it to him all night and yelling out "Bertuzzi sucks" etc etc. Interesting though a Cwoc from Saskatoon Canada went to the game in a Bertuzzi jersey to support him. Amazingly it appears the jersey did not get ripped off from her.

Then another hot Cwoc blondie was also in the crowd wearing a Canucks jersey. Was she a Canucks "Groupie" I'm not sure on that one. The Canucks were hammered by the Avalanche 6 to 2. Tonight again they go against each other. Keep reading below if you are new to the NHL and want to hear the story of how Todd bashed Steve Moore that has lead to court cases and a long suspension to Todd. I am a Canucks fan but I was disappointed at this incident 1 1/2 years ago." Myk Aussie

Tues Oct 25 05 "NHL update! Oilerbabes birthday!" Myk

Happy Birthday to OilerBabe and to her great Oilers tattoo on here fanny!

From Moose "NHL Update: Brett Hull retires after 18 seasons: Pro Hocky's fourth leading scorer

Phoenix challenge for new Coach Wayne Gretzky, of getting to the Stanley Cup in Gretz' first season just got tougher, as last Wednesday, three time US Olympic hockey player and 18 NHL vet Brett Hull retired after just five games this season.

Hull is third in goals in NHL history and fourth overall in Pro Hockey history behind three NHL-WHA vets; Coach Gretzky, Gordie Howe and Mark Messier. Good luck in life Brett and take care of those Stanley Cup rings." Moose

"Check out Myk the lucky guy drinking out of The Stanley Cup Click here " Moose

Fri Oct 14 05 "MYKwebTV "Live" in November! American Hockey League Norfolk Admirals Preview by Michele DeWalt!" Myk Aussie

MYKwebTV "Live" in November! Hockey mates, Cwoc's, Cwoa and Aussie Birds in Vancouver or coming to Vancouver in November, do you want to be interviewed on MYKwebTV "Live" to the World talking Hockey? My upcoming "Live" Internet TV show will include Hockey, CDN, US and Aussie Country Leagues Aussie Rules Footy, NFL, CFL and more. Refer to my posting about CFL Grey Cup week and I hope you guys can join me at the downtown Vancouver venue to be announced and finalized very soon. I can't wait. Click here

I was lucky enough to attend a Norfolk Admirals game in January this year with Moose and Scotty MYKwebWORLD reporters on my way to Super Bowl. It was a great night with a lot of fights! Wow! Good luck to the Admirals this AHL season!

American Hockey League Norfolk Admirals Preview! By: Michele DeWalt
Gone is Coach Trent Yawney, called up to the ON AGAIN Show, the No Hockey League is back on ice after a year of the Labour Freezeout, so the Admirals are now Coached by Mike Haviland and Ast. C'd by Rick Kowalsky, with Al McIsaac still onboard as GM. And yes, they still play at Norfolk's venerable Scope Arena, former home of the Af2 Nighthawks. On to the Lineup:

A.J. Baines, for the sixth year is the starting Centre. With Nathan Barrett of Vancouver, home of the 93rd Grey Cup as backup. Moorhead, MN's Mark Cullen is third in the rotation. Goaltending will be Corey Crawford and Adam (injury prone) Munro, who everybody in Admiral-land hopes can finally stay healthy. On Defence are: James Wisniewski and Brian Lee, two Amer-I-cans and two Canucks, Montreal's Nickiuper and Newfy Jason Morgan. The wingers are: Martin St. Pierre, who's brother just got cut by the Steelers of the NFL, a QB, Shawn Thornton, brother of NHL's Joe, Steve Munn, who can also play Defence and Quniton Lang. This year's squad boasts an alltime high five Americans and 11 Canadians and seven Imports from ex-Commie countries - I hope they've been debriefed! Predicted finish: second in AHL."

"Check out Myk the lucky guy drinking out of The Stanley Cup Click here " Moose

Wed Oct 5 05 "NHL Hockey finally starts again tonight! Canada will be going wild!" Myk Aussie

Wow! I can't believe it, the NHL with new rules and hopefully more scoring starts tonight. I bet the Canadian cities will be going wild as all the teams play tonight. The stadiums and sports bars will be jammed packed!

The Vancouver Canucks with nearly all of their players back including the Big fella Todd Bertuzzi from suspension will take on the Phoenix Coyote's who are now coached by legend Wayne Gretzky. Canucks to win!

The experts are saying all six Canadian teams could make this years playoffs which would be great to see now that a salary cap is in place to help some of the smaller market Canadian and US teams.

I especially congratulate the Edmonton Oilers organization. Over the past years they have sat back not spending to much dollars while still putting up a competitive team for the Hockey MAD great city of Edmonton. The Oilers could see the spending getting way out of hand and simply would not risk major financial trouble by keeping up with the Big spending teams. The Oilers organization were one of the main groups to demand the payroll be reduced and a salary cap enforced.

Calgary Flames are one of the early tips in the West to possibly go all the way and win the Stanley Cup after coming runners up the last time the Stanley Cup was up for grabs. Now that would be OK to see as Jarome Iginla is my favorite NHL player and especially if the Flames Girls on the streets go Crazy again! The Ottawa Senators are looking very good in the East while arch rivals the very popular Toronto Maple Leafs are looking only OK! The famous Montreal Canadians are a smaller team than some of the others but with great skill. I'm sure Gabriel Morency will be fired up tonight on SportsRage as he takes calls from the Hab fans.

With some much needed rule changes I especially look forward to more scoring this year and thus no more "soccer type" scores in this great game that is loved by a large percentage of Canadians and many American's. It should be a good year for the NHL fans.

Keep reading for my pro Canada hockey reports over the past couple of years and sexy Cwoc Oiler babe and Moose's reports." Myk Aussie

"Check out Myk the lucky guy drinking out of The Stanley Cup Click here " Moose

Wed Sept 14 05 "NHL legend Mark Messier retires! Trent Klatt retires!"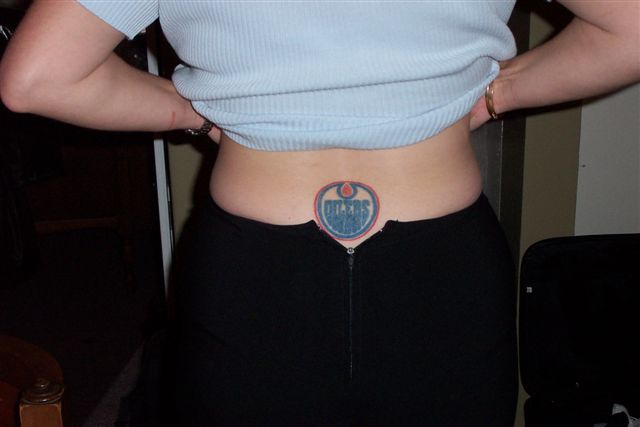 Mark Messier is a NHL and especially a Edmonton Oiler legend! No doubt Cwoc Oiler babe with the Oiler tattoo on her fanny loved Mark during his time with the Oilers.For a bigger picture of my friend Oiler Babe's tattoo Click here" Myk Aussie

From Moose "Trent Klatt - The LA Kings right wing announced yesterday he was hanging up the skates after 14 years in the NHL. Klatt, who played in the Stanley Cup in his rookie year with the Minnesota North Stars, followed the team to Dallas where the became the South Stars and later played with Messier in Vancouver with the Canucks, before winding up his career with the Kings. [Note: there is an even bigger statue outside of Wayne Gretzky, the current Phoenix Coyotes Coach outside of the LA Staples Centre than at Northlands Arena in Edmonton!] Klatt played in 782 games.

Mark Messier - Messier, maybe the most complete player of alltime (he was every bit as good on Offence as he was on Defence), played 25 seasons in the WHA-NHL. The Oilers were an original WHA team and Messier started with them, although Gretzky started with the Indianapolis Racers, first before being traded by ex-B.C. Lions owner Nelson Scalbania, to Edmonton. Messier played in the Stanley Cup Championships a record nine times and won six rings, including leading Edmonton to a surprising Championship the year after Gretzky was traded by Pete Pocklington to LA. Gretzky would lead LA to one Championship Series v. Montreal, (they lost in '93), himself. Messier is fourth in minutes played, third in scoring and second in games played, behind Gordie Howe. Messier played for the Rangers (on their '94 team Championship team that ended a 54 year drought of Stanley Cups and also Vancouver." Moose

"Myk Aussie is the best NFL Cheerleaders interviewer Click here" Joe


AFL Betting! NFL Betting! CFL Betting!
Check out "Myk's Mates Club" for AFL Betting, NFL Bettting, CFL Betting, Australian Rules Football Betting, AFL tips, AFL picks, NFL picks, CFL picks, AFL picks against the spread, NFL picks against the spread, CFL picks against the spread, Aussie Rules Footy tips, Australian Rules Football picks, Australian Rules Football picks against the spread. Click here

"Do you want me to show you a demo/presentation/Live TV show with me as Myk Aussie? I have it all set up with a magnificent view of the Vancouver Harbor in the background! Clipstream Live Video to the web! Do you need to broadcast a sporting event, work conference etc, I have it Click here Call me to discuss 1 604 609-7736 ext 240" My

k

Thurs, Aug 11th 05 "Wayne Gretzky to coach the Phoenix Coyotes! NHL MYKwebTV a tour of his magnificent restaurant in Toronto!" Myk

From Moose "NHL Update

The Phoenix Coyotes of the NHL announced yesterday that

not only will Wayne Gretzky, the greatest Pro Hockey player

of alltime still retain 18% ownership of the club, but that he

will Coach the team as well. Gretzky, who scored more than

1,800+ points and nearly 900 goals in his 21year career, that

started in the old WHA with the Indianapolis Racers, signed a

three year contract to Coach the Coyotes, yesterday.



Gretzky could have been the NHL뭩 alltime leading scorer,

even without the totals of his goals, his assists totals were

so high. Gretzky played for:

1978 Indianapolis Racers - WHA /


1978 Edmonton Oilers ?WHA


1979-88 Edmonton Oilers ?NHL


1989-96 Los Angeles Kings /


1996 Saint Louis Blues ?NHL


1997-99 New York Rangers.

Gretzky has two statues of himself outside NHL Arenas, and

I have taken pictures with both of them. One of course, is in

Edmonton, at Northlands Collesium, by Wayne Gretzky Blvd.,

and the other is even bigger in size, outside the Staples Centre

where my beloved L.A. Clippers play.

Check out NHL MYKwebTV that Myk Aussie did a while back, a tour of Wayne's magnificent restaurant in Toronto which includes some of his trophies Click here" Moose

***** Check out Cwoc Oiler Babes past report's Click here

For me July 04-July 05 NHL webWORLD Click here
For me May-June 04 NHL webWORLD Click here
For me Jan-April 04 NHL webWORLD Click here
For me May-Dec 03 NHL webWORLD Click here
For me April NHL webWORLD Click here
For me Feb Mar NHL webWORLD Click here

Pro Hockey Weekly: NHL and Pro Hockey Video Picks with amazing coverage from Myk Aussie The Pro Sports Comedy Media Guy.

Invest In Inet MYKwebTV ! Myk's Mates Club Click here