You can also join me & me MADNess Mates every Fridee on Gabriel Morency's "SportsRage" The World Champs Inet and Montreal Radio, Fri 10.45pm Pacific CDN/US time, Sat 5.45pm EST Aussie time. Click here
I hope you can join me in Mates Club for hours of Sports, Comedy Babe TV Click here

If you are new to MYKwebWORLD & want to know what I do this is great article Click here

New Aussie Rules Footy MYKwebTV pages! Check out MYKwebTV for some great AFL, USA, CDN, BL&GFA & SANFL Aussie Rules Footy Click here For the new 05 US Nationals TV page Click here For the new 03 Aussie Rules Footy TV page Click here For the new 05 BC Footy Cup TV page Click here For the new 05 NWPAFL Grand Final TV page Click here" Myk


Updated Tues Aug 29, 06 "The Calgary Kangaroo's win the 06 Stampede Cup! MYKwebTV coming from the 06 Stampede Cup! Advertise on 06 Stampede Cup MYKwebTV! BC Footy Cougars/Eagles confirmed for the 06 US Nationals! Pap Smears defeat Crows! Dockers defeat Eagles! Demons and Cats have a draw! AFL Rd 21 results! South Gawler Lions Reserves & Under 15's to play in the Semi Finals!" Myk Aussie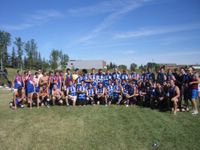 The Stampede Cup 06 team photo. It was another great day of Aussie Rules Footy in Western Canada.

Stampede Cup 06 scores.
Calgary Kangaroos 10.6 = 66 def. Calgary Bears 2.3 = 15.
BC Footy Cougars/Eagles 9.5 = 59 def Calgary Bears 0.3 = 3.
Calgary Kangaroos 15.10 = 100 def BC Footy Cougars/Eagles 2.2 = 14.

It was a Huge day of Aussie Rules Football here in Calgary yesterday as the Calgary Kangaroo's, the newly formed in 06 the Calgary Bears and the BC Footy Cougars/Eagles combined side competed for the Stampede Cup. The Calgary Kangaroo's won the Grand Final convincingly over the BC Footy Cougars/Eagles combined side. I had a very enjoyable day web sports casting the event along with playing in defence for the Calgary Kangaroos.

I believe this was the best ever Calgary Kangaroo's side since the club was formed in 2002. The Vancouver team was missing some very good players thus the final score does not truly represent the difference between the two teams.

There were many good players yesterday. Roo's Brad Copeland by the slightest of margins got my vote for Best Player of the day over Roo's Brad Flower. Roo's Matt Henke got my vote for the Best Canadian Player of the day. Guy Beesley was named Best for the Bears while Troy Macri was awarded best for the BC Cougars/Eagles.
Yesterdays Roo's side was Rosie, Copes, Judge, Flower, Beau, Spud, Ritchie, Joshy, Gareth, Grazer, Gonads, Robot, Joffa, Trev, Pete, Smirls, Damo, Edwin, Ty and myself.

The Bears team consisted of Lagan, Tim, Cal, Brendan, Irish, M Kidd, S Kidd, Nibbles, Byrnsy, Damo, Colin, Halsy, Quiky, Rich.

Some of the BC players were Brad, Fats, Jesse, Mark F, Mark P, Freemo, Wiz, Scotty F, Macri, Chris R, Ted B, Stu.
For a report from yesterday by Roo's President Gareth Williams check out the Calgarykangaroos.ca Click here

For some photos taken by the Vancouver guys check out the Vancouver Cougars site Click here
Stampede Cup 06 MYKwebTV. This week I will have a 35-40 minute MYKwebTV show up from yesterday that includes action from the 3 games along 1 on 1 interviews with Christian Judge the 05 Roo's Best and Fairest Winner and star Roo's forward, Matt Henke Roo's onballer and the Best Canadian player from yesterday, Boris a new CDN Roo's ruckman and Chris CDN from the Burnaby Eagles. Also a interview with Stuart Grills the BC and Vancouver Cougars coach and Chris Freeman the Burnaby Eagles coach talking about BC Footy and the upcoming US Nationals in which BC Footy will definitely be playing in for the 2nd year.
Hopefully a AB Footy Roo's/Bears side will also be playing in the US Nationals in the future. Can it happen in 06, it's a slight possibility. For a 3 part 45 minute TV show from the 05 US Nationals Click here
Advertise on 06 Stampede Cup MYKwebTV! Please contact me early this week if you have any interest in advertising on my 06 Aussie Footy MYKwebTV shows and the consequent DVD. I will be doing the edit this week so it is not too late. Advertising on a MYKwebTV show is better than TV advertising as the viewer has to watch your commercial. There is no remote control!!!!! call me on 1 403 870-5578 or myk@mykaussie.com for attractive MYKwebTV/TV advertising details and initial interest in investing in a 06 Stampede Cup DVD & 06 US Nationals DVD.
AFL Rd 21 results:
St Kilda Saints 22.10 = 142 def. Western Bulldogs 13.14 = 92.
Melbourne Demons 14.10 = 94 drew with Geelong Cats 14.10 = 94
Hawthorn Hawks 7.16 = 58 def. North Melbourne Kangaroos 4.12 = 36.
Richmond Tigers 20.9 = 129 def. Essendon Bombers 16.17 = 113.
Sydney Swans 14.13 = 97 def. Brisbane Lions 6.4 = 40.
Port Adelaide Pap Smears 14.11 = 95 def Adelaide Crows 11.15 = 81.
Collingwood Magpies 24.12 = 156 def Carlton Blues 17.10 = 112.
Fremantle Dockers 18.10 = 118 def West Coast Eagles 8.13 = 61.
BL&GFA South Australian Footy. The Lions Reserves and Under 15's make the 2nd Semi Final! Part of South Gawler Football Club – In the Lions Den 30/8/06 from President Percey
The minor round concluded last Saturday with the 'Exchange' Lions winning three out of four against Barossa Districts at Williamstown. Well done to South Gawlers Reserves and Under 15s who will both play in the second semi final with every chance of success. The Reserves toughed it out against Barossa - had they lost would have fallen from second to fifth in shades of the A grades fateful day against Kapunda a couple of years ago. The Under 17s had a good win to finish their season and with only a couple progressing next year have much to be optimistic about. By finishing the minor round undefeated the hard work really starts now for the Under 15s who don't want to stumble in the final lap. Congratulations to Ashley Parsons who broke a long standing goal kicking record on the week end.
The A grades season finished positively and should be a strong platform for 2007. They fought back magnificently against the top team in a stirring performance that made all supporters proud. The results of earlier games came home to haunt South Gawler as the Lions missed out on the finals by the narrowest of margins. What has been achieved in 2006 is a competitive team full of youth and promise that South Gawler can be proud of. The trick is now to not make it a one season wonder and the club asks that all Lions continue the hard work on and off the field. A bitter – sweet finish but a lot better than last season!
A major factor in our clubs improvement was the winner of the final 2006 Kingsford Hotel 'Club Person of the Week' A grade coach Damien Herzick. Damien has made a big impact with his football knowledge, dedication and passion throughout all the grades and is well respected at the Den by young and old. Similarly our Reserves coach, Matt Gallarello has made a big impact and the Lions are pleased that he will continuing in 2007.
Congratulations to Linus Okunieff or playing his 100th senior game and celebrating accordingly in fine style last week end. Congratulations also to 16 year old Nicholas O'Reilly on making his A grade debut – a gutsy effort against the might of Barossa. Its great to see these two traditional South families continuing the tradition. Best wishes to Roberta Brown who is on the sick list and the sympathy of the Lions is with the Irvine family on their sad loss." President Percey
I hope you can join me Mates Club for hours of Sports, Comedy, Babe TV. Click here" Myk
Updated Fri Aug 25, 06 "AFL Rd 21 games and tips! BC vs AB in the Stampede Cup is this Saturday! I hope to be drinking out of the Cup again this year but with my original CDN team the AB Roo's! QR77 promote the Stampede Cup! Hopefully MYKwebTV, Global TV and City TV will be at the Big Stampede Cup games!" Myk Aussie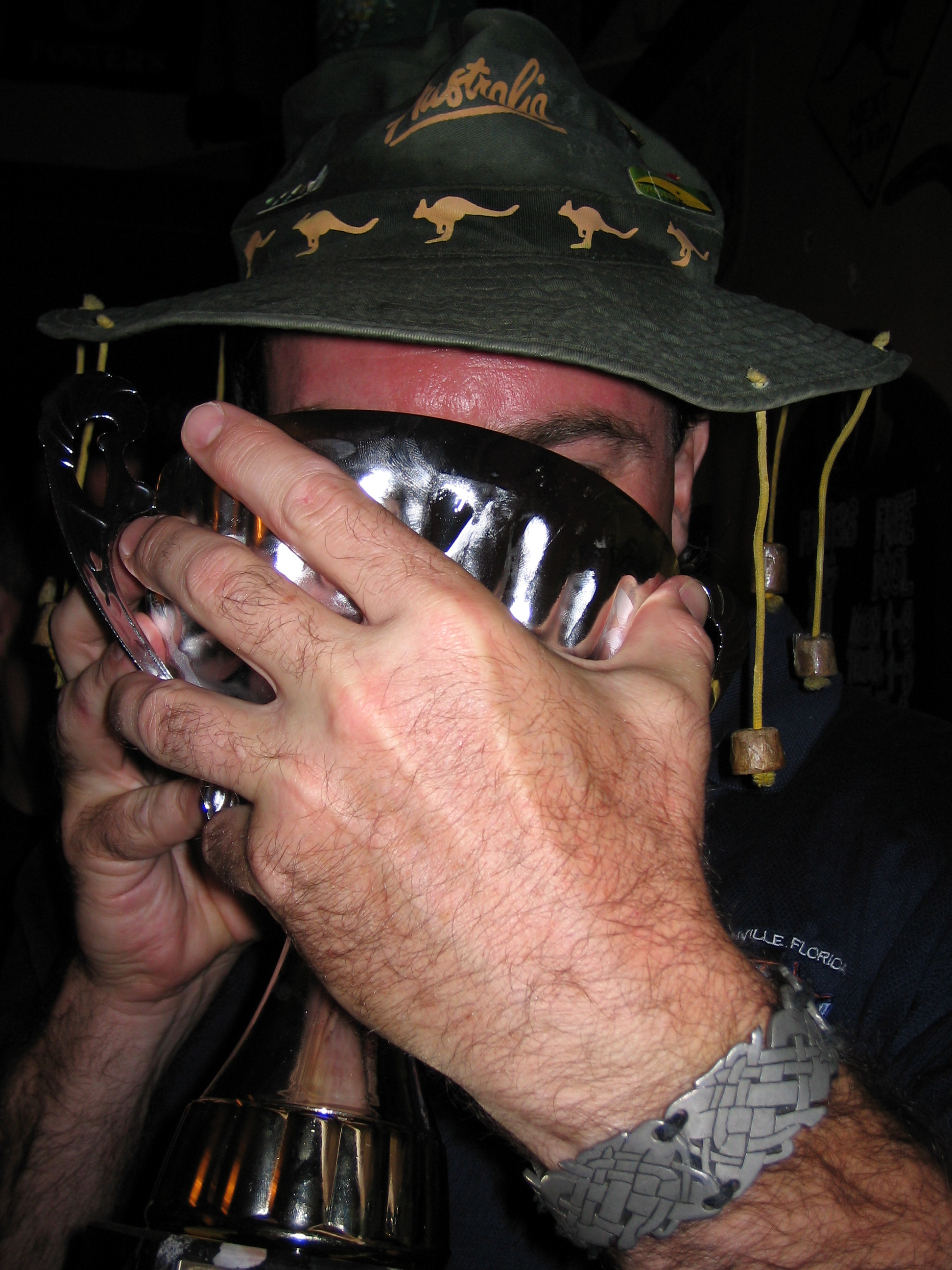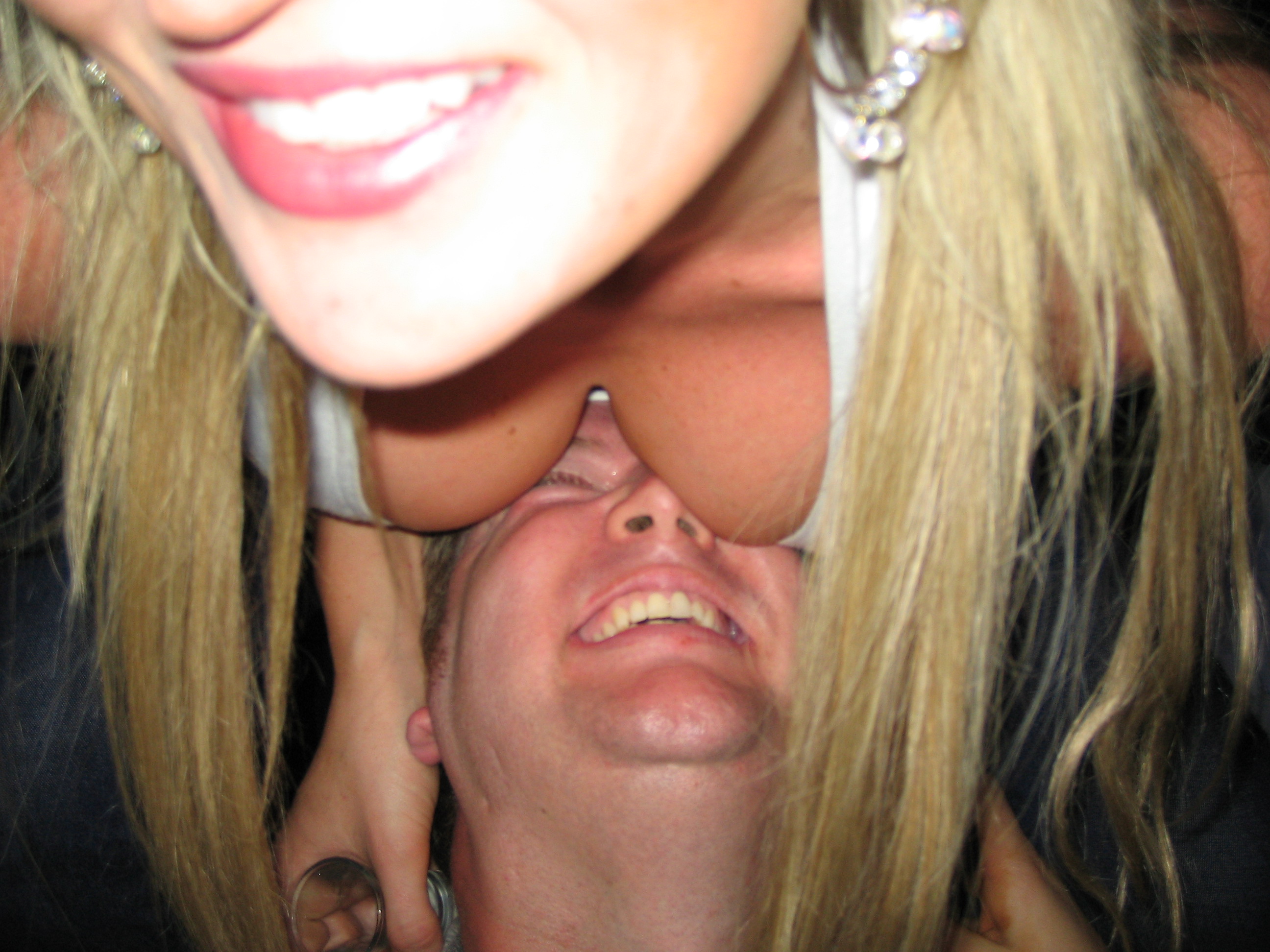 Left: It had been along time since I'd had so much fun winning a Cup in Aussie Rules Footy. The Cup was filled many times on this great night. Hopefully this year I am again drinking out of the Cup but with my original CDN team the AB Roo's guys. Right: Wow! BC and Eagles Shane Goughie getting a nice Birthday wish from a Cwoc babe at Cowboys the night of the 05 Stampede Cup.

From Aug 05 Stampede Cup reports

Click here

2006 Stampede Cup Schedule
1:00pm Calgary vs. Red Deer
2:00pm Red Deer vs. British Columbia
3:00pm Calgary vs. British Columbia

BC Footy will again be bringing a strong team this Saturday. Talking to Stevo Bananabender the Burnaby Eagles captain tonight I believe the BC Eagles and Cougars combined side will have most of their good players coming to Calgary on Saturday. I do however believe that the Calgary Kangaroos can win the Stampede Cup in 06 after losing to BC in 05. This Saturday will again make for some great Aussie Rules Footy MYKwebTV and consequent DVD's.

QR77 Calgary's Sportstalk helping in promoting the Stampede Cup! It was a lot of fun on Thursday night being a guest on QR77 with Jock Wilson and Conan Daly talking about Aussie Rules footy and this Saturdays Stampede Cup. Hopefully some Calgary sports fans and Cwoc's decide to come and watch on Saturday and enjoy a great day in the expected 24 degrees sunshine. If you are a sports fan QR77 with Mark Stephen, Jock Wilson and Conan Daly have a great show nightly 9-11pm. Mark was not there tonight as he was in Montreal getting ready for the CFL Stamps vs Al's game. Click here

Earlier this week I was talking to Grant Pollock the Sports Director of Global TV in Calgary. I believe they will again be there this Saturday reporting for Global TV nightly sports news. I hope so!

It's a 1pm start time! For directions to the ground in Calgary's NE

Click here

AFL Rd 21 tips:
Western Bulldogs over vs St Kilda Saints.
Melbourne Demons over Geelong Cats.
Hawthorn Hawks over North Melbourne Kangaroos.
Richmond Tigers over Essendon Bombers.
Sydney Swans over Brisbane Lions.
Adelaide Crows over Port Adelaide Pap Smears.
Collingwood Magpies over Carlton Blues.
West Coast Eagles over Fremantle Dockers.

I tipped 5 last week to still be 4 off the pace in the Vancouver Cougars/Burnaby Eagles footytips.com.au competition. Mrs Cowtown still leads on 111, Rooboy is on 109. Orfy is on 108, Me/Kev, and Chuck are on 107. "I am watching the Tigers", Nelson and Red Feathers are on 106. Shine Edgar and Chris Freeman Eagles coach are on 105 rounding out the top. Kev my expert tipper in South Australia has gone on a 3 mth driving/camping trip in Australia with Eleanor so I'm on my own now tipping from afar. I do look at who the AFL Expert tipsters are picking on afl.com.au in particular who Garry Lyon the former Demons star tips along with who respected Sports writer Alan Shiell tips.

"I hope you can join me Mates Club for hours of Sports, Comedy, Babe TV. Click here" Myk

Updated Mon Aug 21, 06 "AFL, Bulldogs upset Crows! Eagles, Tigers, Demons, Cats, Hawks, Dockers win! Magpies defeat Pap Smears by 2 points! AFL Rd 20 games and tips! CDN Stampede Cup is next Sat Aug 26 as the BC Footy guys come to Calgary to take on the AB Footy guy again at Marlborough Park in the NE of Calgary! Stampede Cup MYKwebTV! South Gawler Lions A Grade in the running for a Finals berth! Massive amounts of Aussie Footy TV" Myk Aussie

AFL Rd 20 results:
Collingwood Magpies 12.17 = 89 def. Port Adelaide Pap Smears 12.15 = 87.
Geelong Cats 14.6 = 90 def. Sydney Swans 9.9 = 63.
Western Bulldogs 16.9 = 105 def. Adelaide Crows 14.14 = 98.
Hawthorn Hawks 19.10 = 124 def. Essendon Bombers 15.16 = 106.
Fremantle Dockers 17.12 = 114 def. St Kilda Saints 7.14 = 56.
West Coast Eagles 16.18 = 114 def. Brisbane Lions 7.10 = 52.
Richmond Tigers 21.14 = 140 def. Carlton Blues 14.11 = 95.
Melbourne Demons 20.12 = 132 def. North Melbourne Kangaroos 12.10 = 82.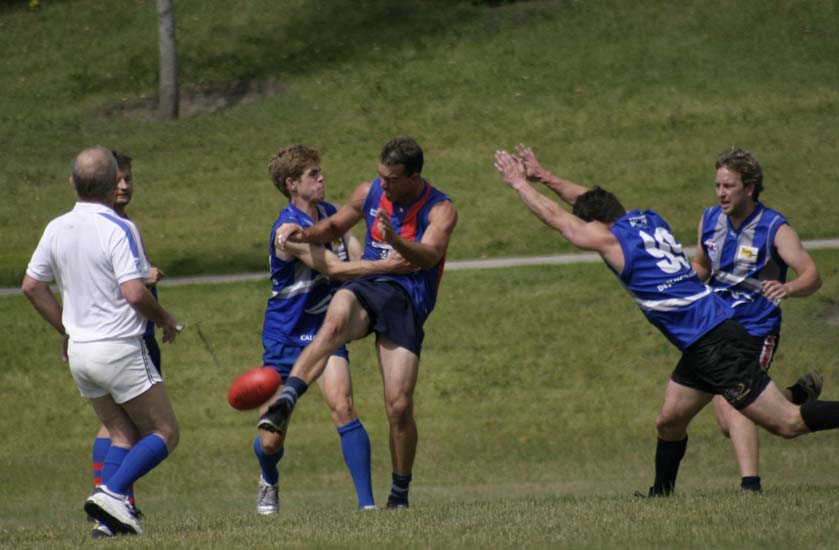 Left: BC Eagles 05 Best and Fairest winner Luscious gets a kick away as Gareth Roo's President and other Roo's try to tackle and spoil him. I heard that Luscious is now or soon to be a Eagle again in 06.

Right: BC's best CDN player on the day Teddy Murray getting a great possession. I hear that Teddy will again be lining up for the BC boys this coming Saturday. BC won last year. Read below for more on the Stampede Cup including Stampede Cup MYKwebTV action.

AFL Rd 20 games and tips:
Collingwood Magpies over Port Adelaide Pap Smears.
Sydney Swans over Geelong Cats.
Adelaide Crows over Western Bulldogs
Essendon Bombers over Hawthorn Hawks.
Fremantle Dockers over St Kilda Saints
West Coast Eagles over Brisbane Lions.
Richmond Tigers over Carlton Blues.
Melbourne Demons over North Melbourne Kangaroos.

I tipped 4 last week but moved up to 3rd and 4 off the pace in the Vancouver Cougars/Burnaby Eagles footytips.com.au competition. Mrs Cowtown still leads on 106, Rooboy is on 104. Me/Kev, Orfy and Chuck are on 102. "I am watching the Tigers", Nelson and Red Feathers are on 101. Shine Edgar is on 100. Chris Freeman Eagles coach and Kingfisher round out the top 10 and are on 99. Kev my expert tipper in South Australia has gone on a 3 mth driving/camping trip in Australia with Eleanor so I'm on my own now tipping from afar. I do look at who the AFL Expert tipsters are picking on afl.com.au in particular who Garry Lyon the former Demons star tips along with who respected Sports writer Alan Shiell tips.

The 06 Stampede Cup is next Sat Aug 26 again at Marlborough Park!

Stampede Cup MYKwebTV!


I think this year the AB guys can win. I will be doing a extensive pre game report next week when I see the final lineups. I believe the BC guys will be bringing a very good side to Calgary and thus it should again be a great game.





I had a very enjoyable 05 year of Aussie Rules Footy in BC. Next Saturday

I will be playing against my 05 mates for my original CDN team the AB Roo's.

It should again be a great day of Footy and after game fun.

Here's some footage from the 03 Stampede Cup as I commentate for MYKwebTV and Global TV Sports News in Calgary, interview and film. I definitely need help in producing Bigger and Better MYKwebTV shows. For Stampede cup TV Click here

For more pictures and reports from the 05 Stampede Cup

Click here



For directions to the ground in Calgary's NE

Click here

Sth Aussie Footy - Part of "South Gawler Football Club – In the Lions Den 16/8/06" From President Percey
All Lions are asked to make a note in their diaries of the following important dates:-19/8/06 – Vice Presidents function in the Blue Room from noon – please bring a platter.26/8/06 – 'End of Season' Party for all those who love the Lions for all grades at the Den featuring meal and drink specials and free band 'Black Night'. Come and see why the Lions are regarded as the Associations best party club.27/9/06 – Junior Football and Netball Trophy Night30/9/06 – Watch the AFL Grand Final on our Big Screen at the Den14/10/06 – Senior Football and Netball Trophy Night27/10/06 – SGFC AGM – President, Football, Catering and Affiliated Sports Manager to be called.

The 'Kingsford Hotel Club Person of the Week' is long time volunteer trainer Ken Bevis who again has stepped into the breach to help in 2006. Similar to that other great club person Wayne Armstrong Ken is always smiling and ready to offer a constructive opinion. He loves the players, statistics, the club and has helped to hold our club together.

Last Saturday was a hard fought affair in all grades in the best traditions of over 100 years of battle between two fierce arch rivals. Our Under 15s had a big win but as the coach knows the hard part is yet to start with plenty of work to do. The Under 17s were out classed but not disgraced and have plenty to look forward to. Our Reserves had a much needed win against a tough opponent. The A grade did what they had to do – win – in a high standard, fast, skilful game that ebbed and flowed all day. The 'Exchange' Lions showed a great deal of character against a team renowned for their passion and attitude. It was great to see young players such as Montgomerie, Barnes, Evans, East, etc that have come through the grades all making significant contributions to our win.

This Saturday is our last home game against Nuriootpa and the A grade must win to keep their chance of playing finals alive. Why not come to the Den our support our club and its players. Join South Gawler in the evening at the Den for great Lion camaraderie where great value meals and drinks are always available. 'Go the Lions – on the way up in 2006'." President Percey

"I hope you can join me Mates Club for hours of Sports, Comedy, Babe TV. This includes a new very easy to follow Aussie Footy MYKwebTV Menu with hours of CDN and USA Aussie Rules Footy TV! Click here " Myk Aussie

"New Cwoc Pammy and the real Pamela Grey Cup 05 TV Click here" Myk

"Myk Aussie is the best NFL and CFL Cheerleaders interviewer Click here" Joe