If you are new to MYKwebWORLD & want to know what I do this is a great article Click here
Aussie Rules Footy MYKwebTV Make sure to check out MYKwebTV for some great AFL, USA, CDN, BL&GFA & SANFL Aussie Rules Footy Click here

Tues, Nov 29, 05 "Me and Eagles Evan Wizzer the Most Improved CDN Eagle in 05 stand each other in the 8th Annual Snow Bowl on CFL Grey Cup Saturday!" Myk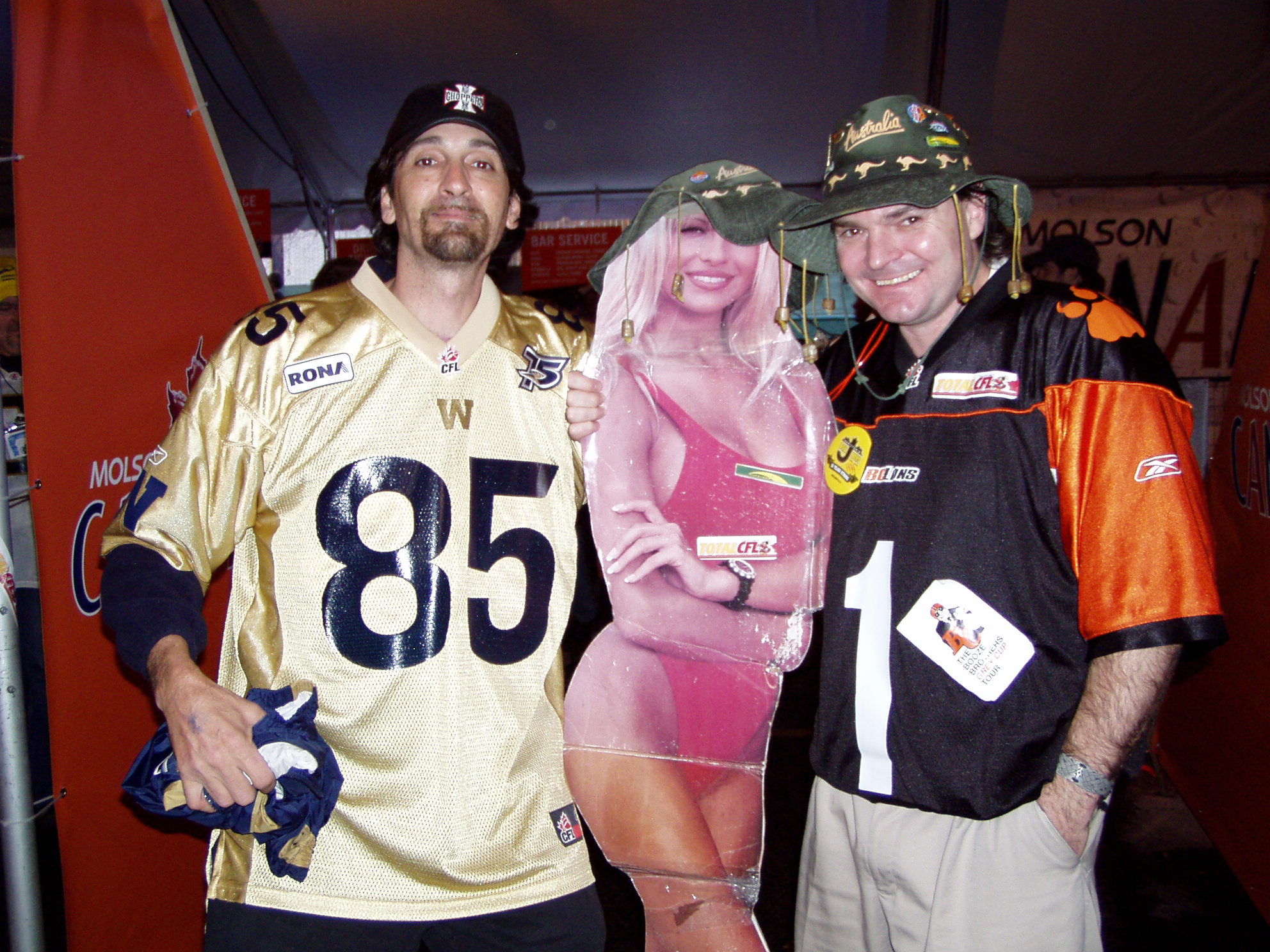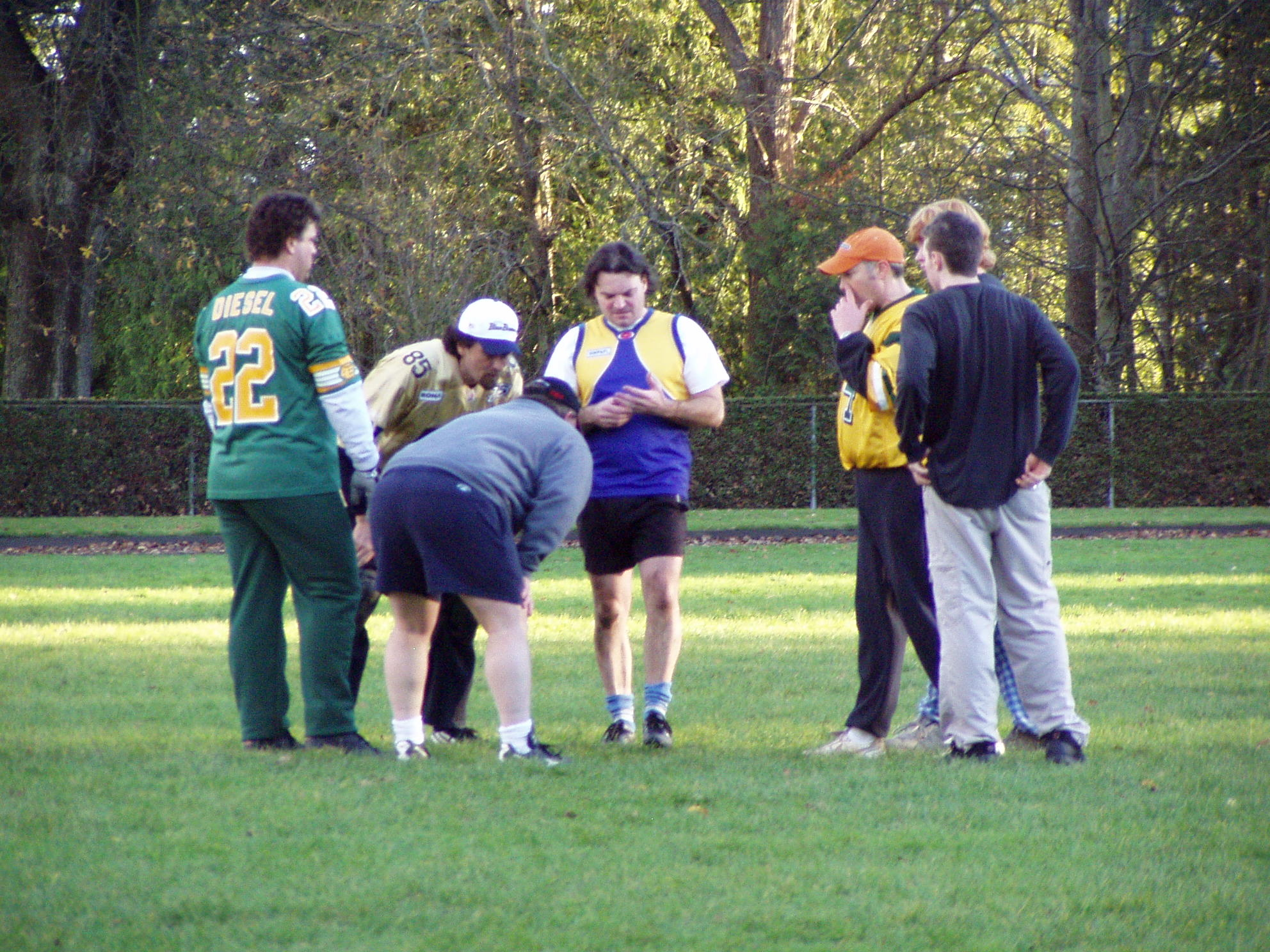 Left: BBBob Total-CFLer, Cwoc Pammy and me at the Spirit Of Edmonton preparing for the Snow Bowl. Middle: At the Snow Bowl Diesel in his Eskimo's jersey, BBBob in his Bombers jersey, me in my Aussie Rules Burnaby Eagles jersey and all the West's offence preparing our Grant the QB's attack against the East. Photos thanks to BBBob. Right: I take some of my CFL mates to Moose's Down Under Bar and Restaurant, our US Nationals 05 trip sponsor during the CFL Grey Cup.
I got to play on Eagles defender and the most improved CDN 05 Eagles Evan Wizzer as he lined up in Defence for the East and I played as a Wide Receiver for the West. It was a great time. Any Aussie Footy guys wanting to keep in shape let me know as I regular play CFL style footy on Sunday mornings or Wednesday evenings here in Vancouver. Thanks to Eagles coach Chris Freeman and BC Footy Founder and Cougars coach Stew Grills for recently lending me the Eagles jersey as I continue to promote BC Footy at events. For a full report on the game check out Moose's USA, Friends Of The CFL" webWORLD Click here Total-CFLwebTB/MYKwebTV of the game coming this weekend.

Lots of Grey Cup 05 reports and Total-CFLwebTV/MYKwebTV now up and coming. My 1 on 1 chat and filming of the real Pamela Anderson from the media and contestant section of the Grey Cup Parade is coming tonight! Amazing footage of the CDN beauty. Click here" Myk
Updated Nov 24, 05 "BC Footy important meeting. Footy mates in BC "Be there or be square! New CDN Aussie Footy MYKwebTV of the BC Footy Best & Fairest Count & Trophy Night presentations!" Myk Aussie

BC Footy important meeting Dec 10th 2pm. Refer below for all the details




Left: Would my Eagles tip Louie win the Eagles B&F. Right: Would my Cougars tip Richie win the Cougars B&F. Check it out to find out, a 12 min MYKwebTV show.
MYKwebTV show is now up 12 min's Pt 1 of the "BC Footy Best & Fairest Count & Trophy Night presentations. It was a great night at Moose's Down Under restaurant and sports bar for the Burnaby Eagles and the Vancouver Cougars Best & Fairest count and trophy presentations. This again shows how well BC Footy is run! Featuring parts of the count, speeches and interviews. Especially to CDN's players, come and join us in 06. We need more CDN players. Click here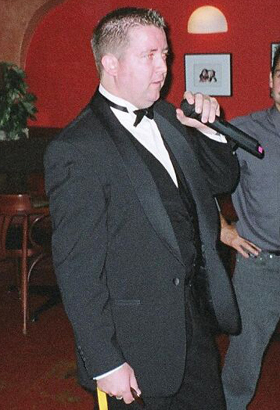 "The very well dressed Eagles Shane Gough was one of my
co hosts on this great night."
Pt 2 14 mins coming later this week. Includes MYKwebTV co hosts of the evening Chris Freeman and Shane Cough and myself interviewing some of the star CDN and Aussie players and some of their ladies." Myk Aussie
BC Footy important meeting! Be there or be square!
From the VAFC committee "Please be advised that the 2005 VAFC AGM will be held at the Burnaby Lake East Sports Club on Saturday December 10th 2005. This is located at the end of Sprott Street in Burnaby and is the location of our official 2005 sponsor! The same location as 2005 AFL GF and our 2005 after training gatherings! There will be opportunity to have some beverages while we discuss the details of the club.
It is expected that all 2005 paying members attend to have their say in the issues that will effect the footy scene in the Lower Mainland for next season. WHEN - it starts at 2pm sharp and is expected to run no later than 4pm!
Topics of discussion will include;
-all committee positions will become available
-creation of Burnaby Australian Football Club and committee structure
-roles of both clubs and overseeing body
-and many other topics.
If you want to be an active part of helping grow footy in Vancouver and the Lower Mainland - then consider joining the boards! It's a great opportunity! If you have any questions please feel free to contact Tony Cooper (President) at ajcworldwide@hotmail.com. Sincerely" VAFC Committee 2005.
Updated Sat Nov 19 05 "Big Jonny the Eagles ruckman and a MYKwebWORLD reporter is returning home but "apparently" he will be back for the 06 BC Footy season! BC Aussie Rules Footy guys and Cwocs MYKwebTV as Pammy Lee Anderson Harrison was in Vancouver for Halloween 05! Upcoming AGM for the Vancouver Australian Football Club! US Footy, The Milwaukee Bombers Sponsorship Program!" Myk Aussie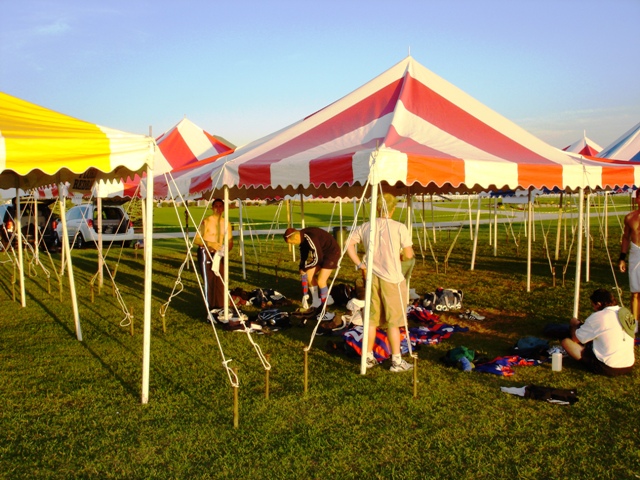 Left: Big Jonny with 3 of the BC Lion cheerleader Felions, that photo says it all. The young fella was like a kid in the candy store on this great night.
Right: From the recent US Nationals in Milwaukee. After playing at 5pm Saturday we were 1st to the massive grounds on the Sunday. It was a early 7.30am start. Refer below for a great opportunity to join the Milwaukee Bombers in 2006.
"An invitation is extended to all players and spectators to help send Eagles Big Man "John Dixon" off with a bang!
When: Monday 21st November. starting at around 6pmish!
Where: Earls "Paramount", located at 905 Hornby Street (at Smithe)
Why: clearly BIG JOHN is leaving Vancouver for a while and wants to say goodbye................but relax, he will be back for preseason 2006! John hopes to see all and sundry there on Monday night! As a bonus incentive - Earls will be showing the NFL Monday night football game." Mr BC Footy Stew Grills

"...but relax, he will be back for preseason 2006" it was quoted above by Grills after talking to Big Jonny. Well I suppose we will wait and see if the Big fella does come back in 06 and again play for the Eagles and the BC footy team in the US Nationals! All I can say is many Aussies come over here to the Great White North, Canada, they have a great 12 months, they spend more money than they legally make and then "say" they are returning. Some do return but many that say they are never do! Lets hope some of the guys that played in the BC footy competition in 05 do make it back as it was the Biggest year ever in the history of Western Canadian Aussie Rules Footy. For lots more great photos of Jonny helping me and having a great time at the BC Cwoc Felion cheerleaders calendar launch
Click here
"I'm on a date with Pammy Lee Anderson Harrison, Halloween 2005" Pammy Lee Anderson Harrison was recently sighted out and about in Vancouver in during the Halloween 05 weekend in readiness for her upcoming Grey Cup 05 appearances. Pammy was again not only very popular with the BC Footy guys but also some ladies. Wow!

The new MYKwebTV show Features, I'm on a date with Pammy in Vancouver at the Relish nightclub with Mikey from the Gong and the BC Aussie Rules Footy Guys and Cwocs, at the Two Parrots where Pammy was also very popular with Mary Jane the barmaid! Wow! a beautiful Cwoc Cop who was concerned at the recent streak from the NWPAFL Grand Final, along with a preview of the recent 05 BC Footy Trophy night with Dougy Vargo Cougars Players Award winner and his lady Lidia. Check out Myk and Pammy MYKwebTV Click here

A BC footy Trophy night MYKwebTV 30 minute show from Moose's Down Under coming later this week. Email me or call for details on copies of 05 BC Footy DVD's for ya mates for Christmas. What a great year it was. myk@mykaussie.com or 011 1 403 870-5578 cell.
AGM for the Vancouver Australian Football Club. From Stewy Grills "This is to advise that the AGM for the Vancouver Australian Football Club will be held on December 10th (Saturday) 2005. Details of location and time will be forwarded shortly, but please mark it down in your calenders.
We will be looking for as many people as possible to step up to the plate and join the committee/s. This meeting will outlay the proposal submitted by the current VAFC committee for the official creation of the Burnaby Australian Football Club (committee). There will also be many other important issues discussed! All 2005 financial members (playing, social and family) are encouraged to attend and will have voting rights. Please stay tuned for the details! VAFC Committee - 2005
US Footy The Milwaukee Bombers Sponsorship Program - The Milwaukee Bombers are looking for One Good Australian to continue the tradition of a scholarship recipient spending a summer in the USA. The Bombers, currently the second best team in the USA, are looking for a young Australian player to be a part of the club for the 2006 season (April thru October). The player would also be able to fulfill coaching, junior development and club development responsibilities. In exchange the club would supply full-time work through a sponsor and billeting arrangements through one of it Board members.

2004 was the first year of the scholarship and Luke Woolrich took full opportunity of the experience. Luke, who plays with the Hampton Rovers, was a key player in the Bombers movement in ranking from 9th to 3rd in the USA. He culminated his year by winner co-Best and Fairest in Division I of the USfooty National Championships. Luke has returned to Melbourne and can be contacted at oiawooly46@hotmail.com or 0414 380 035 for more information on his experiences in America. In 2005 Paul Smith, a Rotary Exchange student living in Wisconsin, was a part of the Bombers squad. For his experience with the Bombers email him at smitt_master@hotmail.com.

This is a great opportunity to have footy show you the world.

Please send a letter of interest and resume to Paul O'Keeffe at paul@usfooty.com. We expect a decision to be made mid-February.

Please forward to anyone interested in your club. After the club success over the last couple of years, there is likely to be a lot of interest this year. For Bombers site Click here
Updated Thurs Nov 3rd, 05 "BC Footy players invited to celebrate Moose's Down Under 10th year anniversary party! Pammy out and about Monday night as well! Cougar and Eagles cheerleaders and Pammy! NWPAFL Grand Final the whole game MYKwebTV is now up! Includes Cougars B&F winner Josh Lappin's & Jimmy's famous streak! The 1st game of Aussie Rules Footy in Nth America?"
This Friday Nov 4th All BC Footy Players Invited - It's customer appreciation night and the 10 year anniversary this Friday night of Moose's Down Under our US Nationals major sponsor. Tuesday I was speaking with Shane Eagles player who is the boss of the kitchen at Moose's and he has asked all of us down there for Friday night. Food will be supplied and it will be crowded at 5pm. I'll be there as a similar party 6 weeks ago was great, included dancing. Hope to see you guys there and any of your Cwoc's.
I was again lucky enough to take out Pammy Saturday and Monday night for Halloween. She was again very popular with the guys and even the ladies wanted a piece of the BC Beauty. More Halloween Pammy MYKwebTV coming.



"Myk "The Wildman" & his girlfriend Pammy Lee Anderson Harrison Christmas shopping, Richmond BC." Moose
Some of the funny Cougar and Eagles guys were champs again Saturday night at a great Halloween party. The boys from the Vancouver Cougars Josh, Jimmy as seen below and Troy the US Nationals Best Player and from the Burnaby Eagles Sammy and Diddy were sensational dressed in their Blue and White cheerleader outfits. I was again lucky enough to take Pammy on a date as she was back in Canada for the big night. For more on the night and my favorite line to the Cwoc's check out Pammy webWORLD Click here For past Pammy MYKwebTV Click here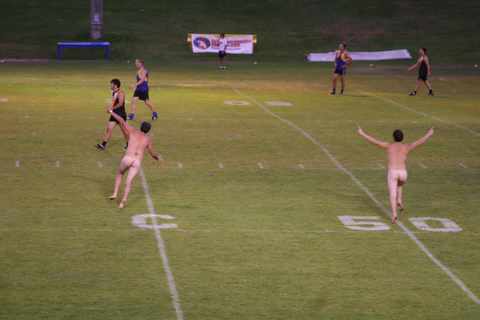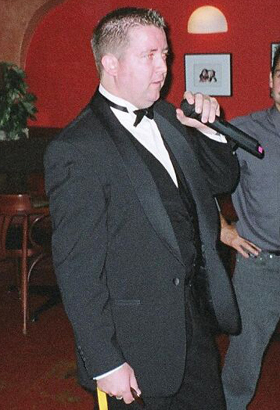 Left: Cougars B&F Winner Josh Lappin on the left with Jimmy both disappointed not to be playing in the NWPAFL Grand Final definitely entertained the crowd at the end of the game. Luckily these guys kept their clothes on last Saturday night. The definitely edited but still funny streak can be seen now on the 4th Quarter NWPAFL Grand Final MYKwebTV.
Note: Due to some upcoming advertising deals I must make this clear!
There is no nudity on MYKwebWORLD. Above photo is OK.

Right: Now Josh & Jimmy this is how the Eagles dress up! One of the Best Dressed guys at the B&F Awards, Eagles Goughie in his tuxedo accepting the Eagles Runner Up Best & Fairest for his mate Stevo. Goughie had his going away show Saturday night as he has now left Vancouver for a Wild Winter in Whistler. Photo compliments of bcfooty.com. There are great photo's of the trophy winners on bcfooty.com click here
New MYKwebTV - Oct 26 05 16 min's "4th quarter of the CDN and US NWPAFL Grand Final. The CDN Burnaby Eagles vs the US Seattle Grizzles! Includes I'm 1 on 1 with Eagles Goughie, CDN Eagles Chris & Whizzer along with Lion King & his Lioness at the CFL Lionbacker's Tailgate Party and the 4th quarter of the Big game. Includes Cougars B&F winner Josh Lappin's & Jimmy's famous streak. I had to edit some of this streak but it's still hilarious Click here
When was the 1st ever game of Aussie Rules Footy played in North America? Today I may have found out where and when it was. I went and had a chat to Malcolm at his engineering business here in Vancouver today. Malcolm who I met 6 years ago is from my home city of Adelaide, he moved to Vancouver in the early sixties and still runs a successful engineering business. We had a great chat about Aussie Rules Footy in South Australia, Malcolm played in the Adelaide Hills and in the Southern league before moving here at the age of 21..
He then told me that in the early sixties he used to go for a run and kick of the Aussie footy at lunchtimes and after work for his exercise and enjoyment. Further still he organized a proper game with his Aussie and Canadian mates, one team wore Port Adelaide Magpie jerseys and the other team wore Glenelg Tigers. He says he made up goal posts from 4X2 wood and he and his mates had a fair dinkum Aussie Rules Footy game. Not sure if it was 18 a side but the way Malcolm described the game it definitely qualifies as the 1st ever Aussie Rules Footy game that I have hear of that was played in North America. The game was played in a parkland near Cambie and Oak streets near downtown Vancouver. What a great story.
Malcolm was amazed when I showed him the MYKwebTV Full Screen on the 2005 NWPAFL Grand Final between the Burnaby Eagles and the Seattle Grizzles on his very nice computer at his engineering office. I look forward to hearing other great stories from anyone that knows of a earlier game that may beat this? Email me the story myk@mykaussie.com.
A 3 pack DVD set is now available as given out to 4 winers at the B&F night. Includes 05 US Nationals, 05 BC Footy Cup from Vancouver, 05 NWPAFL Grand Final, and FREE the movie Football Fan Frenzy. For the details Click here " Myk Aussie
AFL Betting! NFL Betting! CFL Betting!
Check out "Myk's Mates Club" for AFL Betting, NFL Bettting, CFL Betting, Australian Rules Football Betting, AFL tips, AFL picks. Try sone online poker, online casino games after watching AFL. NFL picks, CFL picks, AFL picks against the spread, NFL picks against the spread, CFL picks against the spread, Aussie Rules Footy tips, Australian Rules Football picks, Australian Rules Football picks against the spread. Click here
Wed Oct 26, 05 "Full voting is below from the BC Footy Best and Fairest Awards Saturday night at Moose's Down Under restaurant and sports bar! A 45 minute MYKwebTV show is now up of the crazy and great BC Footy trip to the US Nationals!"

Burnaby Eagles Paul "Louie" Lewis and Vancouver Cougars Josh Lappin were the Big winners at the BC Footy Best and Fairest Awards! The 2005 B&F Awards Burnaby Eagles and Vancouver Cougars was held Saturday night at Moose's Down Under the major sponsor of the BC Footy US Nationals trip! It was a great night, very well run by the BC Footy committee in a Brownlow Medal style format.




From left: Louie with one of his many Eagles possessions. 2nd: Josh looking for a Cougar forward. 3rd: Louie right on the heals of Josh. 4th: Stevo runner up Eagles 5th: Richie runner up Cougars. From July 9th 05 report. Photo's compliments of Kevin Smith the photographer. Click here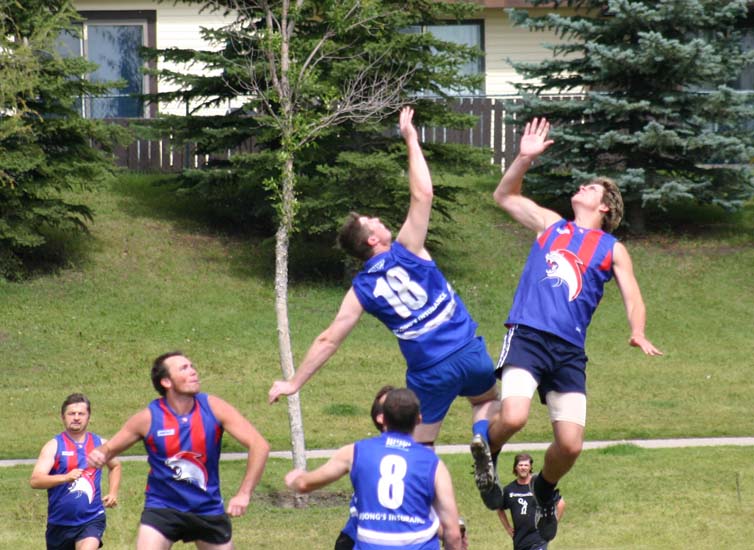 Left: From the 05 Stampede Cup, Cougars B&F 05 Josh Lappin waiting for Big Jonny's tap.
As predicted Paul "Louie" Lewis won the Eagles Best and Fairest with Stevo Bananabender being Runner up. Louie had a great year, becoming in many ways our leader on the field and also leading by example at training sessions. Louie mentioned he would like to be back at the Eagles in 06. Maybe get married Louie? then you can stay for sure or else just sort of hide a bit up here you know what I mean. Stevo Bananabender was sensational on a half back flank for the Eagles and deserved the Runners up award. These guys can be seen playing well in my many of the MYKwebTV shows from the 05 season.

For the Vancouver Cougars Josh Lappin as seem above was a easy winner polling I believe 42 votes while Rover Richie Roberts was Runner up. I actually tipped Richie to win but Josh definitely deserved the win as he played in nearly every game either in ruck or ruck rover and thus the Big win.

The votes were counted in a AFL Brownlow Medal style by Chris Freeman, Stewy Grills and Dougy Vargo while Eagles Colin Hilton and myself were guest commentators throughout the exciting and often humorous count. I'm sure the full votes will be seen shortly on BCFooty.com
Other awards on the night included for the Burnaby Eagles, Best Canadian Player: Randy Dickens, Most Improved Canadian: Evan "The Whizzer", Players Award: Chris Freeman, Clubman Award: Wow it was me.
For the Vancouver Cougars, Best Canadian Player: Chris Bennett who also came 3rd in the Cougars B&F, Most Improved Canadian: Teddy, Players Award: Dougy Vargo, Clubman Award: Peter Campion

Leading goalkicker: Stewy Grills.
MYKwebWORLD also donated trophy/prizes which was the 3 Pack Aussie Footy DVD set and I gave these to Eagles coach Chris Freeman, Cougars coach Stewy Grills as they both put in alot of time and effort. Best 1st year Cougars Canadian I awarded to Matty Neufold who was also Best Canadian at the US Nationals. Best 1st year Eagles to Chris.

My 5 votes for Best dressed on the night goes to Big Jonny and his 2 stunning Cwocs'. Wow! Great effort Big Jonny you amazed me with your suit and the young Cwoc babes you bought with you looked stunning and their dresses were amazing. Eagles Goughy also shone in his tuxedo. Goughy proudly accepted his mate Stevo's Runner Up Eagles B&F trophy as Stevo was back in Australia for a short trip. While Cougars B&F winner Josh Lappin's suit with Aussie thongs was also awesome. Eagles Mike from the Gong who played a great 3rd quarter in the NWPAFL Grand Final also shone in his tuxedo along with his mate Kiwi mate Ricky. Talking to Mike at the BC Lions game Saturday night, he says he and Ricky had a very big and expensive night chasing Cwoc's in their suits to the wee hours.
It was a big night. Some of us then ventured to Doolin's to continue the night. Mishap of the night has to go to Colin Hilton. As we were leaving Moose's Down Under a few of the fella's were so excited they decided to show their skills with the brand new Sherrin Aussie Footy on the street. It was all going well, a kick and a grab on the street until Colin Hilton's kick went off the side of his boat and ended up on top of the roof. Hmmm a $100+ new Aussie footy was lost. Oh well stuff happens. A great night. MYKwebTV from the night coming.

Full voting of Burnaby Eagles and Vancouver Cougars compliments of Dougy Vargo.

Burnaby Eagle Full voting - Total 254
| | |
| --- | --- |
| Lewis, Luscious | 40 |
| Harper, Steve | 28 |
| Hallam, Nick | 24 |
| Aussie, MyK | 21 |
| Taylor, Pete | 17 |
| Fish | 16 |
| Dinsdale, Nathan | 16 |
| Marshall, Bobby | 12 |
| Edgar, Shine | 10 |
| Austin, Sam | 8 |
| Wakefield, Dale | 7 |
| Dickins, Randy | 6 |
| Brand, Simon | 6 |
| Allen, Brett | 4 |
| Dixon, John | 4 |
| DeChalin, Morgan | 4 |
| K, Special | 4 |
| Wiz, The | 4 |
| Chatfield, Damien | 4 |
| Skin, Matt | 4 |
| Hilton, Col | 3 |
| Nolan, Simon | 3 |
| Green, Pumps | 3 |
| Robinson, Mark | 3 |
| Freeman, Chris | 2 |
| Stratford, Jason | 1 |
| | |
| --- | --- |
| Vancouver Cougars voting | - Total 225 |
| Lappin, Josh | 42 |
| Roberts, Richie | 21 |
| Bennettron, Chris | 17 |
| Vargo, Doug | 16 |
| Bushell, Ash | 16 |
| Wanders, Aaron | 14 |
| Cooper, Tony | 13 |
| Grills, Helmethead | 12 |
| Macri, Troy | 11 |
| Neufeld, Matty | 9 |
| Murray, Teddy | 9 |
| Bushell, Bub | 8 |
| Anandacoom, Richie | 7 |
| Hanley, Dale | 6 |
| Walker, Craig | 6 |
| Lowes. Daniel | 5 |
| Campion, Peter | 5 |
| Settacasi, Mike | 3 |
| Dynamite, Sammy | 3 |
| Ferret, Nelson | 1 |
| McMillian, James | 1 |
New Oct 12, 05 12 min's Pt 3 "Sun, Game Day BC Footy trip to the US Nationals! Includes Seattle vs Nth Carolina game action, the Cwoa Cool Women Of America Footy Final game action and a 1 on 1 interview with the Best Cwoa Player." Myk Aussie Click here
New Oct 12, 05 12 min's Pt 4 "Sun, Game Day Part 2 BC Footy trip to the US Nationals! Includes interviews with US Footy's Paul O'Keeffe, Benny Graham, SANFL Warriors/Eagles champ, CDN Greg Everett, Peter Campion Cougars and more." Myk Click here
Check out MYKwebTV of NWPAFL Aussie Rules Footy Grand Final. The 1st 1/2 MYKwebTV shows from the NWPAFL Grand Final is now up as well. The 2nd 1/2 coming early next week.
Oct 18, A 3 pack DVD set is now available as given out on Saturday night. Includes 05 US Nationals, 05 BC Footy Cup from Vancouver, 05 NWPAFL Grand Final, and FREE the movie Football Fan Frenzy. For the details Click here " Myk
Pro Football Weekly: AFL and Pro Football Video Picks with amazing coverage from Myk Aussie The Pro Football Comedy Media Guy
*****Invest In Inet MYKwebTV! Myk's Mates Club Click here *****
Check out me AFL
October 1-15 05 webWORLD
Click here
Check out me AFL
September 05 webWORLD Click here
Check out me AFL August 05 webWORLD Click here
Check out me AFL July 21-28 05 webWORLD Click here
Check out me AFL July 1-20 05 webWORLD Click here
Check out me AFL June 05 webWORLD Click here
Check out me AFL May 05 webWORLD Click here
Check out me AFL April 05 webWORLD Click here
Check out me AFL Oct 04-Mar 05 webWORLD Click here
Check out me AFL Sept 04 webWORLD Click here
Check out me AFL July-August 04 webWORLD Click here
Check out me AFL
June 04 webWORLD Click here
Check out me AFL
April-May 04 webWORLD Click here
Check out me AFL
March 04 webWORLD Click here
Check out me AFL 2003
Dec -Jan 04 webWORLD Click here
Check out me AFL 2003 Sept webWORLD Click here
Check out me AFL 2003 Aug webWORLD Click here
Check out me AFL 2003 July webWORLD Click here
Check out me AFL 2003 May-June webWORLD Click here
Check out me AFL 2003 April webWORLD Click here
Check out me AFL 2003 Jan-March webWORLD Click here